HERRIMAN — In one short year, the Judge Memorial Bulldogs boys soccer team climbed from the depths of the soccer abyss to emerge from the pile as the "top dogs."
Judge Memorial captured the 3A state championship after a double overtime marathon against the Morgan High School Trojans, 1-0. The lone goal of the nearly 98-minute defensive struggle came as junior Joe Paul was set up by fellow junior Cameron Lundy.
When asked what went through Paul's mind as he saw his final shot slide just past the Morgan keeper's fingers, he replied with a deep breath, "Finally."
Judge Memorial coach Kelly Terrill said he began to fill out his shootout card right as Paul scored the winning goal.
"Morgan's a good team," Terrill said. "If you want to score goals, you have to do it early on."
This was the Bulldogs' third meeting against the Trojans, and Judge swept the series. In previous games against Judge Memorial, Morgan's defense gave up four goals in each game. But Morgan's defense came out and shut out the aggressive attack during regulation.
Judge Memorial thrives when it can push the tempo, and Morgan slowed the game down by loading the back and, consequently, suffocated Judge Memorial's offensive attack for nearly the entire game.
Last season, Judge Memorial did not win a single match. With a wretched 0-13 record in the rearview mirror, this year's young roster came together and put together a spotless 8-0 record in region. The hope for a championship wasn't there early for Judge Memorial, but once the team got rolling, it was tough to beat.
.@JudgePride are state champs after an extra-time win over Morgan. #kslpreps
🎙: @RodZundel
🎥: @JDortz_Photogpic.twitter.com/2igDYzkfLp

— KSL SportsBeat (@kslsports) May 13, 2018
"At the beginning of the season, we came into it as the underdog basically. We weren't even ranked in the top five in the state, no one knew who we were," said sophomore Jack Terrill. "But we knew it was for us. … We worked hard together. It shows in the games how hard we worked. We won."
"When we realized we had won a few games and then we were undefeated after about five games, that was when we started telling ourselves that we can win this," said Paul.
The Bulldogs will only lose three seniors from the current roster, with most of their key players being underclassmen. Both Paul and Jack Terrill believe this team is only getting started on its quest to rule 3A for their remaining years in school.
"We still have most of our players," said Paul. "I think we're going to be able to come out here next year too."
"Not only this one, but I'm thinking maybe two or three more," said Jack Terrill.
Jack joins his older brother Ross, and his uncle Kurt, as members of Judge Memorial's championship soccer teams. Kurt won two titles in his time at Judge Memorial, and Ross won in 2010, with Kelly as his coach.
"Now that I've done it, it feels great. Just keep the tradition going," said Jack. "I'm just trying to follow the footsteps of my brother, he's the MVP, he's a great player, and I want to be a great player."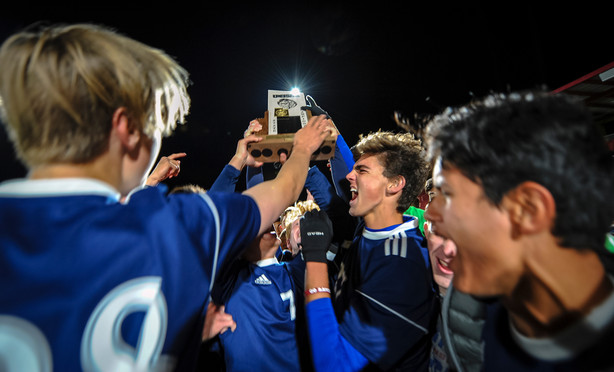 Class 2A state championship
Waterford 3, Rowland Hall 0 — At Herriman, Connor Smith, Sam Becker and Tate Reynolds each scored a goal to lead Waterford to its first state championship since 2014.
Morgan Lopez earned the shutout for the Ravens, who won their seventh title in school history.
×