Estimated read time: 4-5 minutes
This archived news story is available only for your personal, non-commercial use. Information in the story may be outdated or superseded by additional information. Reading or replaying the story in its archived form does not constitute a republication of the story.
There's something in your home full of bacteria, allergens and junk. And no, it's not your toilet. Your carpet is most likely dirtier than your toilet seat, reports writer Kelsey Kloss in an article for Reader's Digest.
Carpets can trap about 200,000 bacteria per square inch, which is 4,000 times dirtier than the lid of your commode. Take a second to let that sink in.
Even with regular vacuuming and the occasional shampoo, your cleaning routine is no match for nature. In fact, The National Association for Home Builders actually recommends that you replace your carpets every eight to 10 years.
Here are a few things that might be hiding in your carpet:
Germs
You are constantly shedding skin cells, which create food for bacteria. And actual food feeds germs too — every time your kid eats on your deep pile rug, those crumbs and smears become a tasty treat for the germs such as staphylococcus, E. coli and the like.
One of the main problems with carpets in your home is how neatly they trap pollen and other allergens within their fibers. The National Center for Healthy Housing said carpets can create a "reservoir of indoor allergens."
Allergens
If you have pets in the house, especially long-haired animals, dander definitely poses a problem. It gets trapped in the bottom of the carpet fibers and if your pile is deep and the vacuum is old, the brush may not be getting clear to the bottom.
Another way carpet traps allergens is through your shoes. If you live in a high pollen area, outdoor debris can get tracked inside and settle deep into the fibers of the rug.
To help keep allergens from getting too cozy in your carpet, make sure you're keeping your home void of humidity. Healthline suggests keeping the windows closed and humidity low so the pollen can't get in and then proliferate once it's inside.
Mold
Sometimes a spill or leak happens — nobody can prevent every accident from happening. But even the most careful of people can have mold growing in the carpet — even if you think you've dried the carpet well enough. When moisture gets trapped beneath carpet pads, this can combine with trapped allergens to produce "a significantly increased risk of asthma," according to the International Journal of Environmental Research and Public Health.
How to clean your carpets
But this doesn't mean your carpets have to go! Weekly dusting of furniture and weekly vacuuming with a good vacuum can keep your carpet from holding onto impurities. The Mayo Clinic recommends using a vacuum with a HEPA filter to help filter allergens out of the fibers.
Another way to improve the air quality in your home is to hire professional carpet cleaners every year. A professional cleaning can loosen up debris stuck deep, down in the threads of your carpet.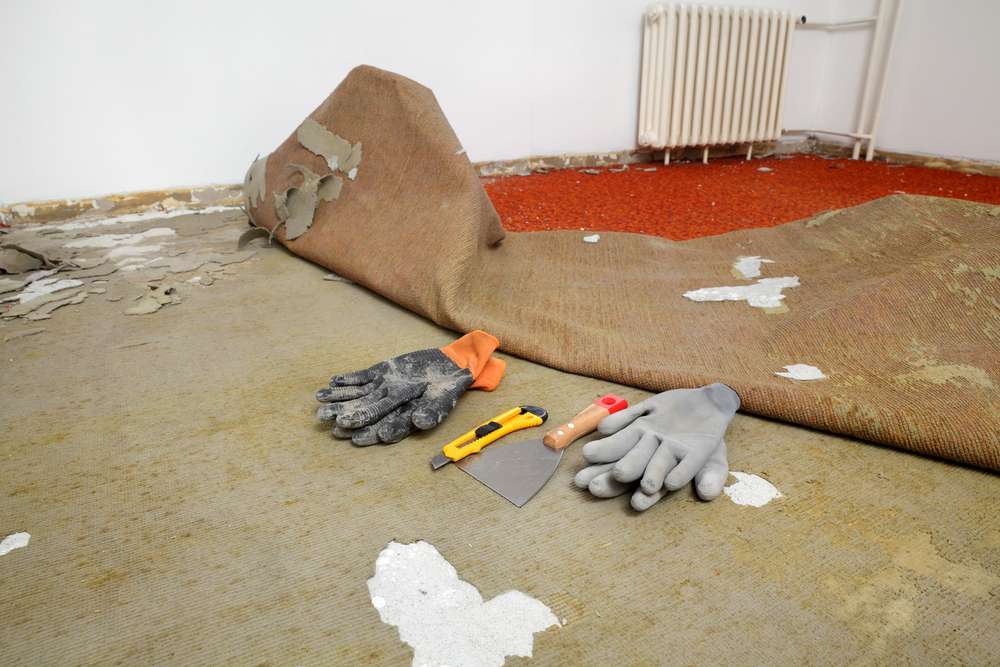 If you need to start over
If you can't remember exactly when the carpets went down, it is probably time to replace them. Remember the recommendation from The National Association for Home Builders cited above? Eight to 10 years is the effective useful life of most carpets. If you live in a high-traffic home with kids and pets, or you live in an area with high pollen counts or other air contaminants, make sure you're keeping track of how long you've had your carpet.
The Mayo Clinic also recommends going with a low-pile carpet instead of a high-pile because it's easier to clean. So if it's time to start shopping for new carpet, look for either a low pile or more allergy-friendly materials.
If you think you're losing the fight against allergens in your home, you can request a free new carpet estimate from Giant Carpet One. Their friendly, knowledgeable staff will help you find the best quality carpeting you can afford.
×