This archived news story is available only for your personal, non-commercial use. Information in the story may be outdated or superseded by additional information. Reading or replaying the story in its archived form does not constitute a republication of the story.
Hate that feeling when you step in gum? And your shoe won't release the pavement to which you've unwittingly attached yourself? It's happened to everyone. Then comes the frustrated back-and-forth scraping against the non-affected rough surface to try to get most of that germy chewed gunk off your foot.
Even worse, just about everyone has stepped in pet poo. Then comes a frantic scraping in any grass that can be found to remove the offensive crap. After arriving home or near any sink, it's time for water, disinfectant and some scrubbing with a sponge or old toothbrush.
While shoes don't always get attacked by those particularly nasty hangers-on, they always pick up unwanted guests — and if you don't remove your shoes at the front door, those become unwanted houseguests.
Here are just four reasons you should never wear shoes in your house.
Shoes carry dangerous bacteria and diseases
In a 2015 study by the University of Houston, researchers aimed to find out how often Clostridium difficile (known commonly as C. diff) bacteria could be found in various household areas. The bottoms of shoes carried the dangerous bacteria 39 percent of the time — more than even bathroom surfaces were found harboring it (33 percent).
C. diff caused almost half a million infections in U.S. patients in 2015, according to the Centers for Disease Control and Prevention, and 29,000 people died within 30 days of their diagnosis. The bacteria causes inflammation of the colon and deadly diarrhea.
C. diff is "most notorious for infecting hospital patients," Prevention magazine says, but "35 percent of cases start elsewhere."
The spores can be carried by poop from various animals, such as birds, and they can end up on a surface, such as your front doorstep (and then your shoes) and live there for months, according to Prevention.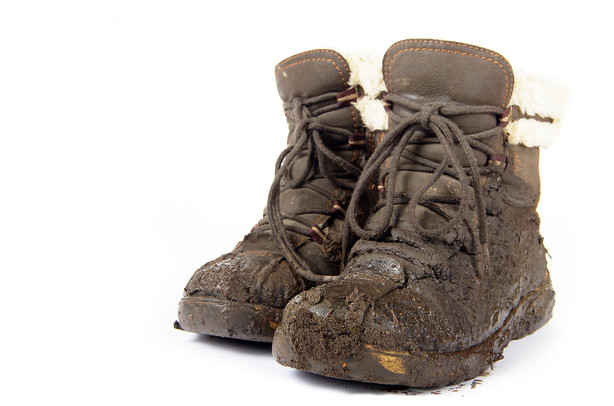 E. coli is another common bacteria found on shoes. Cindy Gellner, a pediatrician at University of Utah Health, says it's found on most shoes. Many strains of the bacteria are harmless, according to the CDC, but "some kinds of E. coli can cause diarrhea, (and) others cause urinary tract infections, respiratory illness and pneumonia."
And the list of diseases hanging out on the bottom of your shoes doesn't end there: According to a review published by the National Institutes of Health, other infectious diseases included methicillin-resistant Staphylococcus aureus (MRSA) and multidrug-resistant Gram-negative species (the rise of which "has become a particularly serious challenge for health care professionals," according to another study published by the NIH).
Shoes transmit toxins
Think of the places you go every day; you might fill up the gas tank in your car, stepping through spilled gas and oil, or you might traipse through grass that's been treated with lawn fertilizer or weed killer. Just crossing a street or walking along a sidewalk is a trip through all kinds of toxins.
"Pesticides are ubiquitous in the environment," according to the World Health Organization. "They are designed to kill, reduce or repel insects, weeds, rodents, fungi or other organisms that can threaten public health and the economy." Since they target systems or enzymes in pests that can be identical or very similar to those in humans, they "pose risks to human health."
Lead dust is another dangerous item that shoes can bring into the home, according to the Environmental Protection Agency. Shoes can track in lead dust "from soil outside that is contaminated by deteriorated exterior lead-based paint and other lead sources, such as industrial pollution and past use of leaded gasoline."
These various dangers may be everywhere, but you can limit your indoor exposure by not welcoming them to your home with your shoes.
Most of these toxins and bacteria transfer to your carpet
The University of Arizona's Charles P. Gerba, a microbiologist, swabbed 26 shoes worn by various people for three months or more, according to the Baltimore Sun.
"Coliform bacteria — originating in fecal matter — were found on the outside of all but one of the shoes, and the samples averaged 421,000 bacterial units per square centimeter sampled. (Each unit is enough bacteria to reproduce and grow a new colony.) Seven of the shoes had picked up Escherichia coli (E. coli) bacteria."
Just wiping your shoes at the front door isn't going to remove these microscopic creatures. Gerba checked to see how much our shoes leave those bacteria on the floors in our homes, and the results were sobering: 90 percent to 95 percent of the colonies on the shoes transferred to the tiles he tested.
Tracking in dirt and other items will wear out your carpet more quickly
Carpets can host plenty of extra unwanted visitors if you don't take care of them.
"Your carpets can hold as much as four times their weight in dirt, and possibly even more," according to Jane Hurst at Lifehack.
"Dust, dirt, dander, bacteria, mold and mildew (especially if the carpeting has water damage or is frequently damp) can settle in and get buried down deep, making it difficult to get them out," according to Everydayhealth.com.
If you've invested in beautiful, quality carpet for your house, you'll want to keep it clean and feeling and looking good as long as possible. Cleaning regularly, including vacuuming and steaming, will help in this goal, but prevention is just as important. Don't track in that dirt and anything else that your shoes carry in the first place, and you'll keep your carpet feeling like new that much longer.
To start fresh with carpet you will enjoy for years, call Giant Carpet One for a quote. It has been serving Utah families and their flooring needs for more than 30 years.
×