Estimated read time: 8-9 minutes
This archived news story is available only for your personal, non-commercial use. Information in the story may be outdated or superseded by additional information. Reading or replaying the story in its archived form does not constitute a republication of the story.
SALT LAKE CITY — It's shorts and t-shirt weather across much of Utah, but our snowy winter means there will be excellent skiing and riding in the mountains well into summer.
KSL spoke with Greg Gagne, a Utah Avalanche Center forecaster, and reviewed guidebooks to learn more about late spring and summer skiing destinations, trip planning and safety.
Snowbird
Having received 664" of snow year-to-date, Snowbird is open daily through May 12th, and Friday to Sunday operations are scheduled to begin May 17th and continue as long as conditions permit. Riding their hopes of snowy season's past, some Wasatch skiers are optimistic that they can ski until July 4th.
Backcountry
In addition to Snowbird, this season's deep snowpack provides skiers an opportunity to accomplish more ambitious backcountry objectives this spring and summer.
Note: Ratings, time and distance below are from "Backcountry Ski & Snowboard Routes: Utah" by Jared Hargrave. Ratings are based on backcountry skiing and touring experience, and not skiing ability at a ski resort. Hours and miles are roundtrip estimates.
Lone Peak (Wasatch): Advanced/Expert, 7 hours, 9 miles.
Lone Peak in the Wasatch is a great option because it is high elevation and offers long runs of lower-angle corn skiing. Gagne prefers lower-angle skiing in the springtime because it is "smoother" than steeper terrain which can become riddled with rollerballs and wet-slide debris.
Lake Peak (Wasatch): Advanced, 5 hours, 7 miles.
From the White Pine Trailhead in Little Cottonwood Canyon, Lake Peak is located on the ridge that separates the White Pine and Red Pine drainages and offers several descent options, including a signature chute all the way down to White Pine Lake.
In general, Gagne recommends terrain in the Red Pine and White Pine drainages that can be accessed from the White Pine Trailhead. The trailhead is on the north facing aspect of Little Cottonwood Canyon, has a high starting elevation, and accesses several peaks that rise above 11,000 feet, making it an ideal starting point for springtime.
Deseret Peak (Stansbury's): Advanced, 8-12 hours, 6-13 miles.
Unlike other destinations close to Salt Lake City, you are unlikely to see other touring parties on Deseret Peak, standing just over 11,000 feet – the tallest peak in the Stansbury Mountains of the West Desert – and about a 1-hour drive from Salt Lake. Hargrave and Gagne both recommend Deseret Peak as a spring ski destination.
The time and distance can vary dramatically depending on whether the road to Mill Fork Trailhead is open. Bring mountains bikes in case the road is closed to save on walking time.
Hayden Peak (Uintas): Advanced/Expert, 2 hours, 3 miles.
As the highest and coldest range in Utah, the Uintas offer the best skiing options as spring transitions to summer. The Mirror Lake Highway typically opens around Memorial Day and provides access to corn skiing right off the highway. Hayden Peak is a prominent and intimidating summit just off the Mirror Lake Highway, but has several route options that are ideal for quick laps.
Kings Peak (Uintas):
Typically thought of as a summer hiking destination, Utah's highest peak is a destination Gagne recommends as a ski tour. This is an advanced or expert destination, so skiers should get an early start and anticipate spending the whole day on the trail for about 13 miles, Gagne said. This destination was not profiled in the Hargrave guidebook.
Laurel Highway (La Sal's): Intermediate, 6.5 miles, 4 hours.
The La Sal's are known for excellent spring corn and have a very deep snowpack this season. Laurel Highway is a popular destination due to easy access right from the Geyser Pass winter trailhead and intermediate level skiing. Gagne cautions that the La Sal's are not a destination he has skied beyond mid-May and that the range has a reputation for losing its snowpack, so speaking with someone who is aware of the current conditions is important for trip-planning.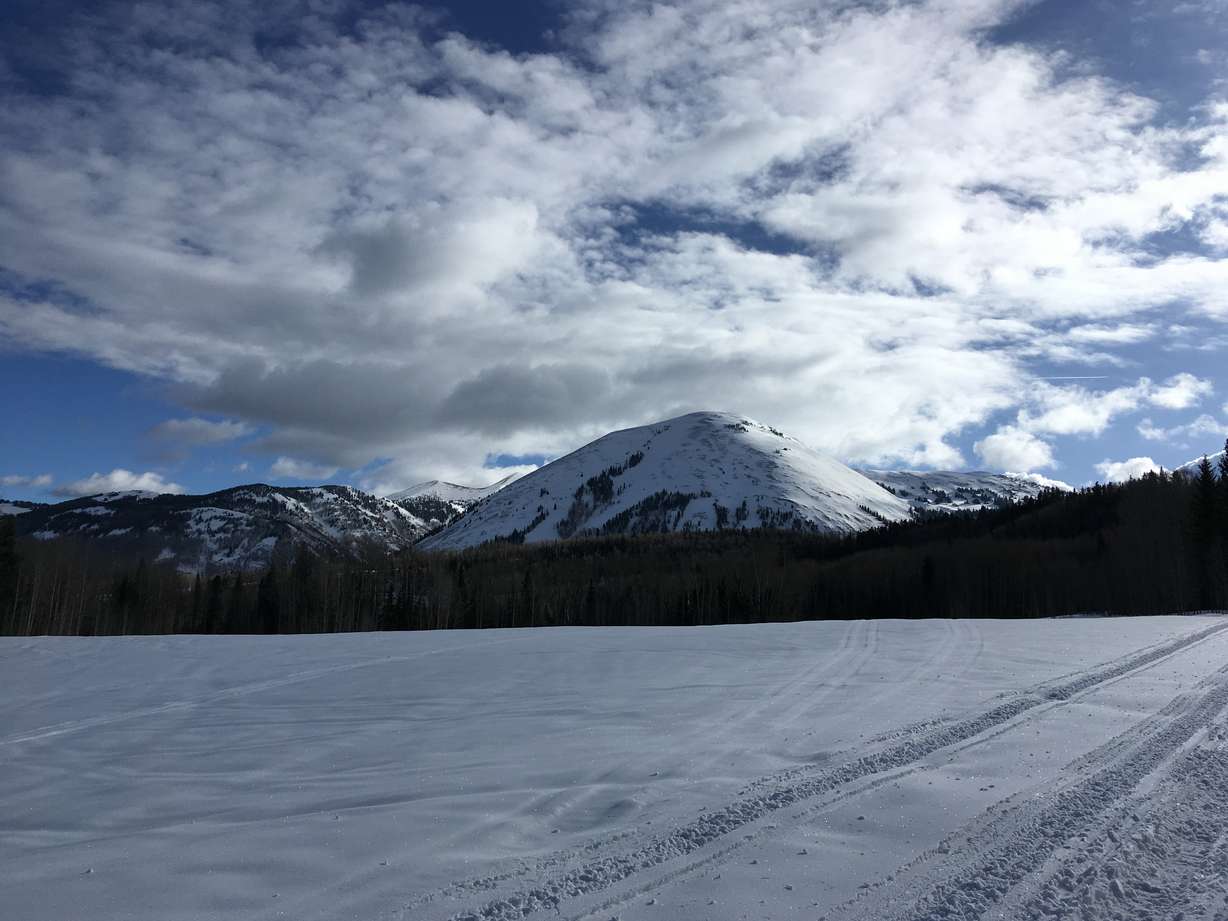 Mount Tukuhnikivatz (La Sal's): Advanced/Expert, 8 miles, 6 hours.
Mount Tukuhnikivatz, or "Tuk" for short, is the marquee touring destination of the La Sals and its silhouette is the most prominent of the range as seen from Moab. This tour is long and the majority of the descent options are steep and within serious avalanche terrain, giving this an advanced or expert rating.
Resources
There are several resources that can help skiers and riders plan trips for the spring and summer. For information on snow and weather conditions, Snowbird's mountain report can be helpful for trips in the Central Wasatch.
Current and historical weather conditions from dozens of weather stations in the Salt Lake region can be found on the National Weather Service (NWS) "Snow" webpage. Gagne advises checking the measurement dates on the "Snow" webpage because some stations may not be reporting current information.
It is also important to note the Utah Avalanche Center (UAC) is no longer issuing daily avalanche reports for any region in Utah.
For snow depth and accumulation information at sites throughout Utah, check SNOTEL site data.
For open trailheads and other access-related information, Gagne recommends calling the local forest service office. Other helpful resources include "Backcountry Skiing Utah: A Guide to the State's Best Ski Tours" by Tyson Bradley and the aforementioned "Backcountry Ski & Snowboard Routes: Utah" by Jared Hargrave. Both of these books can be purchased at REI or Amazon.
Safety
It's important not to assume that access to areas you skied in the winter will be the same in the spring and summer. Stream crossings and snow bridges should be avoided, said Gagne.
In addition, closed ski areas make for optimal quick tours, but visitors should use the same amount of caution as for any backcountry area. Gagne added that ski areas, "don't do mitigation work once they shut down. I saw a pretty close call last May at Alta on Baldy Shoulder. Skiers almost went over the cliffs."
Another scenario to be cautious around is late season snowfall. Gagne said that we are likely to get another winter storm in the mountains in May and mid-winter conditions will return. Shortly thereafter, when temperatures warm back up, a wet avalanche cycle will occur and the avalanche danger will be high.
Elaborating, Gagne said that most wet avalanches occur in the transition from winter to spring, after that point, the snowpack stabilizes and becomes neve, a more uniform, icier snowpack. As the snow transitions to neve, wet avalanches become less common, but are still possible.
Gagne offered a couple of caveats even as the snowpack stabilizes into neve. First, areas where the snowpack rests on a rock slab can lead to unpredictable glide avalanches. There are several areas in Big Cottonwood Canyon that are known for this activity. "Temperature has nothing to do with it, they release when they are ready to release," said Gagne. Second, if you fall on spring snow, it can be harder to stop because the surface is firmer and icier than in winter.
Equipment
A whippet, which is essentially a small ice pick extension on a ski-pole, can be used to help arrest a fall on spring snow.
Icy snow can also make uphill travel difficult and dangerous, so specialized uphill travel equipment includes ice axes and ski crampons.
A great opportunity
With the proper planning and equipment setup, Gagne thinks it is a great season for skiers to enjoy spring and summer skiing in Utah.
"Just because it is spring in the valley doesn't mean that you can't enjoy the mountains," he said. "There are some really great spring skiing opportunities, particularly this year, because we have so much snow." Ian Dempsey received his B.A. from Gonzaga University in 2011, his M.A. from Fairfield University in 2018, and has been hearing the call of the wild since it struck him that a hill is very different from a mountain.
×
Most recent Outdoors stories