Estimated read time: 3-4 minutes
This archived news story is available only for your personal, non-commercial use. Information in the story may be outdated or superseded by additional information. Reading or replaying the story in its archived form does not constitute a republication of the story.
SALT LAKE CITY — Shortly after Salt Lake police officers arrested a man April 7 for investigation of domestic violence, he fell off a two-story apartment building while officers escorted him to the patrol car and later died of his injuries.
At a news conference Monday, the department released the 911 call that led to that encounter, as well as body camera footage showing the arrest and fall.
"Domestic violence calls are highly unpredictable and considered high-hazard calls," Salt Lake Police Capt. Jeff Kendrick said Monday. "We take domestic violence very seriously and never arrive alone," Kendrick said.
At 11:42 p.m. that day, dispatchers received a 911 call from a woman who said her boyfriend, 38-year-old Robert Martinez, had put a blanket over her face, hit her and detained her for a few hours.
During the call police say Martinez attempted to take the woman's phone, and she can be heard yelling on the 911 recording.
She asked the 911 operator to "please hurry" and said there was no one in the house to help her.
Two officers initially responded and arrived at 204 E. Browning Ave. at 11:52 p.m. Kendrick explained Monday that Martinez refused to open the door and additional officers arrived to assist.
After about 30 minutes, Martinez opened the door and willingly allowed officers inside the apartment, Kendrick said.
Police then listened to Martinez's "side of the story," Kendrick said, and called medics to come and examine his leg after he complained of pain from a prior injury.
Medics cleared Martinez and he signed a release that acknowledged no further medical care was needed, according to Kendrick.
Martinez was then placed under arrest for investigation of unlawful detention, domestic violence related assault, aggravated assault and disruption of a communication device.
Martinez can be seen and heard crying and pleading with officers in the body camera footage. Shortly after he was handcuffed, officers walked him out of the building and told him they would go "nice and slow."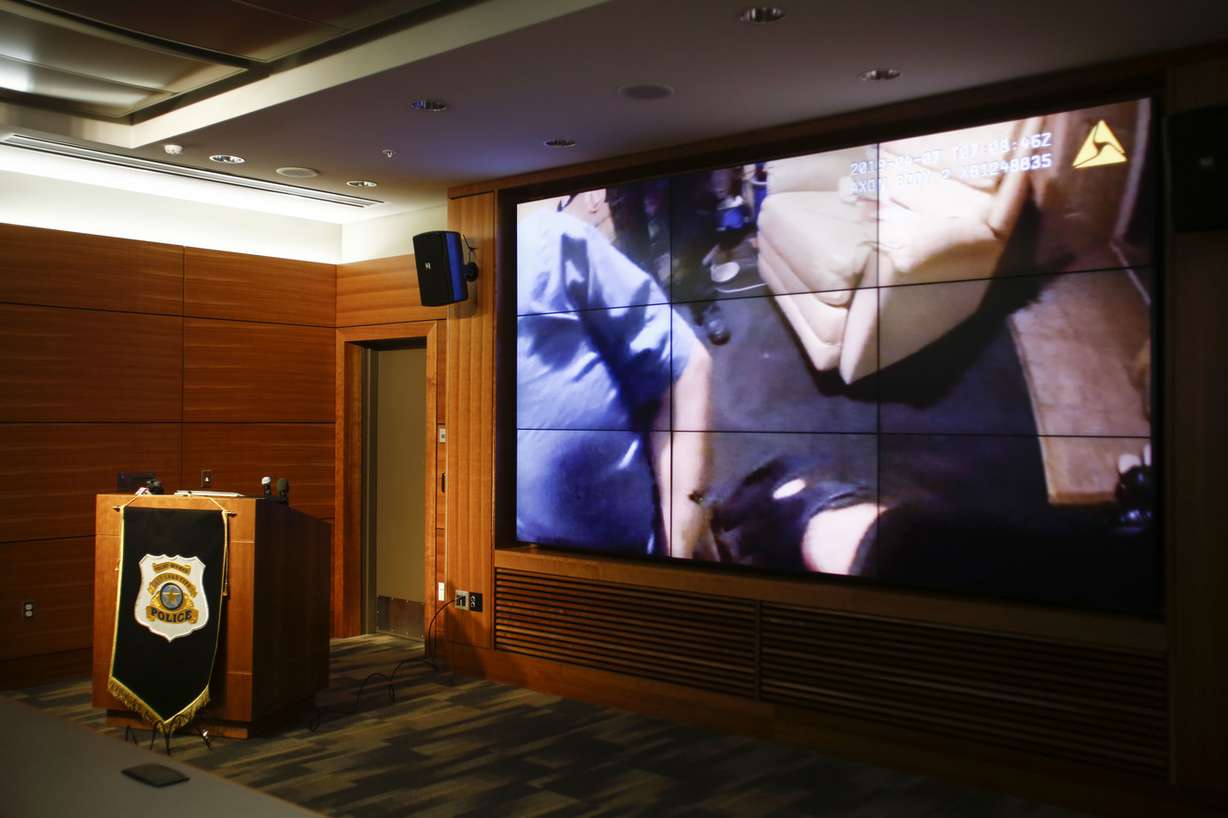 Kendrick said Martinez took about four steps down the stairs and then "unexpectedly" fell over the railing, falling from the second floor to the ground.
An officer can be heard saying "he just jumped," in the body camera footage.
Kendrick said Martinez was initially unconscious, then regained consciousness and was taken to a local hospital where doctors determined his injury was more serious than first suspected.
He underwent surgery but died two weeks later on April 20 of head trauma sustained in the fall, according to Kendrick.
Police said because the injury that ultimately led to Martinez's death occurred while he was in police custody, it is considered an officer-involved critical incident. Because the video does not show any use of force, no officer has been placed on leave in relation to the incident.
The incident is under active investigation by Unified police and the Salt Lake County District Attorney's Office, according to Salt Lake police detective Greg Wilking, spokesman for the department.
Kendrick said there have been 922 reports of domestic violence to Salt Lake City Police Department in 2019 so far.
Help for people in abusive relationships can be found by contacting the YWCA's Women in Jeopardy program at 801-537-8600, or the confidential statewide Domestic Violence Hotline at 800-897-LINK (5465). Resources are also available online at udvc.org.
×
Photos
Most recent Utah stories