Estimated read time: 7-8 minutes
This archived news story is available only for your personal, non-commercial use. Information in the story may be outdated or superseded by additional information. Reading or replaying the story in its archived form does not constitute a republication of the story.
Editor's note: This is the second part of a series looking back at the history and impact of the transcontinental railroad, which was completed 150 years ago this year.
KELTON, Box Elder County — It's a drizzly, overcast October morning, but Christopher Merritt refuses to let rain halt his latest tour of northwestern Utah.
Merritt, deputy state historic preservation officer with Utah Division of State History, drives west on state Route 30 well past the point of any cellular service. He points to a large raptor perched defiantly atop one of the power poles. There's a lot of those out here that well outnumber structures or people.
He finally sees the turn in the road he's looking for and then another.
Soon Merritt's found his way onto the path of the Transcontinental Railroad National Back Country Byway, or what used to be the nation's first transcontinental railroad. The path mostly follows the railroad grade created by workers in 1869 as they raced to finish the monumental line. That route was abandoned in the 20th century and any remaining rail laid down here was collected for scrap during World War II; the wood ties were likely then salvaged by local ranchers at the same time.
However, this path, now owned by the Bureau Land Management, still carries people through the route taken by Central Pacific Railroad workers as they continued their quest to create history.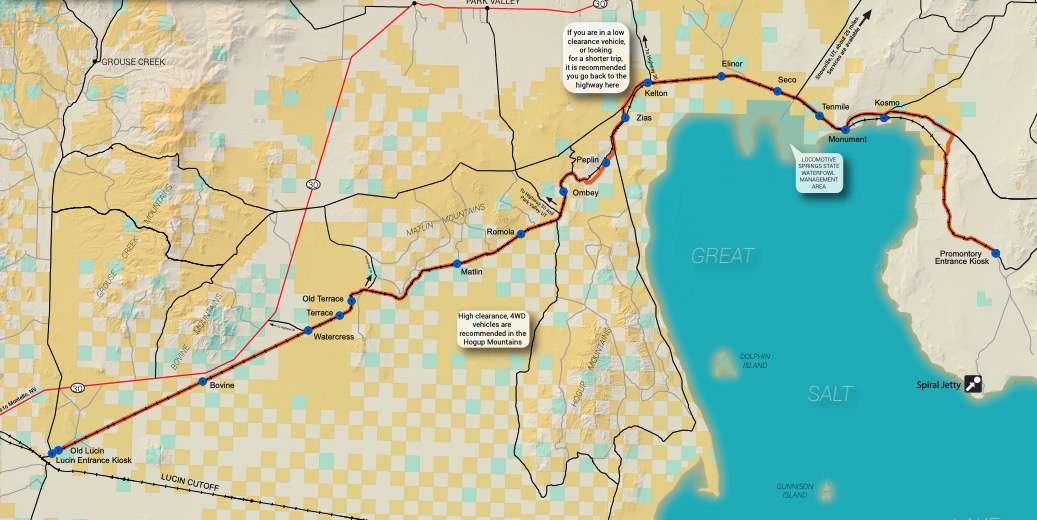 While the majority of the transcontinental railroad anniversary celebration will be centered at the spot where the golden spike was driven, Utah's archaeologists are hoping to preserve what was left along this path to Promontory Summit.
The byline tour
Given the weather on this fall day, Merritt starts off between Lucin and Terrace.
He pulls on the byway only to stop at something off to the left. It's a dugout rail workers slept in.
Not long after, he stops at "Big Trestle" east of the dugout. Constructed about the time the line finished, it's the largest trestle bridge still standing from its era. Archaeologists believe some parts of the bridge were repaired in the late 1800s based on some of the different cuts in wood.
There's some sort of darkened brick mass on the ground between the trestle structure and this byline trail, too. Merritt points out that it's probably from the firebox of the steam locomotives that used to run by here. Workers used to discard pieces of these fireboxes along the track. There are quite a few similar bricks along the path.
As Merritt continues eastward, he spots a familiar sign and parks his SUV.
"You're in downtown Terrace now," he says.
'Online' towns
To understand a place like Terrace, you have to understand the cities along the railroad. The transcontinental railroad built towns like Lucin, Terrace and Kelton.
Those three towns — now long since abandoned — were way stations along the railroads that popped up during the 19th century. It's like modern-day Snowville, which is located to the north in this county. Snowville provides the same role for motorists along I-84 now as these three cities did for railroad passengers and workers.
Today we think of "online" and "offline" as internet terms. You can't connect with the world unless you're online, right? Many years ago, that's how towns along railroads were described, said Patricia LaBounty, curator of the Union Pacific Railroad Museum in Council Bluffs, Iowa.
The towns and cities on the railroad lines were connected in ways others off the line weren't. They could receive goods faster than the towns off the railroad lines — until technology changed, she explained.
Once changes were made to the railroad line in northern Utah at the beginning of the 20th Century, these three major railroad towns went offline and turned to dust.
The rise and fall of Terrace
Terrace existed once had a prominent role in the state, which is a little surprising to think now. Established in 1869, Terrace, Utah, was once a thriving railroad community for the Central Pacific and, later, the Southern Pacific Railroad.
The only reminder it existed now is the scattered bricks, glass and porcelain shards where those buildings once stood. You have to use your imagination to picture what once stood here.
"A big machine shop made out of brick. Main Street on the left," Merritt said, pointing toward the empty desert terrain. Terrace had a railroad depot, restaurants, stores, as well as a docking station and turntable for trains. Photos from the 1890s show ornamental trees aligned the railroad tracks.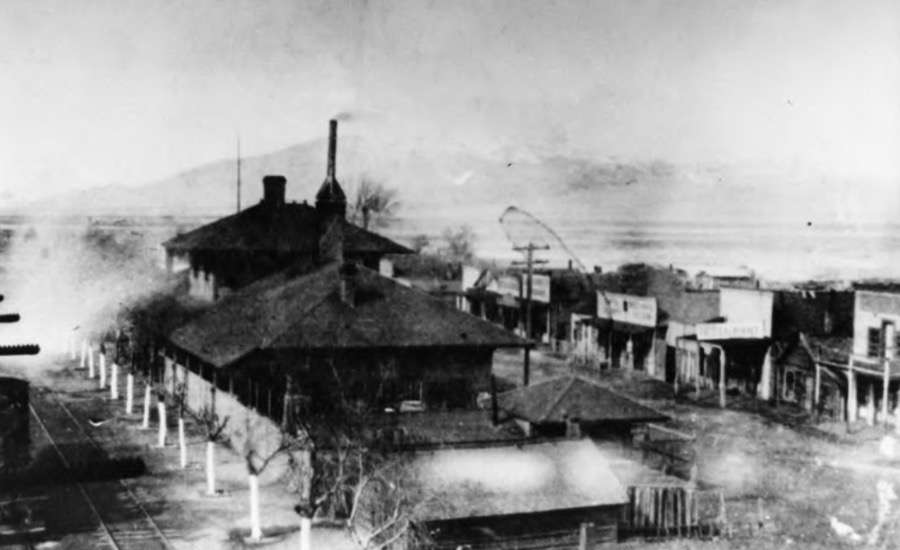 "(The railroad company and land speculators) really wanted to make Terrace the town of western Box Elder County," he continued. "They wanted Terrace to be a big community and it was for about 30 years."
In fact, Terrace had 800 residents by 1870. Terrace grew to about 1,000 residents at one time and was also the second-largest population of Chinese individuals in Utah (behind Corrine), according to Utah State History. Then a series of events doomed the town.
First, the Lucin Cutoff opened in 1902, which rerouted trains through the Great Salt Lake to the south and made Terrace obsolete. As a result, its economy tanked.
Second, there was very little water to begin with. To even get water, workers constructed a 13-mile redwood pipeline from a small set of springs in the closest mountains toward the city.
"They took a log of redwood, bore a hole through the center of it and meshed it together 13 miles," Merritt explained. This water was typically more for steam trains than it was for the residents. "You needed good, fresh, clean water for steam boilers."
It also didn't help that a large fire in the early 1900s destroyed most of the remaining buildings and any remaining timber was seized by the railroad company or ranchers. Most residents just packed up and left.
As for the artifacts still on site, there's actually an impressive amount of shards left behind.
"You can spend days out here," Merritt said, as he pointed to what's left of an old martini glass. "There are areas you can walk and not step on something. It just doesn't happen that much. It just tells you how much was coming into Terrace and how nothing was leaving."
To the east of this place, you'll find the Terrace cemetery still stands — somewhat fittingly — as the only real reminder this city once existed.
Peplin Cut and other gems on the line
Remarkably, many original structures exist on the railroad grade. For example, there are culverts built in spring 1869 that still function. Some are large enough to walk or crawl through, while others — considering their age — are understandably worse for the wear.
One of the more impressive remaining features is Peplin Cut, which was a path carved into the rougher terrain out here. The BLM path meanders around that now, but you can still walk through this cut toward a spot that overlooks the Wasatch Front in the distance.
"I love it because you can walk through it and you can really feel like these guys did not excavate more dirt than they needed to get a train through," Merritt said. "You can almost imagine putting your hand out a window and touch the side of the wall. It's kind of a cool little feature."
A bit farther east, there is Kelton and another cemetery. Even farther east is a stretch where Chinese workers famously laid down 10 miles of track in one day.
It all leads to where the merging of the rails at Promontory Summit on May 10, 1869.
Preserving the path to Promontory
Utah State History officials hope this area will be designated a National Historic Landmark some day. Merritt has led many tours of this area, bringing along everyone from other archeologists to lawmakers and to media. He plans to continue forward in the next few months after this week's golden spike celebration to bring awareness to preserving the artifacts left near the path.
A major reason archaeologists want this area preserved is it helps detract looters. People come here, pick things up for themselves or pick it up and leave it at the closest visitor center instead of leaving them be.
"They're having that same problem in Bear's Ears right now. People are picking up pottery and putting it next to the visitor's box or hiding pieces of things," Merritt said.
It's for good reason. Even with just shards of porcelain and pieces of led pipe in Terrace, experts are able to theorize the city had running water, a thriving Chinese community and how groups coexisted during this time period.
In short, the tour and the pieces left behind from the transcontinental railroad allows us to understand how people lived and worked here 150 years ago.
×
Photos
Related stories
Most recent Historic stories