This archived news story is available only for your personal, non-commercial use. Information in the story may be outdated or superseded by additional information. Reading or replaying the story in its archived form does not constitute a republication of the story.
SALT LAKE CITY — From Perth, Australia to Salt Lake City, Utah, Mitch Wishnowsky has made quite the trek to play football. He'll soon make San Francisco home after the 49ers selected him with the No. 110 overall pick in the NFL draft Saturday.
Wishnowsky, the prolific collegiate punter that has the build of a linebacker, was selected in the fourth round. He was one of six players from Utah invited to the NFL Combine and impressed scouts with his 4.63 40-yard dash.
He's also the first specialist selected in the NFL draft, and third player from the University of Utah. Teammates Marquise Blair, a safety, and Cody Barton, a linebacker, were selected by the Seattle Seahawks in Friday's second and third round, respectively.
"You were a target from the beginning," Niners coach Kyle Shanahan told an emotional Wishnowsky in a video released by the organization. "We were worried we were going to lose you, but we got you here. We're pumped up.
"We've been enjoying this whole process, and we're pumped to get you here."
A three-time All-American and the only three-time Ray Guy Award finalist in NCAA history, Wishnowsky finished No. 1 in the voting for the best punter in college football in 2016 and set his mark as a punter after a youth career in Aussie rules football.
His 8,004 career punt yards rank sixth in school history, and he booted 62 punts of 50 yards or more — the second-most all-time at Utah football.
As a senior in 2018, Wishnowsky averaged at least 45 yards per punt in 11 of the Utes' 14 games, with 24 punts downed inside the 20 and four touchbacks.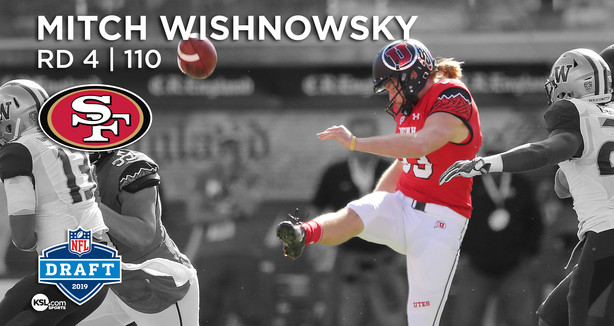 ×
Related Stories