This archived news story is available only for your personal, non-commercial use. Information in the story may be outdated or superseded by additional information. Reading or replaying the story in its archived form does not constitute a republication of the story.
SALT LAKE CITY — Chase Hansen always knew Cody Barton would be special.
Even when Barton struggled early in his Utah career or when outside voices criticized his inexperience play, Hansen knew.
"I've been saying from the get-go that Cody is going to be legit," Hansen said in November. "I've been saying he's going to be the real deal."
The Seattle Seahawks appear to agree.
The Seahawks drafted Barton on Friday, selecting the 6-foot-2, 237-pound linebacker with the No. 88 pick in the 2019 NFL Draft.
Barton finished his senior year with a team-high 116 tackles. He had 10.5 tackles-for-loss, six passes defended and four sacks in a standout season. And it was a season that many might not have seen coming.
Barton took some time to find himself during his time at Utah.
He was thrown into a starting linebacker role as a sophomore and that made for some rough games early on. Barton had played corner and safety in high school and was forced to learn on the fly. That made for some very public mistakes. But mistakes that he used to grow and become an NFL draftee.
"Sometimes learning through your mistakes is like learning the hard way," Barton said before his senior year. "But it's also learning the best way."
It'd be hard to argue with the results.
Barton was impressive during the NFL Combine. He had the best time out of linebackers in the 20-yard shuffle (4.03 seconds and was sixth in the 3-cone drill at 6.90. He also had a good 40-yard dash time of 4.64.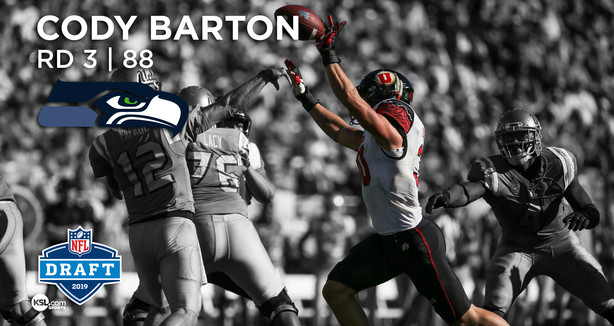 Cody Barton is PUMPED. 💪#SeahawksDraftpic.twitter.com/t5wtVSjbEI

— Seattle Seahawks (@Seahawks) April 27, 2019
×