This archived news story is available only for your personal, non-commercial use. Information in the story may be outdated or superseded by additional information. Reading or replaying the story in its archived form does not constitute a republication of the story.
SALT LAKE CITY — Known for his big hits, former Utah safety Marquise Blair will now get his shot in the NFL.
The Wooster, Ohio, native was selected No. 47 overall in the second round of the 2019 NFL draft Friday by the Seattle Seahawks. He is the first University of Utah athlete selected in this year's draft.
The Seahawks traded down with Carolina in the second round, then turned the No. 15 selection of the round into Blair — a hard-hitting safety who is "aggressive at the line of scrimmage" and "a guy who wants to play downhill," according to NFL.com draft analyst Daniel Jeremiah.
His reputation preceded him in Seattle, too, as head coach Pete Carroll told Blair when he called him prior the selection.
"The staff is fired up because we know how tough you are," Carroll said in a video posted to Seahawks.com. "We expect you to do that in every aspect of our play: special teams, pounding the run game, pounding the pass game."
The Seahawks could play Blair at either free or strong safety after he played both in college. "I can be physical int he box and I can cover in the back end," he told Seahawks.com.
Offenses beware.

Marquise Blair is BACK. @Legit_King1pic.twitter.com/6zVDvt5gjg

— Utah Football (@Utah_Football) June 23, 2018
Blair, a 6-foot-1, 195-pound safety played two seasons at Utah after transferring ahead of his junior season from Dodge City Community College. Blair had an immediate impact to the secondary unit that was led by then strong safety Chase Hansen. Blair took over the starting role when Hansen moved to linebacker their senior season.
In his two seasons at Utah, Blair totaled 107 tackles, including a season-high of 59 his senior season, and five tackles for loss. He also had four pass breakups, two interceptions, one forced fumble and one fumble recovery that was returned for an 18-yard touchdown his junior season.
Blair was one of six athletes from the University of Utah invited to the NFL Combine in March. While there, Blair ran a 4.48 40-yard dash and managed a 35.0-inch vertical jump and 125.0-inch broad jump.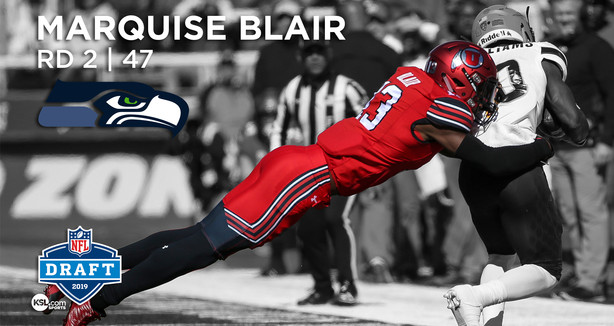 ×