This archived news story is available only for your personal, non-commercial use. Information in the story may be outdated or superseded by additional information. Reading or replaying the story in its archived form does not constitute a republication of the story.
SALT LAKE CITY — Facing a pivotal fourth down and a winding clock, BYU needed 7 yards to keep their hopes alive after blowing a 20-0 lead over rival Utah Saturday. But a raucous Rice-Eccles Stadium crowd provided a hostile setting to the tense moment — a sharp contrast to a previously awestruck and nearly silent crowd earlier in the game.
After a brief timeout, BYU quarterback Zach Wilson completed a pass to tight end Matt Bushman, seemingly keeping the Cougars' dreams alive. But sophomore Javelin Guidry and senior Chase Hansen stood in the way and held Bushman to only 6 yards.
Short. Utah ball. Ballgame.
As the crowd erupted in cheers, relieved to see their team overcome an early deficit and rip a victory out of their rival's clutches in a 35-27 win, Hansen and fellow linebacker Cody Barton casually walked off the field together, embracing each other with arms around shoulders.
There was no celebration on their part, just a simple exchange of words after a job well done as the two walked off the field for the last time at Rice-Eccles Stadium.
"It was kind of just a calm moment," Barton said. "The game was so — the fans were so electric, the whole stadium's rocking, and on that last fourth down, the crowd was screaming and stuff, and it was just so crazy. At that moment, it just felt kind of peaceful, I guess — relaxing."
The tandem have given their all to the university over the years and have become a stable force on an already stout defensive unit. The two friends will likely go down as arguably the best linebacking pair to play at Utah. That's saying something, given the recent examples of players like Gionni Paul and Jared Norris, who left big shoes to fill.
But neither Barton nor Hansen takes themselves too seriously; that's not to say they don't care, it's just that their outgoing and upbeat demeanor off the field adds some levity to the high pressure and physical nature of their job. As a result, both have been able to freely play while being bruisers to opposing offenses.
Barton has an unusually fast pursuit, and Hansen can lay the blow as hard as anyone. But those same traits can be said about the other, too, and it's led them to be the top two tacklers on the team.
Entering Friday's Pac-12 Championship game, Hansen currently leads the team with 101 tackles, for an average of 8.4 tackles per game. He also boasts an impressive team-leading — by a long shot — 22 tackles for loss for 81 yards. The next closest is Bradlee Anae's 13.5 TFLs. Barton isn't far behind Hansen, though, with 96 total tackles, for an average of 8.0 per game. He's also had 10.0 tackles for loss this season for 33 yards.
The pair have an ongoing bet about their stats and are quick to point out the areas where they've one-upped the other — all in good fun and with a smile on their face as they mention their personal accolades. Hansen is starting to pull away from Barton, especially if tackles for loss are factored into their equation — they're not — but there are still two more games left in the season.
"Going into the BYU game, I had more than him. Now he's got more than me, so that's how it is — kind of back and forth," Barton said, laughing about their competition. "Some say it might ruin a friendship — I'm just kidding. No, it just heightens competition, you know what I mean? It just makes us better players."
Historically, each is still dwarfed by the school's record of 174 total tackles in a season by John Huddleston in 1975, but there's little question the duo has been the "heart" to a Top 15 defense.
"I mean, they're both the heart of the defense — the heart and soul of the defense is that linebacker spot," head coach Kyle Whittingham said of his two seniors. "And they've done a great job all year with their production, their leadership, just everything. (I) couldn't ask for any more out of two guys than what we've got out of Cody and Chase."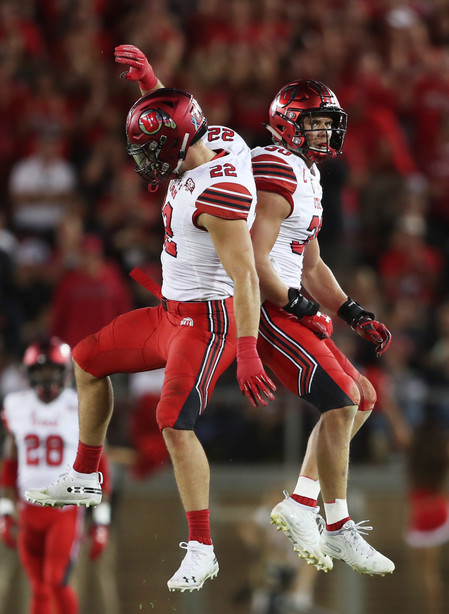 Although both play in a sort of synchronistic dance, their path to dominance was shaped by their different paths to being named starting linebackers.
Barton, a Brighton High School product, was thrown into the mix early at linebacker and was forced to learn quickly and adapt with little depth or experience at the position to help him. He made several mistakes along the way, as young players do, and many outside the program questioned his ability to be a starter in the program.
Even in his junior season, Barton was seemingly third fiddle to Kavika Luafatasaga and Sunia Tauteoli after playing starter minutes in years past. But Barton persevered and continued to improve.
"I've been saying from the get-go that Cody is going to be legit," Hansen said. "I've been saying he's going to be the real deal. I've been in the weight room with him; I've seen the work ethic he has, the football smarts that he has, and he has the physical tools to be able to make all the plays. He's one of the smarter players I've been around.
"He's out there talking to me saying, 'Hey, watch this, watch this' as much as anyone, and that's huge for everybody when you have a guy like that. So Cody has been a huge part of our success, but I think it's also just been a long four years of really hard work, which he's put in."
Hansen, though, was seemingly destined for greatness on the offense after an impressive career at Lone Peak High School as a dual-threat quarterback. But the coaching staff saw talent on the defensive side of the ball and switched him to safety, where he played for his first three seasons.
He dominated the game as a physical strong safety, but everyone knew Hansen belonged with the linebackers. The change, which came ahead of the 2018 season, paid off big as he naturally filled the role and established dominance in a Morgan Scalley defensive unit that plays well to Hansen's strengths.
Although different paths to where they're at today, the two have added tremendous stability to the defense and provided a model of success for the guys behind them. Most importantly, the connection the two has means more than all the accolades or success on the field — it's a brotherhood that can't be broken in their final days at Utah.
×