This archived news story is available only for your personal, non-commercial use. Information in the story may be outdated or superseded by additional information. Reading or replaying the story in its archived form does not constitute a republication of the story.
SALT LAKE CITY — "I love the Bill of Rights, I love the Constitution, I love the liberties that made us free in this country," Ed Ayers, of Salt Lake City, told a panel discussing racism Friday. "Is it not racist and discriminatory calling me a white nationalist when I believe in this country?"
Members of the "Stand Against Racism" panel told Ayers he had a good question, and an audience member then chimed in "racism goes both ways," which elicited collective groans and "whoa's" from both the crowd and the five panelists.
"No it does not," another audience member disagreed.
It was at this point Emma Houston, director of diversity and inclusion for Salt Lake County, stepped in to remind everyone the meeting was a "safe space" for discussion where people should listen respectfully to things they agree and disagree with.
"We may not agree on everything that is said, we are here to listen to what everything that is being said, whether we agree or disagree," Houston told the crowd. "So I heard that deep moan, 'Mmmmm' — we all have our opinions, we all have our perceptions, that's where the conversations begin in the safe space."
The panel discussion, hosted by Salt Lake County's Council on Diversity Affairs Human Rights Subcommittee and the Mayor's Office of Diversity and Inclusion as part of YWCA's national "Stand Against Racism" campaign, was held to open a dialogue about structural and institutional racism in the community. About 40 people attended.
Panelist Emerald Greene, graduate student at the University of Utah and an intern with the county's diversity office, addressed Ayers' question tackling white nationalism by first defining racism.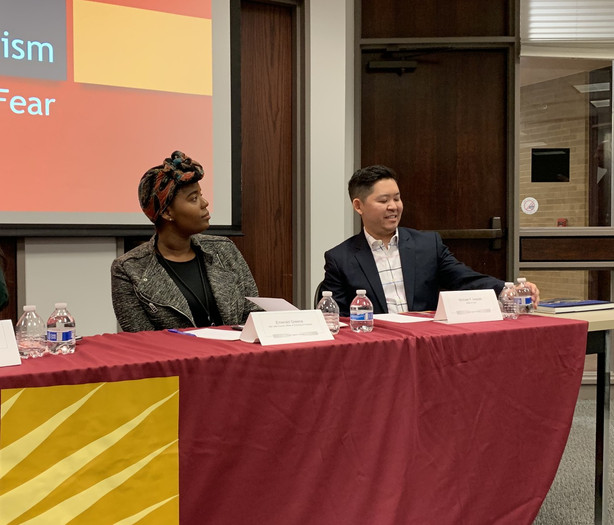 "Racism is a system, right? And essentially people can only be racist if they benefit from being racist," she explained. "It's built on oppressing, discriminating against people of a certain color, specifically people who have less power than certain other people."
"Anyone calling you a white nationalist is wrong," Greene then assured Ayers. "I condemn anyone who calls you a white nationalist."
However, Greene also said Ayers needs to understand the context and history of documents like the Bill of Rights and U.S. Constitution.
"But you should also understand that those governmental systems were meant for you as a white male," she said. "And there's also people that look like me, that look like him, that look like her that did not benefit from those same Bill of Rights, that same Constitution."
Her response was greeted with applause from the audience.
Greene was joined by four other panelists who discussed a wide array of topics, from racism in religion to how internalized racism can impact mental health.
When Maria Drummond, recreational therapist with Salt Lake County Youth Services, asked the panel how Youth Services can create better inclusion opportunities, panelist Kwamane O. Harris, education manager with Planned Parenthood Association of Utah, said giving minorities a voice is most important.
"It's just giving us a seat at the table, giving people of different diversities a seat at the table," he answered. "Because if they have a seat at the table then they're allowed, they can actually talk about some of those things that they need."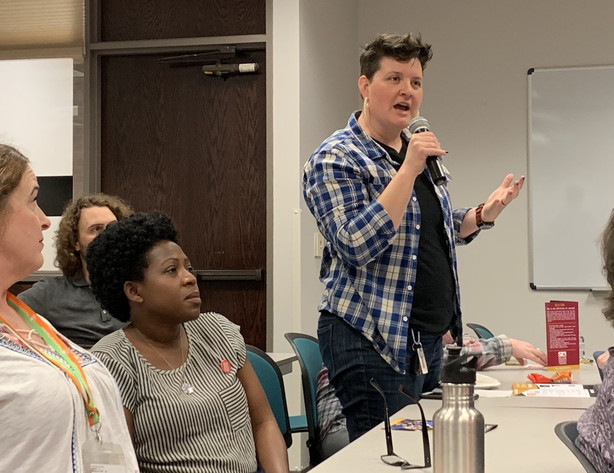 Panelist Faeiza Javed, a Pakistani-American Muslim who was born and raised in the Salt Lake area and now works as a licensed clinical social worker, said she's internalized the racism and oppression she's experienced.
"Someone can give me one look and my mind's like 'Oh shoot, I'm in danger,'" she told the audience.
After President Donald Trump was elected to office, Javed said she had several family members and friends express concern about her wearing a hijab. While she said she was already considering not wearing one, that solidified her choice.
"I miss it sometimes," she said. "I protect myself by not covering (with a) hijab and that sucks because it's part of my faith and I love it."
"I can't think of a more important conversation for Salt Lake County right now," said Salt Lake County Mayor Jenny Wilson. "What I love about our community is the various voices and the diversity and the heart and soul that comes when somebody brings a tradition other than my own to the table."
She said the "cultural fabric" of Salt Lake is important and enriches the community.
"Having said that, I do know that racism is a reality," Wilson continued.
Wilson recalled the one Utah Jazz game she attended this year, when Jazz owner Gail Miller condemned the racist remarks of a "quote fan," as Miller called them in the statement she read to guests in the arena last month.
Wilson said the community needs to "address the tough stuff" and engage in a conversation about racism in order to advance the goal of eradicating racism.
Moderator of the discussion Lance Paul Keen Brady-Sayer asked panelist Michael F. Iwasaki, a licensed attorney who works for the state of Utah and is co-president of Salt Lake's chapter of Japanese American Citizens League, if he thought racism was getting worse or disappearing.
"I think it really depends on your perspective," Iwasaki answered. "I don't think it's disappearing but I think it's being called to the forefront more, you're seeing it in the media more, you're seeing it being called out and I think that's a positive thing."
He praised the passage of Utah's hate crimes bill, which he said is a step in the right direction, but he also said he doesn't think it will ever disappear.
"I really feel like as long as you have different people, you're going to have people that have opinions based on those differences," he said. "And I think that's just how it is."
---
It's just giving us a seat at the table, giving people of different diversities a seat at the table. Because if they have a seat at the table then they're allowed, they can actually talk about some of those things that they need.
–Kwamane O. Harris
---
Brady-Sayer told the panelists he felt anxiety checking the box on forms asking for his race.
"There's only one race, there really is, the human race," he said. "And we just have different backgrounds, different ethnicities really."
He then asked panelists a two-part question: If people start to see themselves as a human race, rather than focused on differences, how can that change in mindset help the issue of racism and how can people bring different races together to work on this issue?
All five panelists said they were proud of their ethnicities that made them unique and played a role in their identity.
"I'm a first-generation college student, so when the time comes to apply to university and the box says hispanic, I'm going to check that proudly," said panelist Susana Lemus, a sophomore at Kearns High School and an active member in student government and Latinos in Action. "You know, it's part of my identity and I think that's really important to each of us."
Javed added that she felt this idea of the human race was similar to when people say they should be "color blind" to race — something she felt was erasing people's unique differences.
After all panelists had answered, Brady-Sayer then apologized and said he had asked the question in a "provocative way on purpose so you would give a really good honest answer."
"Hate does not belong in a civilized society," Houston said to end the discussion. "It just does not."
A video of the more than hourlong event can be found on the Salt Lake County Library system's Facebook page.
×
Photos