SALT LAKE CITY — Salt Lake City launched the Community HEROES Home Buyer Program on Thursday to help first-responders, teachers and nurses purchase homes.
"The Heroes program is unique in that it specifically serves our city's first responders, nurses and teachers," Salt Lake City Mayor Jackie Biskupski said in a press conference Thursday morning. "Critical public servants who keep the capital city thriving."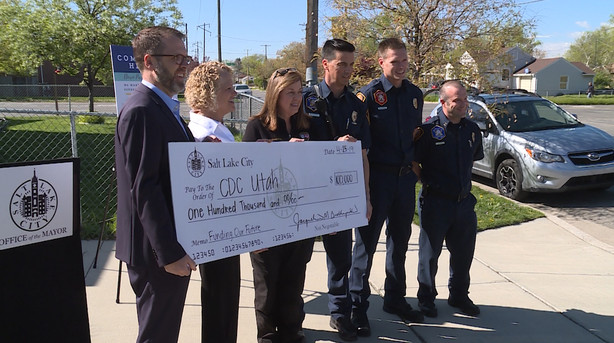 The program is designed to make down payments, a major barrier to buying a home, more affordable, according to Matthew Rojas, director of communications for Salt Lake City. Those who qualify for the program will be able to receive a zero percent deferred loan for the down payment, totaling between 3-5 percent of the cost of the house. They could purchase a home of up to $322,055 in Salt Lake City, Rojas added. Loan payments wouldn't need to be paid until either the mortgage is fully paid off or the property has been sold.
"By offering no interest and preferred down payment loans to public servants looking to live where they work, we are helping to remove an obstacle to home ownership," Biskupski said. "We know in many cases a down payment is a barrier to entry to home ownership even for those who can afford a monthly payment."
The program is funded by a $100,000 grant from the City's Funding Our Future sales-tax initiative, Rojas explained. To make it work, Salt Lake City has partnered with the Community Development Corporation of Utah (CDCU), which Biskupski describes as, "A force for homeownership programs, having helped over 4,000 families in Utah."
"Because this funding is limited to individuals and families making less than 80 percent of the Area Median Income, or $44,000 a year for a single household and $64,000 a year for a family of four, this program will be of particular value to single income families, single parents, part-time teachers and young people starting in their careers," Biskupski explained.
For the past three years, Salt Lake City has been creating programs to lower the cost of home ownership and make it more accessible to lower-income residents, according to Biskupski. One other initiative has been lowering the cost of homes by maintaining government ownership of the land beneath the house. By not selling that part of the property, the government can sell the home to a resident at a lower cost. The resident can then earn equity and sell the home to another family at an affordable price when they are ready to move.
"By creating multiple solutions to the complexities and costs of homeownership, Salt Lake City is ensuring the American dream remains viable for all in our city," Biskupski said. "Homeownership is the key to neighborhood stability."
Sydney Greenhalgh, 30, is a nurse at Alta View Hospital in Sandy. She has a husband and two young children and, though she already has a home, she believes this program would have been very beneficial to her if she'd had access to it before she purchased a house.
"I'm only working part-time right now because of my kids, so that makes it harder to make enough money to live (where I do)," Greenhalgh said.
She also cited student loans as being a big problem for lower-earning positions requiring education, like nursing. Greenhalgh is not planning on applying for the program, but she supports its creation to help nurses like herself.
"Over the past month, Salt Lake City has launched three new housing programs," Biskupski concluded. "To help bring stability to K-12 students, those who suffer from mental illness and individuals currently in our homeless shelters. All of these programs have been partnerships with community agencies and have helped fill gaps through which vulnerable people fall."
Those who wish to apply for the down payment assistance program may do so with the CDCU. Learn more about the process and its requirements here. Access additional housing assistance with slc.gov.
Contributing: KSL TV photographer Jay Dortzbach
×