PROVO — Every story has a beginning and most stories have an end.
For a lot of football fans, the story of BYU linebacker Sione Takitaki started midway through his collegiate career.
After a 21-tackle season, Takitaki earned attention and ink for the wrong reasons, when he was suspended for an entire season following an arrest made for allegedly stealing various athletic items on campus.
But that's not the end of Takitaki's story. After missing the entire 2016 season after pleading guilty to misdemeanor theft, Takitaki returned to BYU and made good on his promises to family to finish out his career, earn his college degree, and become a better man.
Along the way, he made 237 tackles, 32.5 tackles for loss and 14.5 sacks while jumping between linebacker and defensive end in multiple systems and setups. He also met and married his wife Alyssa, a moment that he's said often rates more favorably than any of his football accomplishments.
Takitaki's story still isn't over, either. He's likely to hear his name called in next week's NFL Draft, with ESPN draft expert Mel Kiper Jr. projecting him as high as a late third-round pick.
It's all a part of the story — the good, the bad, and the (future) rewards.
"I embrace it. I love it," Takitaki told KSL Newsradio. "I think it's part of the journey."
Takitaki has almost lived on a plane since his senior season ended in Boise following the Cougars' win over Western Michigan in the Famous Idaho Potato Bowl. He's been to All-Star games from Alabama to California, was poked, prodded, corralled and wrangled at the NFL scouting combine in Indianapolis, and performed both linebacker and defensive line drills at BYU's pro day at the end of March.
It's all part of the deal, the usual pre-draft process for prospects hoping to take their game to the next level. Many, like Takitaki, can play multiple positions — either defensive end or outside linebacker, in his case.
Most will likely get their start on special teams. That's OK for Takitaki, too.
"I play violent out there, and teams tell me I'm made for special teams," Takitaki said. "That's been a big up for me.
"I know some guys love special teams."
Either way, he's likely to get his start somewhere.
"You'll definitely hear his name called sometime either late next Friday or early Saturday," said local NFL agent Evan Brennan, who does not represent Takitaki but projects him as a fourth-round pick.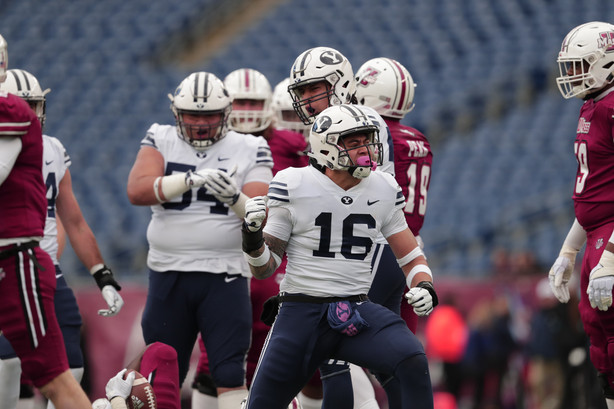 Takitaki has visited seen NFL teams so far, including the Los Angeles Rams and Chargers, Kansas City Chiefs, Tennessee Titans, Miami Dolphins and most recently the Houston Texas, according to the Houston Chronicle, as his draft stock has soared remarkably high.
NFL teams get 30 individual workouts, and Takitaki has already received at least a half dozen, Brennan told ESPN 960 radio in Utah County. The Chiefs were among the first, then he kept getting phone calls. Dolphins. Falcons. Most recently he worked out for the Philadelphia Eagles, then spent more than a half-hour on a FaceTime chat with their defensive coordinator, he told the radio station.
"I feel like this process has been a ride. A lot of ups and a lot of downs," Takitaki said. "But I feel like, looking at my career at BYU, it helped me a lot. I played a lot of positions, and I feel like what I did on the field definitely helped me a lot during this whole journey."
2019 NFL Draft
When: Thursday, April 25 — Saturday, April 27
Where: Nashville, Tennessee
TV: ABC, ESPN, NFL Network
×
Related Links
Related Stories