SALT LAKE CITY — Cindy Stuart, the long-time head coach of the Rich High School girls' volleyball team, will retire from coaching as the winningest women's high school volleyball coach in the state.
Stuart, who coached high school volleyball from 1986 through 2018, will retire with 722 wins and 15 state championships.
Although Stuart will retire as the winningest volleyball coach in Utah high school history, coaching the sport wasn't always her plan.
She grew up in Oklahoma as a basketball player, playing at both the high school and collegiate level. After transferring to play basketball at UNLV in 1977, Stuart's team faced off against Utah State. The Rebels destroyed the Aggies, beating them by nearly 100 points.
Utah State's athletic office took notice, offering Stuart a job as the women's basketball head coach after finishing her time at UNLV. She took the job at only 21 years old.
Stuart coached the team at Utah State from 1978 to 1982, meeting her husband, Bill Stuart, along the way. Bill, a cattle rancher, moved the couple to Rich County where Cindy began coaching at the high school level in 1986.
Upon starting a family in Rich County, Stuart said she wanted her daughter to grow up playing basketball because of the impact the sport had on her life.
"I couldn't even imagine my daughter not being able to play basketball, 'cause it pretty much saved my life," Cindy Stuart said. "I was from a really poor town in Oklahoma, so I got a scholarship and got a chance."
To Stuart's surprise, Rich High School approached her about coaching at the school, but it wasn't going to be with a basketball team.
"They wanted me to coach their volleyball, and I said, 'Well I don't even know how to keep score in volleyball!'"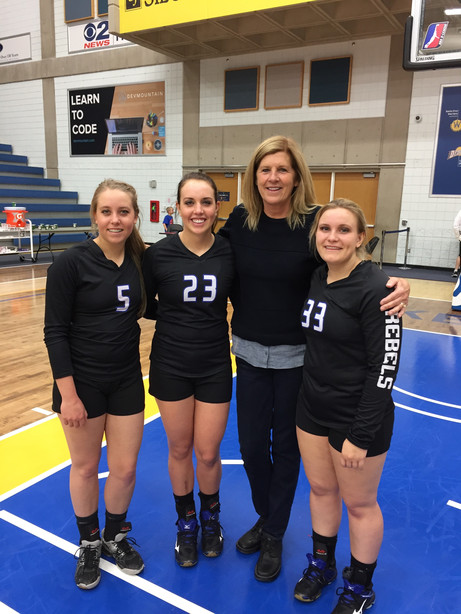 The high school didn't have a women's basketball program at the time, but the school offered a compromise with the former basketball player. She was allowed to start a women's basketball team at if she would also coach the volleyball team.
While Stuart only coached the Rebel basketball team for four years, she would remain with the volleyball team much longer.
"I was just in the right place at the right time," Stuart explained. "That's what's so unique about it. I had never played volleyball, so it was a real challenge, but I've enjoyed it. I love the game."
Stuart gives a lot of the credit for her coaching success to the man she calls her mentor, Carl McGown. Despite knowing very little about volleyball, McGown helped Stuart hit the ground running.
McGown, a volleyball legend in the state of Utah, is best known for coaching the BYU men's volleyball team for 13 years from 1989 to 2002. He also coached in multiple Olympics and is a member of the AVCA, Utah, and BYU Sports Hall of Fame.
"He would come and tell me to do these things and I'd just look at him like, 'Why?' I had no idea, so I'd just listen to everything he told us to do," Stuart said.
She went on to coach the Rebel volleyball team nearly every year from the time she first took the job until today. A brief job in Evanston, Wyoming, took Stuart away from Rich High School from 1990 to 1994, but after returning in 1994 she would only miss one season, 2007, when she stepped down to give more attention to her family.
Stuart said some of her best moments from her coaching career came when she was able to coach her daughter, Sammi, to four straight high school state championships. Sammi, who now works as an assistant coach with the women's volleyball team at Utah State, began playing for her mom in third grade.
"It's hard playing for your mom," Sammi Stuart said. "But it was so worth it. The lessons she taught me and all the girls that have gone through, playing for coach Stuart, that's the biggest thing people take away from her, the lessons that you learn."
Those lessons go beyond the volleyball court, extending into the lives of all the girls Stuart has coached over the years.
"She taught me how to compete," Sammi Stuart said. "She taught me how to work hard. She taught me that I am a young woman who has worth and value."
Along with coaching the women's volleyball team, Cindy Stuart has taught both high school and elementary aged students each year. She currently teaches sophomore health, high school PE, and elementary school PE, allowing her to interact with more than just the girls on the high school volleyball team.
"She's had a tremendous effect on volleyball, but the effect she's had on kids in school that didn't play volleyball is bigger," Sammi Stuart said.
"Having her in Rich County, Utah, has made Rich County a better place."
While Cindy Stuart will be retiring from coaching, the long-time educator plans to continue teaching for at least a couple more years. She's also looking forward to the additional free time.
"I'll keep teaching and hopefully I can get my husband to go on some trips in the summer and in the fall instead of coaching volleyball," she said.
"Other than that, I'm probably going to help raise the grandkids and the calves."
×