SALT LAKE CITY — Emory Jensen, a 10-year-old fourth-grader, ran her fingers across a wall covered in art work as she walked through an art exhibit — something that would typically get a child in trouble or kicked out.
But for Emory, who is visually impaired and colorblind, she said she sees in part with her hands.
Emory wasn't kicked out because it wasn't at a typical art museum, but at the fully immersive art experience called "dreamscapes," which uses different sounds, smells and textures in the artwork it displays.
"It's good because we can all just feel it and not it's just stuff we can only look at," she said. "I think it's awesome because then we have the ability to see it."
Emory visited the art attraction Monday at Gateway with Utah Schools for the Deaf and the Blind as part of a field trip designed to help expose art to blind students.
"Most of these students probably have never been able to go to an art museum or really get to experience what art is because everything is hidden away and behind glass and is hands-off, don't touch," said Kate Borg, director of blind campus programs. "And so for them to be here today that they get to interact with everything and touch it and experience, and those that have some vision to get right up close to see it has just been phenomenal."
The 30 students, who ranged from preschool to fifth grade, said this was the "best field trip ever," according to Borg.
The art project was created by the Utah Arts Alliance, a Utah nonprofit with a mission to "foster the arts in all forms in order to create an aware, empowered and connected community," according to a news release.
"I think for the students, it has been really great, but I think it's also been really important for the grown-ups, for the teachers, for the staff to see; 'hey this is how we can make art accessible,'" she said. "It's been really neat for the people that work here."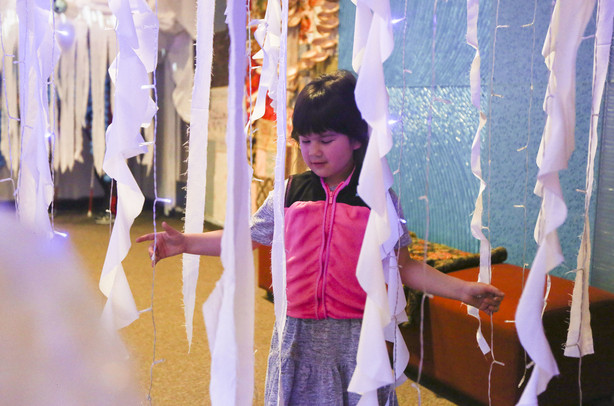 For some staff, it was emotional to watch the children experience the art.
"I cried, I cried a couple of times," said Andrea Silva, "dreamscapes" manager. "Being with the kids, they just took to all of the art exactly how it was intended, which was fully immersive, looking at the textures and the different sounds and smells and all sorts of stuff, so it was pretty emotional for me."
Silva, who said she's seen thousands of patrons since its opening, had never seen a visitor so engaged with the art. She took some of the children on the tour of the attraction and made sure to highlight rooms where smell or touching was a focus.
More than 50 Utah artists worked on the project, and it was originally intended to open for one month, from March 15 to April 15, but Silva said it's been extended into May.
Art is typically focused on visuals, but "dreamscapes" is aimed at other senses as well. Silva said sight, touch and smell are a big part of it, as well as emotional senses.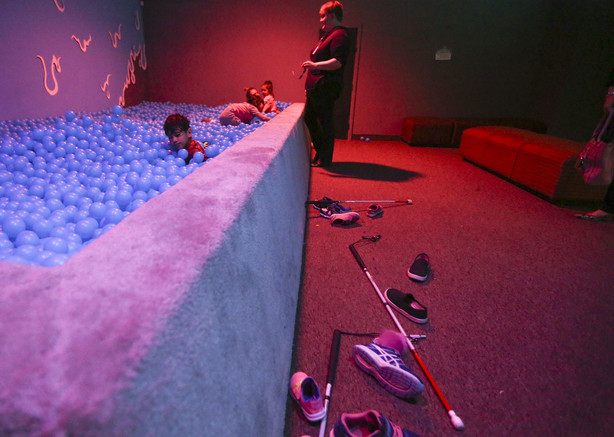 One room Silva wants to add to the art project is one that shows what it's like to be colorblind.
"Where the room's divided into four pieces and you stand in the center and each wall is identical, but you're looking at what it's like to be colorblind … it's just as important to show people what sensory deprivation can do."
The students wanted to give back to the exhibit and decided they would create an art project as a thank you to the workers.
Borg said the effort will include braille, and each of the six classes that attended will create a separate project.
Accessibility for art is crucial, Borg said.
"We read research after research that talks about creativity and arts being so important for children in their development and growth," she said. "And just because a child is blind or visually impaired doesn't mean that they shouldn't have the same access. They absolutely need that same access, we just have to be a little more creative in making sure we provide that."
×
Photos