Estimated read time: 3-4 minutes
This archived news story is available only for your personal, non-commercial use. Information in the story may be outdated or superseded by additional information. Reading or replaying the story in its archived form does not constitute a republication of the story.
SALT LAKE CITY — Utah Sen. Mitt Romney and three other politicians revealed a plan Wednesday that would allow new parents to tap into their Social Security benefits for paid family leave.
"We have a lot of kids in Utah. People are having babies in Utah, and I as I talk to people across our state, one of the things I hear time and again is how difficult it is — economically — to make ends meet particularly when the child comes home from the hospital," Romney said during a press conference about the bill Wednesday. "Mom or dad has to leave work — often on unpaid leave — and be able to provide for that little child."
Romney, Florida Sen. Marco Rubio (R-Florida), Rep. Ann Wagner (R-Missouri) and Rep. Dan Crenshaw (R-Texas) introduced the New Parents Act. Parents would have the option to pull as much as three months of their retirement benefits for leave after the birth or adoption of a child.
"The benefit amount is large enough that nearly all parents below the median household income of about $60,000 will be able to take significant leave at a rate of two-thirds their prior wages," the group wrote in a one-page graphic explaining the proposed bill. "Many parents, especially those with low incomes, will be able to finance longer than three months of leave with the benefit."
Under the proposed bill, expectant parents would have to file an application with the Social Security Administration, which would verify if they could qualify for the program.
Approved parents would have to provide the administration with "additional documentation" after the birth or adoption of a child and the Social Security Administration will send out the paid leave benefit for the one, two or three-month period chosen by the parent.
The group states stay-at-home parents with an earnings history that meets eligibility requirements can qualify for the program.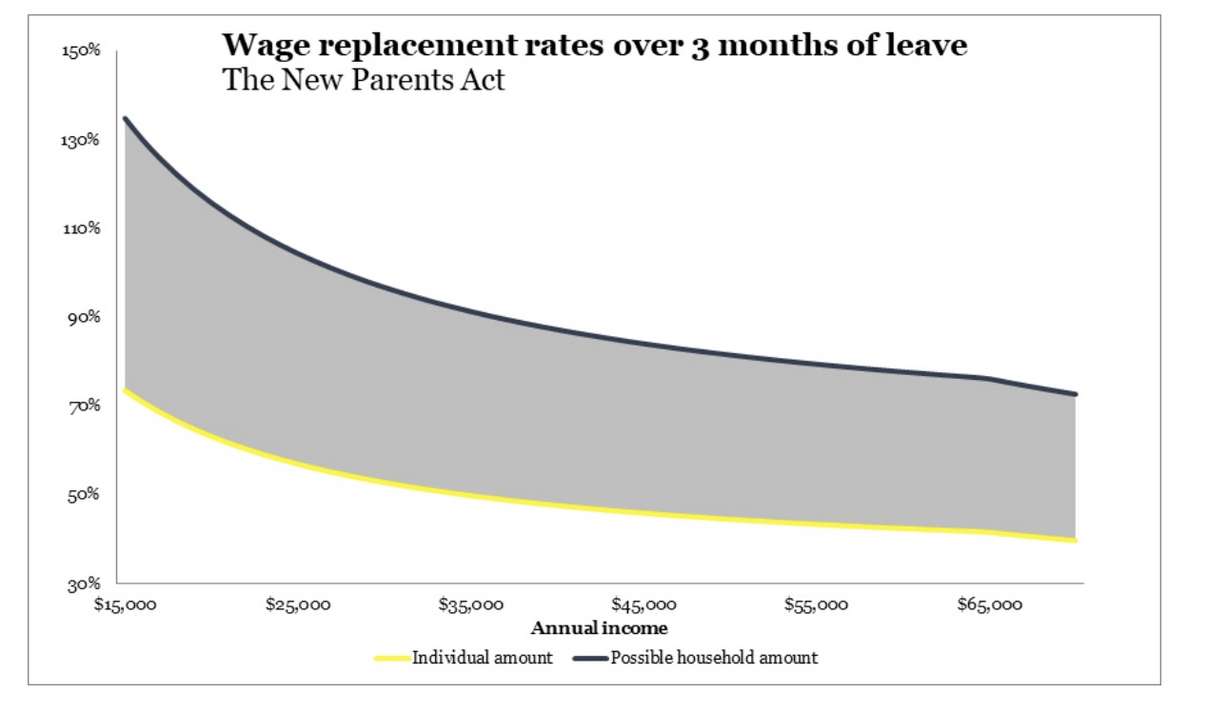 Parents who enroll in the program would have to either increase their Social Security age by three to six months or receive "a proportionate reduction in monthly retirement benefits for the first five years of retirement, as determined by the Social Security Administration each year," according to the plan.
"This is something that not only helps the families that are having children, but it's also something that doesn't add to the national debt," Romney said. "We're not borrowing more money. It also doesn't raise taxes. … This is something based entirely on the principle of personal responsibility where people are able to bring forward Social Security benefits at a time when they really need them."
Crenshaw said it was a "rare" chance to improve families without impacting the national budget.
"By giving families temporary access to future funds when they're growing their family, we are helping Americans when they need it most," the Texas Republican said in a statement. "This will be a life-changing option."
The plan released Wednesday is the most recent of a topic that appears to have bipartisan support.
Sen. Kirsten Gillibrand (D-New York) and other Democrats unveiled a different paid parental leave plan last month that would provide 12 weeks of family leave at partial pay. President Donald Trump also proposed a six-week paid parental leave in his budget last year, according to the Associated Press.
×