This archived news story is available only for your personal, non-commercial use. Information in the story may be outdated or superseded by additional information. Reading or replaying the story in its archived form does not constitute a republication of the story.
HERRIMAN — There is a new kind of approach to "Hope Week" at one middle school in Herriman.
The 1,700 students at Fort Herriman Middle School all took photos of themselves holding a message board that answers a simple, yet thought-provoking question: "Why do I matter?"
The 11-by-16 inch posters are hung throughout the hallways of the school so everyone can read and hopefully be inspired to find purpose in life.
"There's a lot of stress going on. They are struggling with their self-esteem," said school counselor Stace Sneddon, who came up with the idea for the project. "This is a good project for them to understand they have value."
The process was not an easy one. Sneddon said it took about two weeks wheeling around a portable chalk board with a black covering on it for the photo back drop. The kids then received instruction from their teachers about the project so they could be thinking about what they might write down.
The students then wrote down their words on a small erase board and had their picture taken.
"I am right here," said 14-year-old Oakley Newbold as she led KSL TV's Dan Rascon to where her photo was located. "I wrote, 'I matter because I am kind and I'm a loyal friend.'"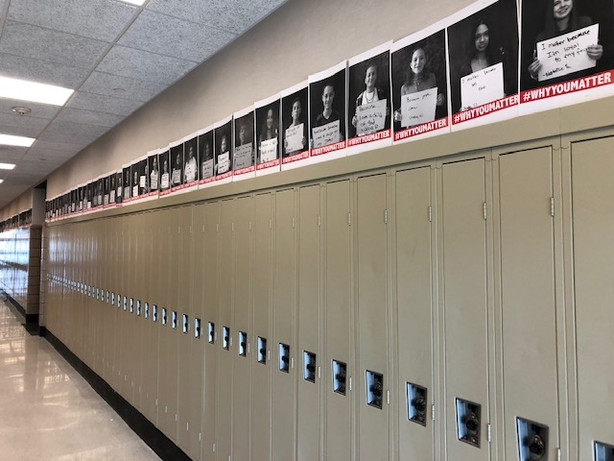 "I said I matter because I'm kind," said ninth-grader Taya Tenny. "I think it's so cool. Not only does it cause students to reflect why they matter, but it kind of unites our school because everybody sees they have potential and strengths."
"It makes me feel really good inside that people are going beyond themselves, (it) helps others to see their worth," said ninth-grader Paige Schetz.
"I matter because I'm dedicated and driven," said ninth-grader Sandrashai Haws about what she wrote.
Haws said the project has really helped her and others who have had a really hard time dealing with the tragic loss of so many students in the Herriman community who have taken their lives.
"I actually had some friends in the high school that passed away last year, so it really affected me personally on how I treat others," she said. "The slightest words can make the biggest difference. What we say can affect someone."
Ninth-grader Foou Taukeiaho said it brings him joy to walk along the hallways and see the smiling faces of his classmates and the words of inspiration. "I really love this project," he said.
Suicide Prevention Resources
If you or someone you know is struggling with thoughts of suicide, call the suicide prevention hotline at 1-800-273-TALK.

Crisis Hotlines
National Suicide Prevention Lifeline: 1-800-273-TALK (8255)
Statewide/Salt Lake County Crisis Line: 801-587-3000
Utah County Crisis Line: 801-691-5433
Wasatch Mental Health Crisis Line: 801-373-7393
Trevor Project Hotline for LGBTQ teens: 1-866-488-7386
Online Resources
×
Photos
Related Stories