This archived news story is available only for your personal, non-commercial use. Information in the story may be outdated or superseded by additional information. Reading or replaying the story in its archived form does not constitute a republication of the story.
OREM — The Utah Valley University community cheered and waved pompoms Wednesday to celebrate the inauguration of President Astrid S. Tuminez, a scholar and corporate leader described by her daughter as mother who is "fearless in showing her love and support."
Student athletes described her a rabid fan, often seated on the front row of games and matches waving pompoms.
A UVU wrestler said she gets so into it that at times he has expected her to jump on the mat and "tag team it."
And as for the crowd waving pompoms Wednesday, Tuminez effused "That's my favorite part."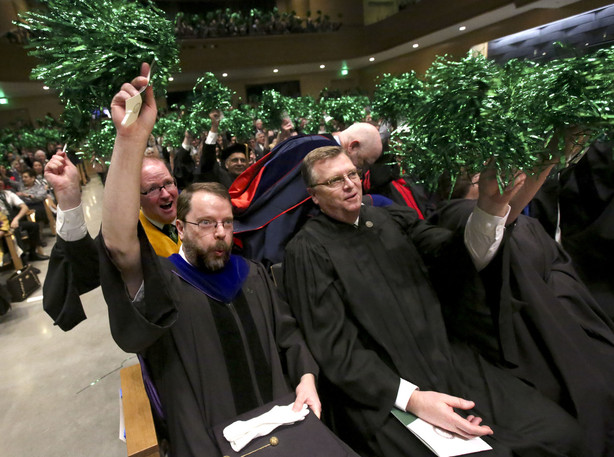 The ceremony that put Tuminez's unique stamp her presidency of the state's largest university included the performance of a Filipino folk song by the UVU Chamber Choir and an eighth century Buddhist prayer by the niece of the 14th Dalai Lama, Khando Chazotsang.
Tuminez is the seventh president of the dual-mission university and the first woman to hold the post.
Utah State Board of Regents chairman Harris Simmons, who performed the investiture of President Tuminez, noted she "is a perfect fit for UVU now and for the future."
That is due in part to her educational preparation and her corporate career, most recently as Microsoft's regional director of corporate, external and legal affairs in Southeast Asia.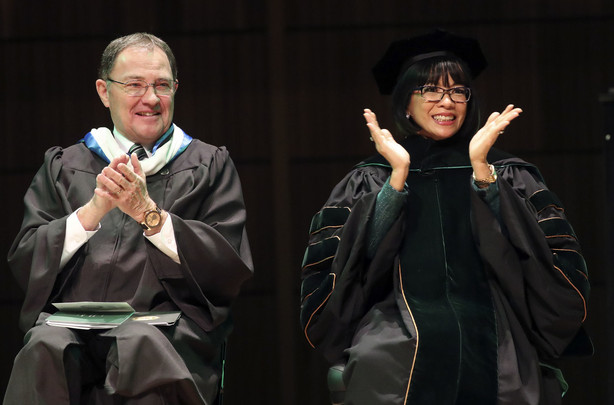 But was Tuminez's unlikely path from growing up in poverty in the Philippines to earning an undergraduate degree at BYU followed by graduate degrees from two of the most selective universities in the world, Harvard and the Massachusetts Institute of Technology, that will help her guide students who seek to improve themselves and their circumstances with a college education, he said.
Utah State University President Noelle Cockett said much has been made of women leading half of the state's colleges and universities, which well exceeds the national average. They, along with Westminster College president Bethami Dobkin, are sometimes referred to as the "mighty five."
This is not a function of the state meeting an "affirmative action" goal, Cockett said.
Rather, it says something about their style of leadership, which is "inclusive. We get the right people around the table regardless of rank or title."
The ceremony, which included the customary pomp and circumstance, was held in the just-opened Noorda Center concert hall with students, faculty, elected officials and religious leaders in attendance, including President Russell M. Nelson of The Church of Jesus Christ of Latter-day Saints and the Most Rev. Oscar A. Solis, bishop of the Diocese of Salt Lake City.
It was a celebration of family, as well, including Tuminez's 85-year-old mother, her siblings, her spouse Jeffrey S. Tolk, and three children, Michal, Whitman and Leo.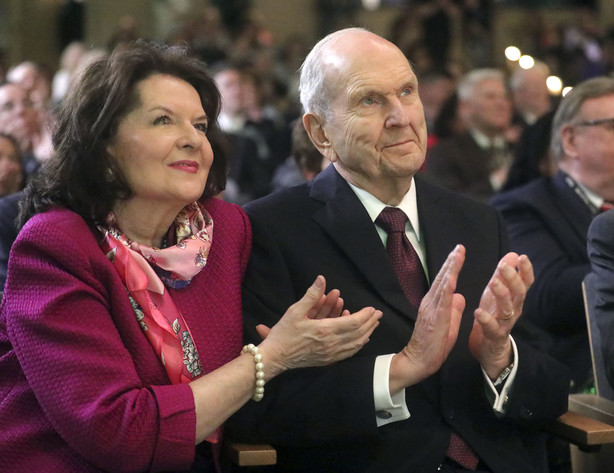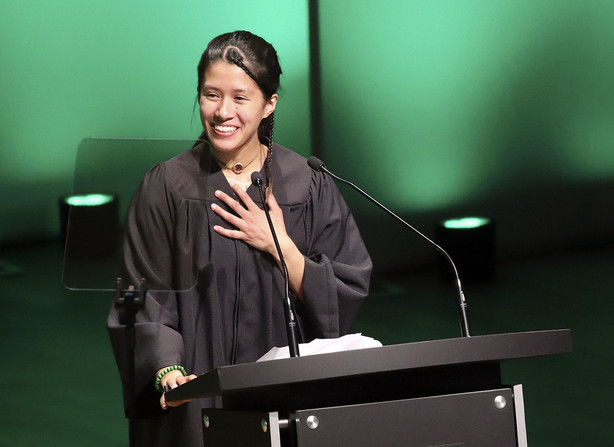 Her daughter, Michal Tuminez Tolk, said in moving to Utah the family had to get used to Utahns' "excessive friendliness and copious amounts of sugar shared with us."
Tuminez Tolk said her mother jumps into every challenge with no fear, and it's one of the things she admires most about her. "She's so confident and brave and able to handle any situation with great courage and class."
No matter the circumstance, she rises to meet it, "even thriving in the face of fear."
Tuminez removed her academic gown to address the audience. Her address included a long list of thank yous to mentors, leaders, new friends and family, among them Catholic nuns who reached out to her and her siblings and enrolled them in their school at no cost.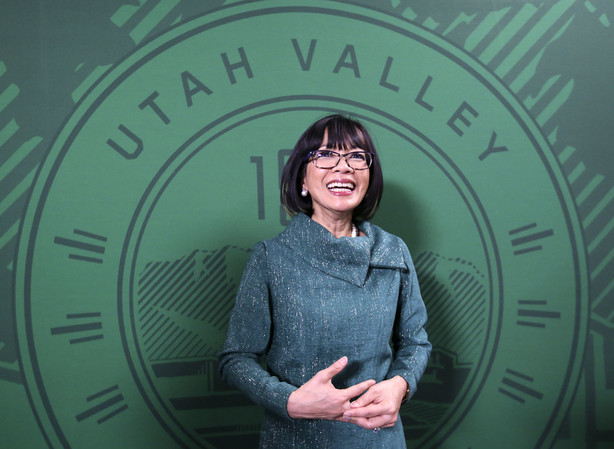 It was transformative. The nuns, who were educators, turned "the ordinary metal of my brain into gold," Tuminez said.
One teacher transformed her from "literally an illiterate 5-year-old into a voracious reader."
She recalled her father, who learned to speak English from American soldiers, which meant he knew many swear words, which she learned, too.
He was a man of few words, but the one thing he said a lot was "do the right thing."
×
Photos
Related Stories