This archived news story is available only for your personal, non-commercial use. Information in the story may be outdated or superseded by additional information. Reading or replaying the story in its archived form does not constitute a republication of the story.
STANFORD, Calif. — BYU women's basketball had never lost when freshman standout Shaylee Gonzales scored as many points in a first half as she did (14).
Stanford had yet to lose in 2018-19 when leading at the half, which it did in Monday night's second round of the NCAA Tournament.
Something had to give.
Unfortunately for the Cougars, it was their tourney run.
Alanna Smith had 23 points and 14 rebounds and Dijonai Carrington added 19 points and five boards to help Stanford use a 22-9 third quarter to pull away from BYU, 72-63, in the second round of the NCAA women's basketball tournament Monday night at Maples Pavilion.
"I'm very, very proud of my team," BYU coach Jeff Judkins said. "I really felt that they came out with a lot of fight, and did the things that we needed to do. We just had one bad quarter, a bad eight minutes, that really hurt us.
"Against a great team like Stanford, you can't afford to do that."
The Cardinal (30-4) advanced to the Sweet 16 for the 12th-straight year, and will face 11th-seeded Missouri State in Chicago. The Bears stunned No. 3 Iowa State earlier Monday at Hilton Coliseum in Ames, Iowa.
But Monday night went to Smith, who played the final game of her stunning four-year Stanford career at Maples Pavilion.
"I'm sad that was my last game. I love Stanford," said Smith, a 6-foot-4 senior guard from Melbourne, Australia. "I love the coaching staff. I just love the atmosphere and playing at Maples, and I'm definitely going to miss it. It's been the best four years of my life.
"But you know, it's not over yet. We have more games coming up in the next couple weeks, hopefully, and we've got to focus on the Sweet 16."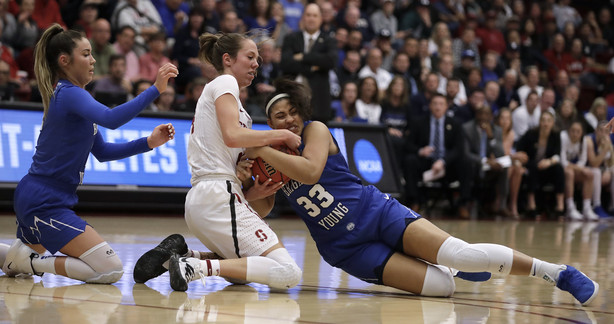 Shaylee Gonzales had a career-high 32 points and five rebounds to lead BYU, and Paisley Johnson added 11 for the Cougars (26-7).
It wasn't all Gonzales, who shot 12-of-21 from the field, including a perfect 4-of-4 from 3-point range and 4-of-4 from the free-throw line. The freshman gave her teammates credit after the game in the diplomatic way like she has done all year.
But without the 35 minutes from the youngster from Gilbert, Arizona, the Cougars might have been blown out against a team that recruited her in high school after she had committed to BYU as an underclassman.
"I just wanted to prove myself and show that even if you are a freshman, you can do anything," said Gonzales, whose previous career high was 29 points scored in a 51-42 win over Colorado State. "Just work hard, work your butt off, and it will pay off in the end."
The freshman tried to defer credit to her teammates. But even Jasmine Moody, who had eight points and five rebounds on 3-of-6 shooting for the Cougars, had to stop mid-sentence and give her props after the game.
"Shaylee has really grown this year," said Moody, who started out the year a senior but was granted one more year of eligibility by the NCAA via a medical redshirt. "She has really taken to heart what the coaches and us as teammates have said to her.
"She really listens and tries to adjust her game and I think that's honestly what's helped her, is being open and listening. She knows she's a good player, but listening to her teammates and her coaches is what helps her to develop her game to be even better. She's only going to get better from here and we're so blessed and happy to have her as part of our team."
Gonzales is a big reason for the optimism. Even with BYU's early exit in a game where it was out-scored 26-24 in the paint and out-rebounded 43-40, the Cougars have a load of confidence moving forward. Only senior Caitlyn Alldredge will depart from the active roster, while the top three scorers of Gonzales, Johnson and Brenna Chase all set to return.
Plus, BYU will bring back 6-foot-7 center Sara Hamson, who will forego her time with the women's volleyball season next year to focus on basketball.
"We are going to miss Caitlyn. We were so lucky to get here for this little time that we did, for this one year. She was a difference-maker in our team," said Hamson, the younger sister of former two-sport standout Jennifer Hamson that finished No. 6 nationally in blocks per game. "But it's a lot easier to move around one hole in the roster than multiple spots. It's a blessing.
"It starts tomorrow."
BYU was out-scored 18-10 in the paint, while the Cardinal out-rebounded the Cougars 39-36.
Smith capped a 16-0 run with back-to-back buckets that put the Cardinal up 50-35 with 1:18 left in the third. Gonzales had 21 points at that point, and Johnson had nine — but the sophomore from Everett, Washington, had just picked up her fourth foul.
"It really hurt us," Judkins said of Johnson's fourth foul, which forced her out of the game and helped Smith go off. "Her sub is Maria (Albiero), who is a 5-8 point guard who has to battle Smith and all these monster players. It hurts us. No matter how much Maria wants to compete, when someone is taller, they can get the rebound.
"Paisley is a really explosive player. She's not used to people being as physical as she is. But she'll see that you have to be a little more balanced, and not create dumb fouls in a big game like that."
The rest of BYU's players had combined for five points in trailing by 15 at that point.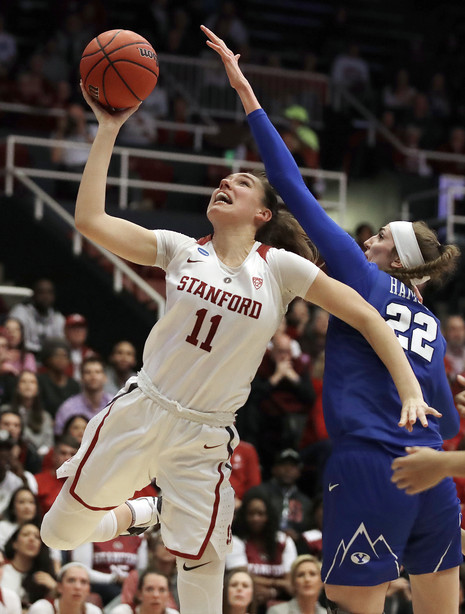 The Cougars turned to a full-court press, forcing turnovers to spark a 9-0 spurt from Gonzales and Johnson that pulled BYU within nine, 68-59, with 1:19. But it was too little, too late.
BYU held Stanford to just 25 percent shooting in the opening quarter, and Kiana Williams drew her second foul while battling for a rebound against Jasmine Moody. That helped the Cougars take a 15-11 lead after the opening period, led by six points apiece from Gonzales and Johnson.
Johnson gave the BYU its two lead changes of the quarter, 2-0 after forcing turnover on the opening possession, and then 12-11 on a jumper with about 90 seconds left. The Cougars ended the quarter on a 7-0 run.
The Cardinal opened just 1-of-10 from 3-point range. But Carrington got going in the second quarter, when she netted all 14 of her team-high points to lift Stanford to a 31-29 edge at the break.
BYU ended the game with a 25-19 fourth quarter. But it wasn't enough to make up for the 22-9 third that included a 16-0 run by the Cardinal.
"Not only did we miss shots, but we started to get a little tired," Moody said. "With Stanford, we can't afford to be tired. We've got to keep up our energy and be consistent."
Notes
Former BYU quarterback Steve Young, who won three Super Bowl titles with the San Francisco 49ers, was in attendance for the second-straight game, seated behind the BYU Bench with athletic director Tom Holmoe … The Cougars weren't the only West Coast Conference team to lose on a Pac 12 opponent's home court. Gonzaga, which earned a No. 5 seed, nearly pulled off the upset over No. 4 Oregon State before falling, 76-70, in the Corvallis, Oregon, subregional … The WCC went 2-0 in the first round for the first time in league history, and set equal history Monday with two losses in the Round of 32.
×
Related Stories