SALT LAKE CITY — Six people were caught in an avalanche in Cardiff Fork Sunday afternoon and two of them were buried, leaving one of them injured.
Cardiff Fork, a backcountry skiing hotspot, is accessed in Big Cottonwood Canyon. The area received more snow than expected Sunday morning, and new avalanches have been occurring, according to the Utah Avalanche Center.
The avalanche occurred on Cardiac Bowl in Cardiff Fork shortly before noon, the Utah Avalanche Center said. Six individuals were caught by the avalanche and carried approximately 100 yards when 3 to 12 inches of the entire bowl slide, according to Unified police officials.
A woman, 20, was buried up to her shoulders in snow and a man, 57, was buried up to his neck, police said.
The other members of the group were prepared with equipment and were able to dig the man and woman out before making it to a safer area and calling for help.
One of the members of the group is a doctor and determined the woman had suffered a knee injury. The man was not hurt in the incident, police said.
Backcountry rescue teams were able to make it to the group and help get the woman down the mountain on a snowmobile. By about 4 p.m., the group had made it to down the mountain and to the Donut Falls Trailhead.
Information about how long the man and woman were buried was not immediately available.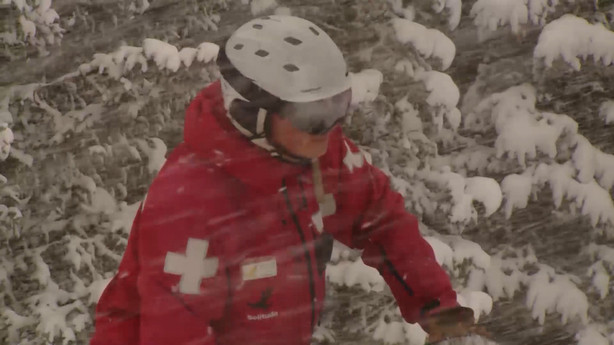 Officials said preparedness is extremely important with the possibility of future avalanches due to the spring runoff.
"If you go into the backcountry, use extreme caution," said Unified Police Sgt. James Blanton. "Sounds like these people were prepared in the backcountry and had the right gear and right equipment and things like that, but things still happen."
Recent weekend storms put several inches of fresh snow down on the mountains, according to avalanche forecasters. As skiers and snowboarders look to take advantage of the snow Monday, experts urge they keep a close eye on avalanche conditions. For more information on those conditions, visit UtahAvalancheCenter.org.
Contributing: Sean Moody, KSL TV
Editor's Note: Officials with the Utah Avalanche Center initially said three people were injured but only one was injured. Officials had also said no one was buried but updated information indicated two people were buried.
×
Photos
Related Stories