This archived news story is available only for your personal, non-commercial use. Information in the story may be outdated or superseded by additional information. Reading or replaying the story in its archived form does not constitute a republication of the story.
LAS VEGAS — A lot of outsiders would've taken a handful of players to trust with Utah State's season hanging in the balance, trailing to New Mexico in the quarterfinals of the Mountain West tournament.
Sam Merrill, the Mountain West Player of the Year.
Neemias Queta, the monstrous league Defensive Player of the Year.
Even starters like Abel Porter, Brock Miller or veteran forward Quinn Taylor could've put the Aggies on their backs after trailing by as many as eight points to the Lobos.
Justin Bean was probably on fewer lists before Thursday night. But he will be now.
Bean scored a career-high 14 points and 15 rebounds, including seven of the Aggies' final nine points, to help Utah State survive a scare against New Mexico 91-83 and advance to the semifinals of the Mountain West Conference tournament for the second-consecutive season at the Thomas & Mack Center in Las Vegas.
Bean's had big moments before. But with Merrill, Taylor and Queta all playing with four fouls, plus three more from Porter, the redshirt freshman from Moore, Oklahoma carried the Aggies (26-6) across the finish line and prevented an upset loss that could've severely damaged the team's NCAA Tournament at-large hopes.
"I think that speaks wonders, not just to my performance tonight but this team, is that we weren't very smart today, obviously, in the first half," said Bean, who shot 3-of-7 from the field and 8-of-10 from the free-throw line. "We didn't play our basketball, turning the ball over more than we usually do. But things that usually don't show up in the stat sheet are toughness and grit. And this team has that."
The Aggies needed him, too.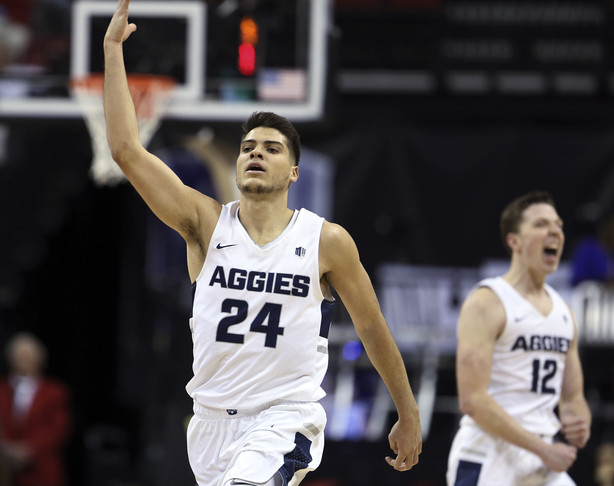 Merrill picked up his third foul of the game in the final two minutes of the first half and was forced to the bench with four fouls with more than six minutes remaining.
The Mountain West's best player, as voted by the media and coaches in the conference, played tentatively because of it, too, making just 5-of-9 from the field.
Merrill finished with 23 points and nine assists, giving him 1,512 career points for the 13th-most in Utah State basketball history. But he wasn't his usual offensive self — namely because of the foul trouble, playing a low-end night of just 35 minutes.
Moreso, the Aggies weren't themselves, either.
New Mexico scored 22 points on 24 turnovers, including 15 turnovers in the first half, and finished with 50 deflections on the defensive end.
"To be honest, it felt like we were on defense almost the entire game," Merrill said. "If this was a football game, they would have completely dominated time of possession."
Fortunately for Utah State, Bean was up to the task.
A cut to the basket here. A drive inside to force contact and the foul there.
The 6-foot-7 forward was a handful for the Lobos, especially after Carlton Bragg and Vance Jackson fouled out late in the game.
Then came the biggest test: free throws. He almost airballed one of his foul shots (which Merrill will playfully chide him long into the Las Vegas night), but Bean made five free throws, a layup and added two rebounds in the final two minutes to help the Aggies turn a two-point edge into the eight-game win.
"There wasn't any pressure," Bean said. "There hasn't been many opportunities.
"I can think of maybe Nevada late in the fourth quarter a couple of minutes left, and I was able to hit a couple that put us up again by four. But that was a similar situation.
"I think that mentally, I really was prepared for that. And so, yeah, I was able to just be poised. I saw my family just sitting in the right section of the bleachers. And so that always helped me, too, having them here from Oklahoma. And my teammates as well."
With the win, the Aggies advanced to face third-seeded Fresno State in Friday's semifinals. Tipoff is scheduled for 8:30 p.m. PDT at the Thomas & Mack Center.
Tourney streak
Utah State advanced to the semifinals in back-to-back years after falling by the quarterfinals in each of the Aggies' first four seasons in the Mountain West. The Aggies are now 44-32 all-time in conference tournament play.
Utah State will try to improve on its 14-6 all-time record in semifinal games Friday against a team that it split in the regular season — including a 78-77 loss in Logan back on Jan. 9.
"A lot of good players out on the floor," Fresno State coach Justin Hutson said. "It's a tough matchup for both teams. Hat's off to them; they've had a great season. But hat's off to our guys, because we've had a great season as well.
"It's going to be an exciting game tomorrow."
These two guys...@CoachSmith_USU vs. @smerrill05#AggiesAllTheWaypic.twitter.com/mmer6m6z4Q

— Utah State Athletics (@USUAthletics) March 15, 2019
Football fan
Merrill made a rare football reference in his postgame comments, which prompted some mild jeering and chiding from his coach.
But the former Bountiful High star had a quick retort for Smith, the first-year coach who spent time most recently at South Dakota.
"I'm a football guy, too," Merrill said.
To which Smith responded: "The Saints; how did they do?"
"They did better than the Vikings," Merrill said with a grin.
×
Related Stories