This archived news story is available only for your personal, non-commercial use. Information in the story may be outdated or superseded by additional information. Reading or replaying the story in its archived form does not constitute a republication of the story.
LAS VEGAS — Sam Merrill doesn't remember how he shot the last time Utah State basketball hosted New Mexico.
That's never a good sign. So suffice it to say, the Mountain West Player of the Year had an off night against the Lobos.
Thursday's Mountain West Tournament opener wasn't much better. But the Bountiful native sure can shoot a free throw.
Merrill scored 23 points, including 11-of-12 from the foul line, to go along with nine assists to help the Aggies hold on for a 91-83 win over New Mexico in the quarterfinals of the conference tournament at the Thomas & Mack Center.
Merrill shot 5-of-9 from the field, including 2-of-4 from 3-point range, but played just 36 minutes due to foul trouble. The two teams combined for 48 fouls.
"We found a way to win," Utah State coach Craig Smith said. "I thought New Mexico is really, really good tonight. They are really talented … and their fans were incredible.
"You could feel them tonight, without a question. We obviously found a way to win when things were not going great, and things looked a little bleak for us for a stretch."
Neemias Queta added 16 points and six rebounds for the Aggies (26-6), and Diogo Brito scored 14.
But it was Justin Bean who perhaps helped the Aggies to the win as much as anybody. The redshirt freshman scored 14 points to go along with 15 rebounds and a pair of assists, including a cutback and a pair of free throws in the final two minutes to help the Aggies pull away for good.
"We're not the most athletic team in the world. We're not the most skilled team in the world," Merrill said. "But like Justin said, we play with a lot of toughness and a lot of grit."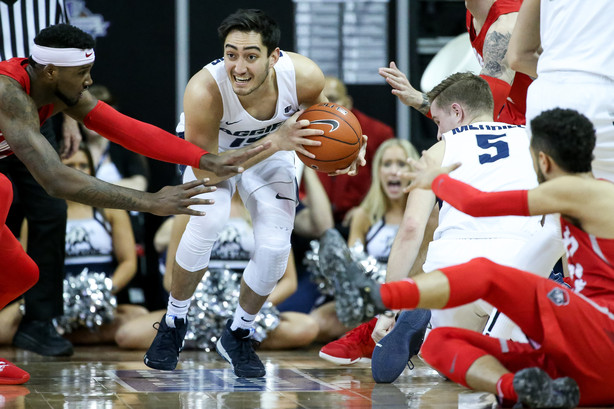 Vance Jackson had 25 points, including four 3-pointers, to lead New Mexico (14-18), and Corey Manigault supplied 16 points and five rebounds off the bench for the Lobos. Teammate Anthony Mathis had 14 points for New Mexico.
New Mexico made just 14-of-34 field goals in the first half, but assisted on 10 of those buckets and forced 15 turnovers to keep a halftime stalemate 39-39. Utah State shot 15-of-19 from the free-throw line in the first half, attempting eight more free throws than the Lobos.
The Lobos used the full-court press to perfection, scoring 22 points off 23 turnovers and led by as much as eight early in the second half. The Aggies shot better from the field and out-rebounded the Lobos 44-26, then shot twice as many free throws to move into the tournament semifinals.
"We had 30 deflections at half and 50 for the game. That was what we wanted to do," New Mexico coach Paul Weir said. "I thought it was a good matchup for us. I really thought like we could win this game.
"But Utah State played like a champion. They were terrific down the stretch, made free throws, made big shots, and got enough shot when it really counted late."
MWC notes:
Carlton Bragg hit back-to-back jumpers to give the Lobos a four-point lead with just over two minutes into the second half, part of a 7-1 run after Queta drove to the rack on the Aggies' opening possession.
Utah State had four turnovers in the first five minutes of the half, and New Mexico capped a 13-3 run with Anthony Mathis' triple to give the Lobos a 52-44 lead with 15:09 to go.
But the Aggies responded on a dime.
Diogo Brito capped a 9-3 run for Utah State, tying the game at 57-57 with 11:41 showing on the clock. But in crunch time of a two-point game, Merrill was forced to the bench with his fourth foul, sitting with 8:35 remaining.
That's when Bean took over, scoring seven of the Aggies' final nine points to hold on for the win.
"That's the first time in a while that I've been in foul trouble," Merrill said. "To be honest, it felt like we were on defense the entire game. If this were a football game, they would've completely dominated time of possession."
Utah State will play in the Mountain West semifinals for the second-straight year, facing the winner of Thursday's late tipoff between Fresno State and Air Force at 9:30 p.m. MDT Friday on CBS Sports Network.
×
Related Stories