This archived news story is available only for your personal, non-commercial use. Information in the story may be outdated or superseded by additional information. Reading or replaying the story in its archived form does not constitute a republication of the story.
LAS VEGAS — It's been said several times this year, so it might as well be repeated just once more.
Utah State was picked to finish ninth in the Mountain West preseason polls.
That was meant as a knock on first-year head coach Craig Smith or Sam Merrill or once-unknown freshman Neemias Queta from Portugal.
But there wasn't a lot that was known about the Aggies coming into the 2018-19 season. The school had come off an 11-win campaign in football, sure, but they also were breaking in a new basketball coach, a new system, a new style of play — and they lost last year's leading scorer when Koby McEwen transferred to Marquette.
Smith doesn't begrudge anyone for picking the Aggies where they did. Neither does Merrill.
But they were going to prove them wrong.
And after a 25-6 regular season, including a 15-3 record in Mountain West play that includes a share of the league's regular-season championship, the Aggies have certainly done that.
But for Merrill, who won Mountain West Player of the Year in polls announced by the league's media and coaches on consecutive days this week, there's still more to prove.
"I didn't come to college to try to be Player of the Year. I came in to play in the NCAA Tournament," said Merrill, who averaged 21.0 points, 4.2 assists and 3.9 rebounds per game. "That's my focus right now."
"Everyone is saying that we're in, but we'll believe when we see it."

💼 ✈️ for Sam Merrill & @USUBasketball at #MWMadness. pic.twitter.com/ZSZQvoaZnb

— KSL.com Sports (@KSLcomSports) March 14, 2019
That focus starts Thursday in Las Vegas when the second-seeded Aggies will host No. 7 New Mexico (14-17) in the quarterfinals of the Mountain West Tournament. Tipoff at the Thomas & Mack Center is scheduled for 7 p.m. MT. The Aggies swept the Lobos in the regular season, first winning 68-66 in Albuquerque before taking a 71-55 victory in Logan.
So if you ask Merrill, there is still everything to play for.
"I think we're still hungry — and for good reason," Merrill said. "A lot of people have picked Nevada to win this tournament, and that's fine. They're a very good team. We're still hungry, and we know we're going to have to bring it."
Utah State has never played in Las Vegas under Smith; the tournament's host school UNLV is the only team in the conference who did not host the Aggies during the regular season. For six of the Aggies' true freshman, Wednesday's practice was the first time they had seen the inside of the arena where they can clinch an automatic berth in the NCAA Tournament with three-straight wins through Saturday.
But that's not something Smith or Merrill or any of the other Aggies can control. Neither is the latest bracketology report, which currently has Utah State as a No. 10 seed by ESPN's Joe Lunardi and a No. 9 seed by CBS' Jerry Palm in the run of roulette that changes daily as conference tournament titles are clinched regularly.
All the Aggies can control is how they play: share the ball, spread it around, and "defend like crazy," Smith said.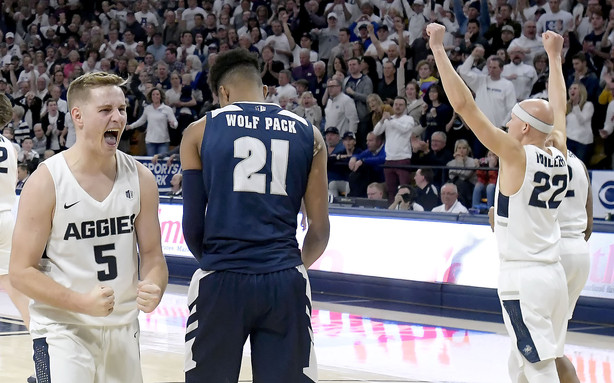 "Our guys don't live in a cocoon and we don't try to hide things," the first-year coach said. "But when my seventh-grader is coming home and telling me about teams that won, I know the guys see it all, too.
"I think this team has a great maturity level, our camaraderie is good this time of year, and we have great chemistry. We're just going to keep chopping wood like we have all year, stick to the protocol, and do what we do."
Playing Aggie basketball will also help the team ranked No. 30 in the NCAA's NET ranking shore up a berth in the NCAA tournament for the first time since 2011. Utah State has beaten every team in the conference at least once, including top-seeded Nevada, and could also add a win along the way to the title game over No. 3 Fresno State, which is ranked 81st in the NET.
But first, the Aggies have to take care of the Lobos.
That's a team that Merrill remembers well, partially because he shot 3-of-21 from the field one time against them, and also because New Mexico is one of the better rebounding teams in the conference that punished the Aggies on occasions with their transition game.
Aggies' @CoachSmith_USU on @USUBasketball's first Mountain West tourney opponent ... New Mexico. #MWMadnesspic.twitter.com/xiy4ijq1w5

— KSL.com Sports (@KSLcomSports) March 14, 2019
The Lobos, though, have had plenty else on their minds prior to Thursday, including a 78-68 win over No. 10 Wyoming.
"I haven't spent one second thinking about that," New Mexico coach Paul Weir said when asked about the Aggies. "Utah State is an amazing basketball team. They play basketball the way I Iove to watch (it). We're going to have to work on that between now and tomorrow, and give ourselves the best chance to win."
Utah State won't take anyone by surprise, like the former ninth-ranked team in the Mountain West preseason might have done. They aren't only backed by Mountain West Player of the Year Merrill and coach of the year Smith, but also freshman and defensive player of the year Neemias Queta, who set a single-season blocks record with 73 stops.
They'll take every team's best shot. But that's OK, too.
"Everyone is going to be cheering against us. That's what happened last year when we were playing Boise," Merrill said. "We expect that — but I think we are going to be ready to go."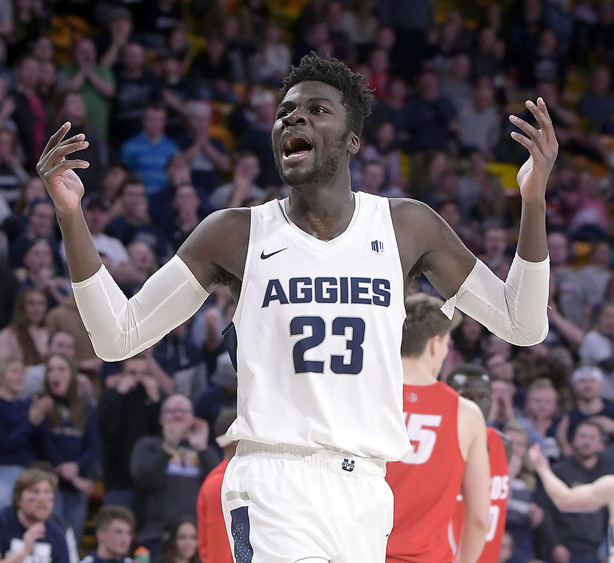 ×
Related Stories