LOGAN — Utah State coach Craig Smith wants to make something known, as evidenced by his postgame comments almost immediately following the Aggies' 81-76 upset of No. 12 Nevada late Saturday night.
The Wolf Pack are really, really good.
Bigger. Stronger. Longer. Nevada boasted the No. 12 ranking in the Associated Press Top 25 for good reason, with a front line of starters that measure 6-foot-7 and larger.
But on one night, in front of a sold-out Dee Glenn Smith Spectrum Arena and an even larger television audience on CBS Sports Network, the Aggies were better. Credit can go to Sam Merrill, who had 29 points, five rebounds and two assists, as well as Neemias Queta (13 points, 11 rebounds) and Diogo Brito (15 points, eight rebounds).
But Smith, the first-year Aggie coach who just moved to Cache Valley after a successful run at South Dakota, wanted to credit another Aggie.
The sixth man. The HURD itself. The seventh-largest crowd in Utah State basketball history, announced at 10,387.
For at least one night, with a 24-6 team and a chance to take a huge step in adding to an NCAA Tournament resume, the fans showed up. The students showed up. The arena was electric.
Spectrum Magic — or #SpectrumMagic — was back.
"Certainly, playing at home is huge for us," Smith said. "The energy and the enthusiasm that the HURD brought and that our fans brought in a sell-out crowd, as well as our fans camping outside of the Spectrum for a day and a half, at least, was awesome.
"I just can't put it into words right now how huge of a win this was for our program against a tremendous team in Nevada."
How big is the win? Consider the rankings.
The win vaulted Utah State to No. 38 in the latest KenPom predictive rankings, and No. 30 nationally in the NCAA NET ratings.
That's more than 30 spots ahead of the next Mountain West team, Fresno State at No. 70 in KenPom. It's more than 35 spots ahead of the next in-state team, BYU at No. 75.
Utah Valley is at No. 98. Utah is at No. 116. None of them come close to topping the Aggies in predictive metrics.
Saint Mary's, which before Saturday had been Utah State's best non-conference win of the season, is rated No. 35 in KenPom and No. 38 in NET.
Nevada fell from No. 19 to 24 in NET, while the Wolf Pack currently rank 24th in KenPom through the latter stages of the weekend.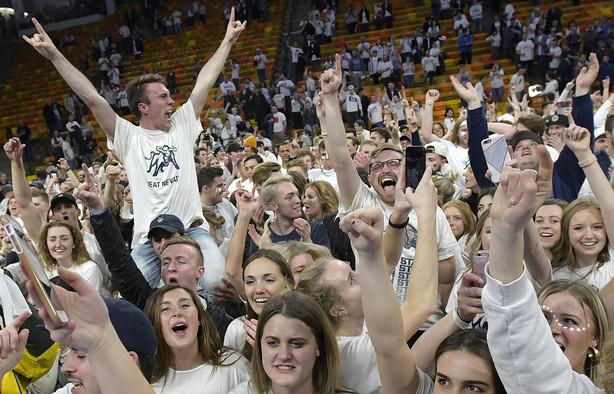 Like his head coach, Merrill gave all due credit to the crowd, which stood, shook, rattled and roared at Nevada players so much that four Wolf Pack stars fouled out, including Jordan Caroline, the starting forward at the center of a controversial postgame incident. He shot just 3-of-15 from the field and finished with 7 points, seven rebounds, one assists, two turnovers and five fouls.
"The crowd was unbelievable," said Merrill, the former Bountiful star who is averaging 20.4 points, 3.7 rebounds and 4.1 assists per game as a junior. "We couldn't have done that without them. They helped more than people realized. We're so grateful for them."
The foul count wasn't just the crowd — or if it was, it may have impacted both teams. Utah State also saw Queta, Quinn Taylor and Abel Porter check out with five fouls, even as the Wolf Pack made a late run and cut the deficit as low as three.
Some of the calls were plenty questionable, too — but on both sides.
Caleb Martin POSTERIZES the defender, but he's called for the charge 😳pic.twitter.com/BkFJMtesN2

— NCAA March Madness (@marchmadness) March 3, 2019
But then the crowd came back into play, Brito said.
"The beginning of the game, both teams seemed kind of nervous and just got some cheap fouls on both ends," he mentioned. "Eventually, we fed off our crowd because they were huge tonight."
With the win, Utah State takes a 0.5-game lead on Nevada for first place in the Mountain West. The Wolf Pack finish the regular season this week with a game Tuesday at Air Force, followed by the regular season home finale against San Diego State on Saturday.
The Aggies have just one game remaining, Tuesday night at Colorado State (7 p.m. AT&T SportsNet), before next week's Mountain West Conference Tournament in Las Vegas.
So Saturday was the last regular-season home game for the Aggies. A trip to the NCAA Tournament likely awaits — barring an unprecedented meltdown against the Rams or in the early rounds of the league tournament, that is.
That means no Spectrum Magic for the rest of the year. But does magic travel?
The Aggies will certainly hope so. But even if not?
What a way to go out.
"We found a way to stick together with all the guys fouling out and such," Merrill said. "We found a way to win the game. Obviously, a great feeling to come away with the win there."
×
Photos
Related Stories