HERRIMAN — In its second season in Major League Rugby, the Utah Warriors have accomplished plenty of firsts.
First wins. First losses. First to send a starter to an international league, even England's Premiership.
Add another first to the list Saturday night.
USA Eagles international Gannon Moore scored two second-half tries, and Utah led by as much as 26-5 before the Glendale Raptors scored 21-straight points to finish with the first-ever tie in Major League Rugby play at Zions Bank Stadium.
The Raptors scored three tries in 10 minutes, including a coast-to-coast sprint by former University of Utah front row Chad Gough to secure the draw.
Each team received two points in the league table, moving the Warriors (1-1-1) up to seventh place — and two spots behind the Raptors (1-2-1).
Former BYU flanker Ara Elkington added a try for Utah, and Tim O'Malley scored via three penalty kicks in the first half.
"We had an almost perfect first half," Warriors coach Alf Daniels said in a statement from the club. "However, Glendale made the right adjustments and we did not. This was a great match if you love rugby, but not the outcome we wanted. We will turn our focus to New Orleans this week."
Announced attendance of the Warriors' home opener was 2,139, despite temperatures that settled around 27 degrees on the west end of the Salt Lake Valley.
"Our fans were amazing; we are proud of how many showed up in this weather," Daniels said. "It's a message of the passion for rugby here."
Utah hosts the NOLA Gold next Saturday, March 2 at Zions Bank Stadium. Kickoff is scheduled for 7 p.m. MST.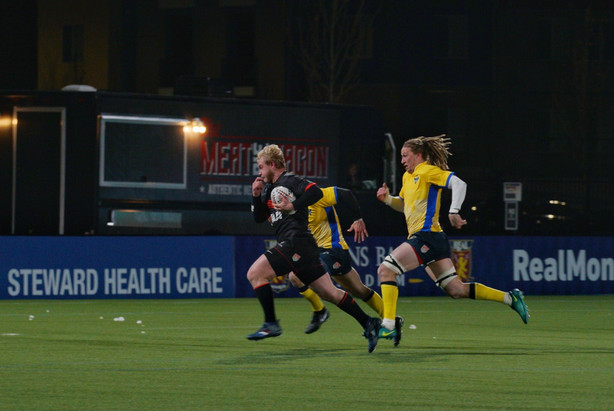 Glendale Raptors at Utah Warriors scoring
First half
13' UT: Tim O'Malley penalty kick
16' UT: Tim O'Malley penalty kick
21' UT: Ara Elkington try (O'Malley kick)
36' UT: Tim O'Malley penalty kick
Halftime: Utah Warriors 16-0
Second half
42' UT: Gannon Moore try (kick failed)
48' GLN: Harley Davidson try (kick failed)
58' UT: Gannon Moore try (kick failed)
61' GLN: John Ryberg try
68' GLN: Chad Gough try
70' GLN: John Ryberg try (De Achaval kick)
Final: Tie 26-26
×
Related Stories