This archived news story is available only for your personal, non-commercial use. Information in the story may be outdated or superseded by additional information. Reading or replaying the story in its archived form does not constitute a republication of the story.
TAYLORSVILLE — For a full year, Maggie McCord has had to stew on how her junior season of girls basketball at Bingham High School ended.
The Miners' run to the inaugural Class 6A state championship was curtailed by a devastating loss to Fremont, and McCord had a full year to remember how she felt.
And one more chance to make sure she never felt that again.
Mission accomplished.
McCord scored a game-high 25 points, including eight in the fourth quarter, to go along with six rebounds and four assists as Bingham pulled away from rival Copper Hills, 46-41 Saturday afternoon at Bruin Arena at Salt Lake Community College.
The win, which marked Bingham's first state title since 2007, also avenged the Miners' 53-51 home loss to the Grizzlies in the regular season.
"We just put in so much work and wanted to not lose to them again," said McCord, the only senior in the Miners' starting five and one of just two on the team. "People underestimated us, but that is what pushed us through. We know we can be a better team, and that's what we showed this weekend.
"I'm so glad that we had a hard season. It helped us overcome these teams right now. It made us a better team, and able to perform better."
Eleyana Tafisi led Copper Hills (23-3) with 14 points and two assists, and teammate Breaunna Gillen added 12 points and 13 rebounds for the Grizzlies, who made it to the state title game for the first time under coach Ben Morley.
But Saturday's final was all about the Miners — and McCord, specifically, the Class 6A All-Tournament MVP who will play with Gillen and Box Elder's Emily Isaacson next year at Dixie State in St. George.
"She just never stops working; she'll get whatever she can," Bingham coach Charron Mason said. "And the best part about her is she does it for her team.
"She loves those girls so much, and she wants it for them."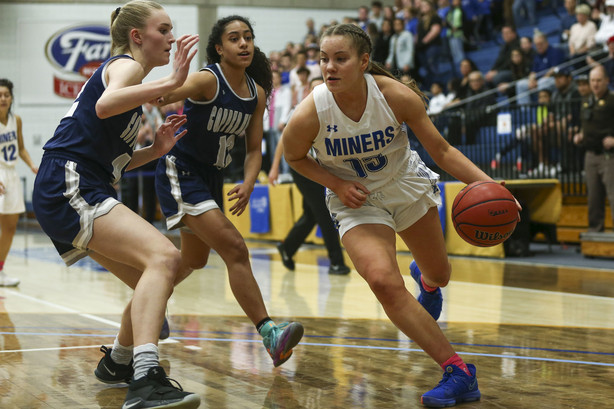 Bingham (18-7) suffered seven losses before the state tournament, including a 51-48 loss to Fremont — which it avenged in Friday night's semifinals, 46-42.
So when point guard Ameleya Angilau mentions the 2018-19 season as the "Bingham revenge tour," it's not just a nod to the Miners' powerhouse football program.
It really started in last year's title game and continued through seven stunning losses to many of the state's best teams.
"It was our fuel the whole year. We wanted the revenge tour," said Angilau, who had 4 points, four rebounds and two assists for the Miners. "We got it against Fremont, and in the last game, we had to finish it. There was no better way to finish it than against Copper Hills."
Bingham scored just 11 points in the first quarter, including back-to-back threes by McCord and Madison Jones in the game's opening moments. But the Miners held Copper Hills to one field goal in the opening period and took an 11-2 lead early.
But the Grizzlies know how to rally.
Gillen capped an 11-4 run to open the second, pulling within one 15-14 on a 3-pointer midway through the quarter.
Tafisi then dished a ridiculous pass to teammate Emily Larsen for a score that tied the game at 17-all with just over a minute of play.
But the Miners clung to a 19-17 halftime lead — and poured it on in the second half.
"It was very consistent," Mason said of the team's halftime regroup. "All the captains talked about playing our game, being there for each other and having confidence for each other.
"They do a lot of the talking themselves."
🏆 🏆 🏆

Bingham @homeoftheminers are the @UHSAAinfo 6A state champions pic.twitter.com/4mEbcIIZQS

— KSL.com Sports (@KSLcomSports) February 24, 2019
Jones, who finished with 6 points and seven rebounds, nailed another 3-pointer during a 14-4 run to open the third quarter and went on to lead by double-digits at the start of the fourth.
Once again, the Grizzlies rallied.
After trailing 38-28 midway through the fourth quarter, Gillen scored on consecutive possessions to pull Copper Hills with five.
Tafisi's three with just over a minute remaining made it a four-point game, 40-36 with 1:03 left.
Then Josephia Lealaitafea banked in an off-balance trey with 45 seconds left to cut the deficit to one possession, 42-39.
But the Miners closed it out from the free-throw line — and there was no better play to do so than McCord, who made seven of Bingham's 10 fourth-quarter foul shots to seal the win that was a decade in the making.
"I didn't even think of it. I just thought of it as shooting for my team," McCord said. "They weren't last-second free throws or anything."
With the "revenge tour" complete, McCord was one of the last the huddle to accept the state trophy and among the first to cut down the nets at Bruin Arena.
It was a moment she needed to enjoy — because of how long it took her to accomplish it.
"It's so surreal," McCord said. "We worked so freaking hard for this, and it's great to see it pay off. We deserve it; we worked so hard this season. I'm so glad I could experience my last year with great teammates."
All-Tournament MVP
Maggie McCord, Bingham
All-Tournament Team*
Ameleya Angilau, Bingham
Maggie McCord, Bingham
Eleyana Tafisi, Copper Hills
Breaunna Gillen, Copper Hills
Emma Calvert, Fremont
Maddie Eaton, Lone Peak
*as voted on by the media
Academic state champions
Westlake (3.901 GPA)
×
Photos
Related Stories