This archived news story is available only for your personal, non-commercial use. Information in the story may be outdated or superseded by additional information. Reading or replaying the story in its archived form does not constitute a republication of the story.
TAYLORSVILLE — Kemery Martin and Jaiden Vaifanua, Corner Canyon's two Division I-bound girls basketball talents, weren't going to let anything keep the Chargers from their first state title game appearance in the school's brief history.
Not even a late bus.
The Chargers' bus was mistakenly sent to Jordan High School prior to their Class 5A state semifinal at Salt Lake Community Community College, and the team didn't arrive until more than 30 minutes after they were expected.
"We all have our tendencies and our routines, and when you throw a wrench into that routine, sometimes it doesn't work so well," Corner Canyon coach Jeramy Acker said. "But I'm really proud of my girls for persevering, playing through it, believing in each other, and trusting."
Martin, who has signed with Utah, had an eye-popping 29 points, seven rebounds, three assists and three steals, and Vaifanua added 14 points, nine rebounds and seven blocked shots to help Corner Canyon make history with a 58-53 win over Skyridge late Friday night.
Megan Astle added nine points for the Chargers (21-5), who will face defending 5A champion East after the Leopards rallied for a 57-48 win over Wasatch in the other semifinal.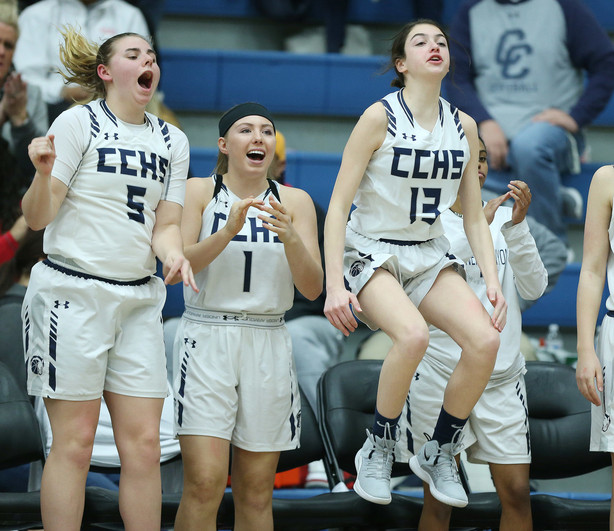 But for Corner Canyon, the task was anything but easy against Skyridge, a team known as one of the best shooting teams in 5A. Ally Blackham led the Falcons (20-3) with 11 points, six rebounds and four assists, and teammate Marisa Bowman had 16 points and six boards off the bench.
Skyridge rallied from a deficit that swelled as high as 29-22 in the third quarter. Marisa Bowman capped a 7-0 run to tie the game at 29-29 on a 3-point play with 4:20 showing.
Astle was visibly upset by the foul call on that play that led to the draw.
She took it out on the other end, nailing a triple just under a minute later to help the Chargers to a 38-36 edge at the end of the third and stifle the Falcons' comeback bid.
"That's huge, right? Another player would've missed all their shots until that point and not shoot. But we don't play like that," Acker said. "Her perseverance and her battles make me so proud of her. But I'm so proud of every one of the girls; our bench was huge, too."
4 more years, @UTAHWBB?

👀 👀 👀 pic.twitter.com/P1QcdEFMR1

— KSL.com Sports (@KSLcomSports) February 23, 2019
The Falcons tied the game at 38-38 to start the fourth. But Vaifanua scored 7-straight points to push the Chargers lead back to 47-40 three minutes into the quarter.
If the Wyoming-bound senior wasn't scoring at the line, she made the most of her minutes by drawing a foul.
"Nothing was falling for me," said Vaifanua, who shot 3-of-13 but made 8-of-9 free throws. "It felt like nothing was going my way in the first half. But I know free throws are a huge strength for me, and when I got here, I knew I could be there. I could just restart in my head, restart my focus, and it worked."
Martin did the rest, scoring six of the Chargers' next eight points to pull away for good and clinch a coveted berth in the state championship.
"We've done a lot of things as a team since day one to get here," Vaifanua said. "To finally see it all working and to be here, working for each other, is insane. We're so excited."
×
Photos