This archived news story is available only for your personal, non-commercial use. Information in the story may be outdated or superseded by additional information. Reading or replaying the story in its archived form does not constitute a republication of the story.
SALT LAKE CITY — Yes, that feeling of love between you and your dog has science behind it.
When a parent gazes into an infant's eyes, the body produces oxytocin — also known as the love hormone. A research study out of Japan found that gazing into a dog's eyes produces the exact same thing.
"It's that feeling of closeness and understanding when you look into the eyes of another individual or to another dog," said Kara Thornton-Kurth, an assistant professor in the Animal, Dairy and Veterinary Science Department at Utah State University.
She put merit into the oxytocin gaze study, saying that perhaps people who are crazy about their dogs aren't so crazy after all.
"They looked at when you pet a dog, too, in the study," she said. "That also increases oxytocin levels. Oxytocin also leads towards that feeling of calmness and happiness. I guess a good word to describe it would be 'serenity.'"
At Best Friends Animal Society in Sugarhouse, capturing the right photo of a dog's personality — specifically its eyes — is Sarah Kichas' job. As a photographer, she looks for a connection.
Just like humans in the world of online dating, dogs are looking for love, too. If Kichas can capture just the right profile pic, magic just might happen.
"If we can put them in a nice, positive light that really showcases their personality, maybe (we) can get some people to 'swipe right' on them," she said. "Make a match."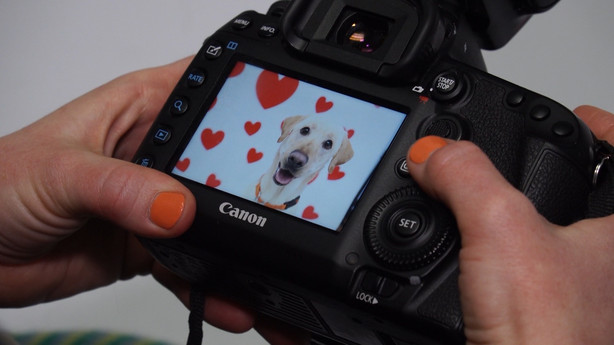 Do the dogs feel the same way about their humans as their humans do about them, though?
According to the study out of Japan, yes. Scientists measured a rise in oxytocin levels in the canines, too.
However, as the humans in KSL TV's story will tell you, they don't need a study to tell them their dogs love them.
"He definitely feeds off my emotions," Brittany Chesley said about her dog, Grizzley. "If I'm happy, he's happy. He can tell if I'm sad."
"If I'm down or upset, he'll come over and put his head right on me and kind of put a little bit of pressure," said Valerie Coffman about Wally.
"It's a mutual production of oxytocin between the two species," Thornton-Kurth said. "Not just one or the other."
That feeling of love you get when you see a puppy, a dog you want to adopt, or your best friend after a long day of work or school, is not only real, it's science.
Related story:
×
Photos
Related Stories