OREM — If Thursday's Class 6A state wrestling tournament looks like a Pleasant Grove-Layton dual meet, there's a reason for that.
The consensus top-two teams in 6A — champions of each of the past eight seasons — dominated the opening day of the tournament, placing an astonishing 20 combined wrestlers past the quarterfinals Wednesday at the UCCU Center at Utah Valley University.
Defending champion Pleasant Grove dominated the first day, surging to a 156-121 lead over Layton. But the Lancers have the capability to make up ground, sending 10 wrestlers through to Thursday's semifinals, equalling the tournament-high mark set by the Vikings.
In several weight classes, the Lancers and Vikings are expected to square off for individual titles.
But Thursday's semifinals will feature four bouts between the top two teams. Layton's Tatyon Bennett will face PG's Michel Stock at 126 pounds, Layton's Alec Bolingbroke will face Cannon Carlson of Pleasant Grove at 170 pounds, and heavyweights Jon Hunt of Layton and Keegan Wilkinson of Pleasant Grove will also contest a semifinal Thursday.
At 138 pounds, Terrell Barraclough of Layton will face Pleasant Grove's Oakley Ridge. The three-time state champion Lancer could see back-to-back Vikings en route to a coveted fourth title, as Pleasant Grove's Talmage Woodhouse will face Westlake's Trent Taylor in the other semifinal.
Championship matches begin at 5 p.m. at the UCCU Center in Orem.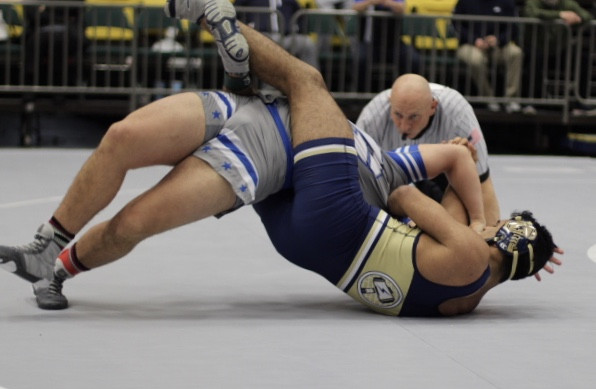 Class 6A state wrestling tournament at Utah Valley University
Top 10 teams
Pleasant Grove 156, Layton 121, Syracuse 118.5, Herriman 104.5, Westlake 97, Fremont 66, Bingham 53, Davis 47.5, American Fork 46, Weber 24.
Thursday's semifinals at 11 a.m. MT
106 — Quade Smith, Layton, v. Sutton Brown, Syracuse; Jackson Visser, Pleasant Grove, v. Dallan Hunsaker, American Fork.
113 — Aidan Harris, Layton, v. Corbin Platt, Fremont; Marco Herrera, Bingham, v. Jackson Judd, Herriman.
120 — Jacob Finlinson, Westlake, v. Tucker Butler, Westlake; Jeff Rogers, West Jordan, v. Gage Ogden, Herriman.
126 — Tayton Bennett, Layton, v. Michel Stock, Pleasant Grove; Mason Denton, Fremont, v. T. Hendrickson, Herriman.
132 — Tyson Humpherys, Layton, v. Joseph Fairbanks, Syracuse; Parker Coffey, Davis, v. Calvin Bishop, Westlake.
138 — Terrell Barraclough, Layton, v. Oakley Ridge, Pleasant Grove; Talmage Woodhouse, Pleasant Grove, v. Trent Taylor, Westlake.
145 — Camron Eden, Syracuse, v. Braden Henson, Taylorsville; Cole Zorn, Pleasant Grove, v. Jaden Strange, Herriman.
152 — Canyon Brann, Layton, v. Joshua Rassi, Syracuse; Kam Moss, Bingham, v. Mark Rausch, Herriman.
160 — Elijah Wilson, American Fork, v. Tytan Smith, Syracuse; Jaxon Moore, Pleasant Grove, v. Talmage Carman, Herriman.
170 — Alec Bollingbroke, Layton v. Cannon Carlson, Pleasant Grove; Samuel Sprehn, Syracuse, v. Colby Oldham, Hunter.
182 — Cole Faust, Layton, v. Corbin Roennebeck, Syracuse; Heston Percival, Davis, v. Zachary Durbano, Weber.
195 — Zach Warren, Westlake, v. Kolton Kammeyer, Fremont; Cache Kelley, Syracuse, v. Tanner Clem, Layton.
220 — Mafi Mahuinga, Herriman, v. Philip Boban, Pleasant Grove; Maiki Tauteoli, Pleasant Grove, v. Anthony Stockwell, Westlake.
285 — Jon Hunt, Layton, v. Keegan Wilkinson, Pleasant Grove; Kaden Montano, Syracuse, v. Traycee Norman, Herriman.
×