This archived news story is available only for your personal, non-commercial use. Information in the story may be outdated or superseded by additional information. Reading or replaying the story in its archived form does not constitute a republication of the story.
SALT LAKE CITY — This recruiting cycle was a little different for Southern Utah.
Coming off the most successful three-year run in program history, the Thunderbirds came back down to earth in 2018 — finishing with just one win.
That meant there wasn't a Big Sky championship run to brag about or a streak of consecutive winning seasons to highlight. But they felt they still had all the things that led to all of those.
"We obviously couldn't sell on record, so we sold what we were all about," SUU head coach Demario Warren said. "Our program, our university, our community. I think the guys really appreciated that."
The Thunderbirds signed 23 players on Wednesday — the first day of the national signing period — and feel they have found players that will help the team return to the top of the Big Sky quickly. The 2019 class also features two players from the early signing period and four preferred walk-ons.
"We focused on things that make us great, that we value," Warren said. "We looked for guys that value the same things that we do. I think you look up and down that signing class. You see guys who are really hard workers, self-starters."
Warren said the headlining group of the 2019 class is the receiving corp. That group features local talents in Corner Canyon's John Mitchell, Springville's Clayton Johnson and Pine View's Dallin Brown.
Mitchell had 1,250 receiving yards and 13 touchdowns in 2018. Brown had over 2,000 yards of offense during his senior year playing quarterback, running back and receiver.
"I think the receiving corp is second to none," Warren said. "We hit a home run in that department."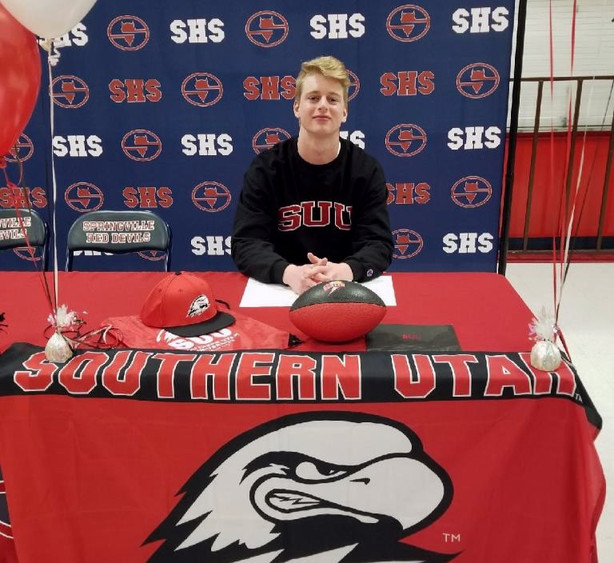 Warren also mentioned Alta defensive tackle Remedy Akoteu as one of the big gets of the class. Akoteu held early offers from BYU, Utah State and Boise State.
"He's an absolute stud," Warren said. "He had a bunch of offers early and we were fortunate to beat a bunch of smaller schools at the very end."
Akoteu had 36 tackles during his senior season with 8.5 going for a loss.
In all, the Thunderbirds signed 15 players from Utah in their 2019 class. SUU also continued the program's trend of heavily recruiting Arizona, by pulling six players from the Grand Canyon State.
But, more importantly, Warren feels SUU found the players that will buy into his program.
"We wanted to get guys that wanted to be T-Birds," Warren said. "I think that was a huge emphasis for us this year, We found a lot of guys that wanted to be here."
2019 SUU signing class
Remedy Akoteu, DL, 6-3, 200, Riverton, Utah (Alta HS)
Dallin Brown, WR, 6-0, 190, St. George, Utah (Pine View HS)
Drew Carter, LB, 6-1, 190, Camarillo, California (Camarillo HS)
Dayne Christiansen, RB, 5-8, 175, Pleasant Grove, Utah (Pleasant Grove HS)
Mason Creager, DL, 6-3, 225, St. George, Utah (Desert Hills HS)
Kohner Cullimore, LB, 6-0, 205, Gilbert, Arizona (Highland HS)
Billy Davis, LB, 6-0, 220, Las Vegas, Nevada (Arbor View HS)
Thomas Duckett, RB, 5-10, 180, Oxnard, California (Pacifica HS/Ventura College)
Drake Fakahua, LB, 5-10, 215, Cedar City, Utah (Cedar HS)
Aiden Gordon, OL, 6-1, 275, Riverton, Utah (Riverton HS)
Braisen Harward, TE, 6-4, 220, South Jordan, Utah (Bingham HS)
Kingsley Holliday, OL, 6-2, 285, Draper, Utah (Corner Canyon HS)
Charles Johnson, DB, 6-2, 170, San Diego, California (San Diego HS)
Clayton Johnson, WR, 6-3, 210, Springville, Utah (Springville HS)
Brock McChesney, DB, 6-0, 165, Provo, Utah (Lone Peak HS)
John Mitchell, WR, 6-3, 195, Draper, Utah (Corner Canyon HS)
Zach Molina, WR, 5-10, 175, Mesa, Arizona (Red Mountain HS)
Riley Morris, LB, 6-0, 185, Thatcher, Arizona (Thatcher HS)
Zach Nelson, WR, 6-1, 190, Queen Creek, Arizona (Casteel HS)
Derek Reese, TE, 6-4, 220, Logandale, Nevada (Moapa Valley HS)
Jet Richins, LB, 6-1, 185, Stansbury Park, Utah (Stansbury HS)
Lyle Santos, OL, 6-3, 235, Las Vegas, Nevada (Arbor View HS)
Brandon Schenks, WR, 6-3, 210, Chandler, Arizona (Hamilton HS)
Zack Shepard, QB, 6-3, 160, Gilbert, Arizona (Williams Field HS)
Noah Smith, RB, 6-2, 180, Panaca, Nevada (Lincoln County HS)
Rylen Su'a-Filo, DL, 6-2, 260, Orem, Utah (Orem HS)
Kani Taufa, DL, 6-0, 255, Provo, Utah (Timpview HS)
Khalid Taylor, DB, 5-7, 180, Sherman Oaks, California (College of the Canyons)
Cervontes White, DB, 5-9, 170, Las Vegas, Nevada (Liberty HS)
Isaiah Williams, WR, 6-1, 210, Chula Vista, California (San Diego Mesa CC)
Canaan Yarro, OL, 6-2, 285, Provo, Utah (Timpview HS)
×
Related Stories