SALT LAKE CITY — All of his life, Tanner Balderree has been told why he can't.
Not big enough.
Not fast enough.
Not good enough.
That was the case when he was coming out of high school in Oregon; he barely received a Division I offer before former BYU coach Bronco Mendenhall recruited the then-defensive end.
After 35 career games with the Cougars, including 13 starts at tight end, Balderree again found himself on the outside, looking in.
Undrafted and looking for work in pro football, Balderree accepted a rookie minicamp invitation from the Cleveland Browns.
But despite his 6-foot-3, 250-pound frame, the Browns cut him. With barely enough time to grab a doughnut in the NFL, Balderree was out of work.
That's where the Salt Lake Stallions and the Alliance of American Football came in. The league prides itself in helping players like Balderree — those on the fringe of an NFL contract, who just need time, reps and seasoning to get back into the league.
And with the NFL season over after Sunday's Super Bowl, there will be plenty of eyes on the upstart AAF's inaugural season.
"Everyone is working hard to prove why they deserve to be on this team," Balderree said. "But it's been great to play football again, especially after most of us felt like we had missed our opportunity."
Balderree's story may be the ultimate underdog story. At least, it will be if he succeeds.
And the Alliance of American Football wants him to succeed, to get his chance at the NFL, and make the most of it.
But first, there's the season opener Feb. 10 against the Arizona Hotshots.
"We're all super excited to have a game, just to show the work we've been putting in the last month," Balderree told the Wild Stallyns podcast as training camp was wrapping up. "Last week (in the preseason game) gave us a taste, and we want more."
The Stallions and the AAF mark a path back to the NFL for a lot of players, both former standouts and fringe roster candidates.
But the team is also about more than football for Balderree, who has called Utah home since his college days and spent time in St. George with his wife after leaving BYU in 2017. He also now has an infant son, as well.
"I want people to get to know me personally, about my wife and my kid, and feel like they can come talk to me after a game," Balderree said. "I want to meet the fans, too. We got to speak with some season ticket holders during mini-camp, and it was really fun to get to know them.
"As a team and a fan base, I hope we can come together on a personal level."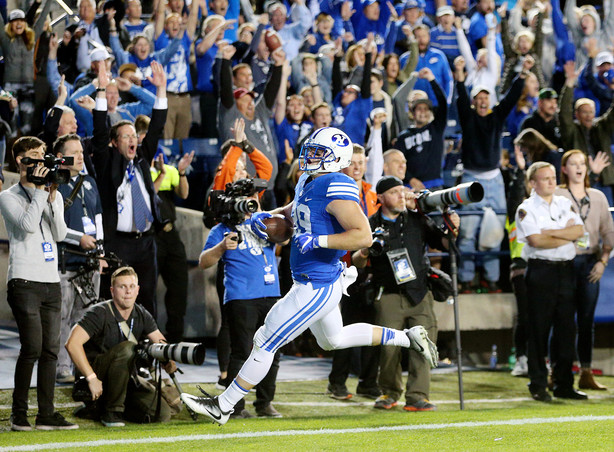 Balderree will be ready for that opening day. As one of 17 former local players on the Stallions' roster, he's proud to be a part of the inaugural season of the Salt Lake Stallions — in whatever way possible. Originally listed as a fullback on the 52-man roster, he's also listed as a tight end, with an emphasis as a blocking tight end.
In other words, he's big, burly, block-savvy and bearded — unlike his days as a student at BYU — much like the rest of the run-first offense under head coach Dennis Erickson, the College Football Hall of Famer and former co-offensive coordinator at the University of Utah.
The tight end is also one of five former BYU players that made the Stallions' inaugural 52-man cut, a list that also includes former teammates Micah Hannemann at safety, Handsome Tanielu at defensive tackle, Tuni Kanuch on the offensive line, and Jordan Leslie at wide receiver.
"It's heartwarming because we've come such a long way," Tanielu told aaf.com. "And to be here and do the thing that we love is good."
Stallions Cut-down
Balderree has also fit in well with other players from Utah, even those who were once considered rivals.
He counts former Utah State cornerback Will Davis, a third-round pick of the Miami Dolphins 2013 NFL Draft, as one of his better friends on the new squad.
"I've connected with all the guys from Utah," Balderree said. "I've had a really good relationship with people like Will Davis, Anthony Williams and most of our O-line from the U. It's been fun to have that in common.
"Some of the guys played before me, but it's still fun because we have something in common — and now we can come together on the same team."
×
Related Stories