This archived news story is available only for your personal, non-commercial use. Information in the story may be outdated or superseded by additional information. Reading or replaying the story in its archived form does not constitute a republication of the story.
SALT LAKE CITY — Josh Woodrum is grateful for his time in the NFL.
A four-year starting quarterback at then-FCS Liberty, Woodrum went undrafted in 2016 and signed as a free agent with the New York Giants. He lasted just three days in New York, but accepted training camp deals with the Colts, Bears, Ravens and Browns over the next two years to try to find a team where he could stick.
But being the third or fourth quarterback with an NFL franchise is difficult. Sure, training camp contracts are nice. But once you get to the regular season, finding regular practice time for all but the most elite aspiring quarterbacks becomes nearly impossible.
In short, the NFL has a development problem.
"If you're not the starting quarterback, you really don't get that many reps — especially during the season," Woodrum told KSL.com. "I was very fortunate in my second year with the Ravens, when Joe Flacco hurt his back and I was able to get a ton of reps. If Joe wasn't hurt, I would've never gotten that opportunity.
"If you aren't a starter, you most likely aren't getting time to be seen"
That's why Woodrum signed on with the Alliance of American Football. The first-year startup league doesn't bill itself as a direct competitor to the NFL, but rather as a complement to a league that allows so many quality football players to slip through the cracks — especially at quarterback, where only one player can play at a time and the backups are usually left to fend for themselves.
Woodrum was the top pick for the Salt Lake Stallions in last months' quarterback draft, and he's excited to have found a spot where he can continue to develop.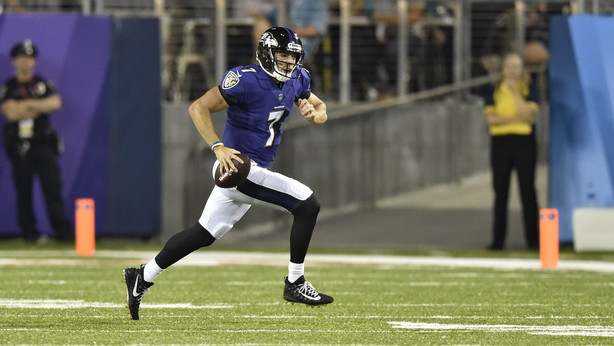 The ultimate goal isn't the Stallions, for Woodrum or any other player in the league. But that's what makes the AAF complementary to the NFL: if a player is signed to an active roster, or even a practice-squad contract, they can be immediately released from their Alliance contract — no questions asked.
Not only does it give the Alliance players a chance to compete in league play, but also in vying for a coveted active roster or practice squad spot with several other fringe NFL players.
"When I compete, I want to compete at the highest level — and I think I can compete at the highest level," Woodrum said. "A lot of guys in this league are the same way. … I think everyone should want to prove that they don't belong in this league, that they belong in the NFL and this league will help them get to where they need to be.
"If everyone has that mindset, I think you are going to have a very good football league."
Getting back into "The League" is a common sentiment for most AAF signees, including those currently on the Stallions' roster. Led by head coach Dennis Erickson, the Stallions have first rights to each regional university's unsigned graduates in the Rocky Mountain area, including Utah's Jeremiah Poutasi and Trevor Reilly; BYU's Handsome Tanielu, Tanner Balderree and Tuni Kanuch; Utah State's Will Davis; and Weber State's Cardon Malan, among others.
But the league's annual quarterback draft also gave the Stallions a chance to pick up other signal callers who Erickson felt might best lead his offense. And former South Florida star B.J. Daniels was one of those guys.
A second-round QB draft pick by Salt Lake, Daniels was a seventh-round NFL draft pick by the San Francisco 49ers in 2013.
A four-year starter at USF, Daniels threw for 8,433 yards and 52 touchdowns for the Bulls. He spent three years with the Seattle Seahawks as Russell Wilson's backup, including Super Bowl XLVIII's win over the Broncos. He was also reportedly a favorite of head coach Pete Carroll.
That experience with an expansion franchise in a first-year league will prove invaluable — not just to Daniels, but to the Stallions.
"I think that will make practice even better and more fun," Daniels said. "Being blessed enough to go to the Super Bowl three times, I am able to see how that operates and how that preparation of practice looks. I'm so dialed in, and I'm just excited to share it."
After the Seahawks waived him to make room for other position needs, Daniels found himself in a similar spot as Woodrum — bouncing around to short-term deals with the Houston Texans, New York Giants and Atlanta Falcons, who tried to convert the 5-foot-11, 220-pound Tallahassee native into a wide receiver or running back.
"I think I got caught up in the league," Daniels admits of the transition. "Being a third quarterback, you are an emergency guy. With my athletic ability, I was able to be on the active roster to play other positions.
"It was something I did at the time, and I battle myself if I should've done that. This is my natural position, quarterback, and the position I've played my entire life."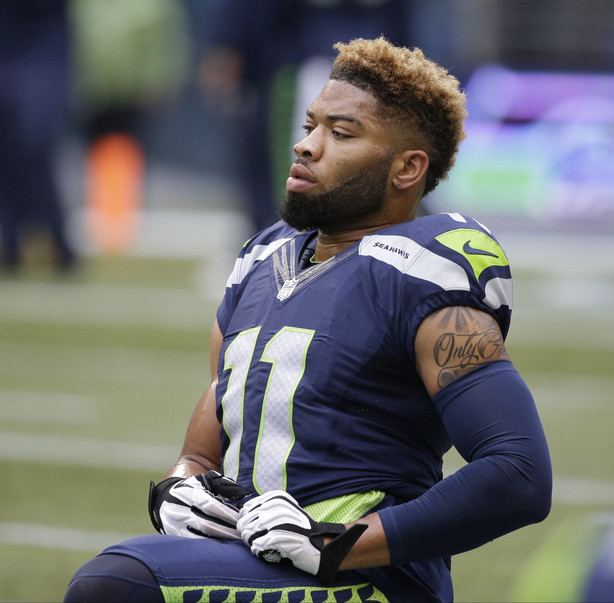 With the Stallions, Daniels will get to play quarterback.
"That's the start of everything — you've got to have a quarterback," Erickson said. "That's what the league is trying to do; that's why they had the draft: to make sure that everybody gets a good quarterback. They are both leaders, and they'll take this team over."
Both quarterbacks present alternative styles of play for the first-year Stallions, too. Daniels is a compact, shifty, accurate passer who can make plays with his legs; while Woodrum is the tall, long, athletic pocket passer who completed 25-of-36 passes for 321 yards and four touchdowns in his longest preseason stint with the Ravens.
"We have two different kinds of quarterbacks, and that's what we want," Erickson said. "We've got to keep it simple offensively in this league, because we don't have much time."
The Stallions open the 2019 season Feb. 10 at 2 p.m. MST at Arizona in the first of back-to-back road games. They'll open the five-game home schedule Feb. 23 against the Hotshots at Rice-Eccles Stadium, with additional home dates March 2 against Orlando, March 16 against Memphis, March 30 against San Diego and April 12 against San Antonio before the playoffs.
The league's championship game is scheduled for April 27 at Sam Boyd Stadium in Las Vegas. The game will be broadcast on CBS.
The Stallions hope to be in Las Vegas that night. And if any of the players aren't in Sin City, they hope it's because they have already signed a contract with an NFL team.
It's the goal of every player in the league.
Salt Lake Stallions' inaugural schedule
| Date | Opponent | Kickoff |
| --- | --- | --- |
| Feb. 10 | at Arizona | 2 p.m. MT |
| Feb. 16 | at Birmingham | TBD |
| Feb. 23 | vs. Arizona | TBD |
| March 2 | vs. Orlando | TBD |
| March 9 | at San Diego | TBD |
| March 16 | vs. Memphis | TBD |
| March 23 | at San Antonio | TBD |
| March 30 | vs. San Diego | TBD |
| April 7 | at Atlanta | TBD |
| April 12 | vs. San Antonio | TBD |
×
Photos
Related Stories