Estimated read time: 5-6 minutes
This archived news story is available only for your personal, non-commercial use. Information in the story may be outdated or superseded by additional information. Reading or replaying the story in its archived form does not constitute a republication of the story.
WEST JORDAN — Now it feels real.
The Salt Lake Stallions, Utah's newest professional football team that will begin play in February 2019 in the eight-team Alliance of American Football, unveiled their uniforms Tuesday on the same night the franchise drafted their first-round quarterback.
"We've been doing this for a long time now," Stallions team president Tyler Howell told KSL.com Tuesday night. "But with the uniform unveil, the quarterback draft, this is really where it starts. In 74 days, we'll be playing real football in Salt Lake; how cool is that? It's exciting."
While most fans likely won't recognize Josh Woodrum, the 6-foot-3, 230-pound former NFL free agent who played at Liberty University, they will recognize a host of other names like Jeremiah Poutasi and Cardon Malan, the ex-Utah and Weber State stars, respectively, who were allocated to the first-year franchise that puts a premium on regional ties.
If a football player went to college in the Beehive State — whether Utes, Cougars, Aggies, Wildcats, Thunderbirds or even if they topped out at nearby Snow College — the Stallions have first rights to them over the eight-team league.
"That's one of the really exciting things about the league. If they played at Utah State or Utah or BYU, we get their first rights," Howell said. "To have guys like Jeremiah or Cardon here from Utah and Weber State is awesome; there's already a fanbase built. We already have four years of loyalty to these guys, so we get to just extend that."
Poutasi, Cardon and former Utah teammate Trevor Reilly were on hand Tuesday night during the Stallions' official uniform unveiling, meeting fans, taking pictures and signing autographs at Bout Time Pub & Grill in West Jordan.
But two months from now is what Poutasi is eyeing as he tries to make his way back to the NFL after spending time with the Broncos, Titans and Jaguars.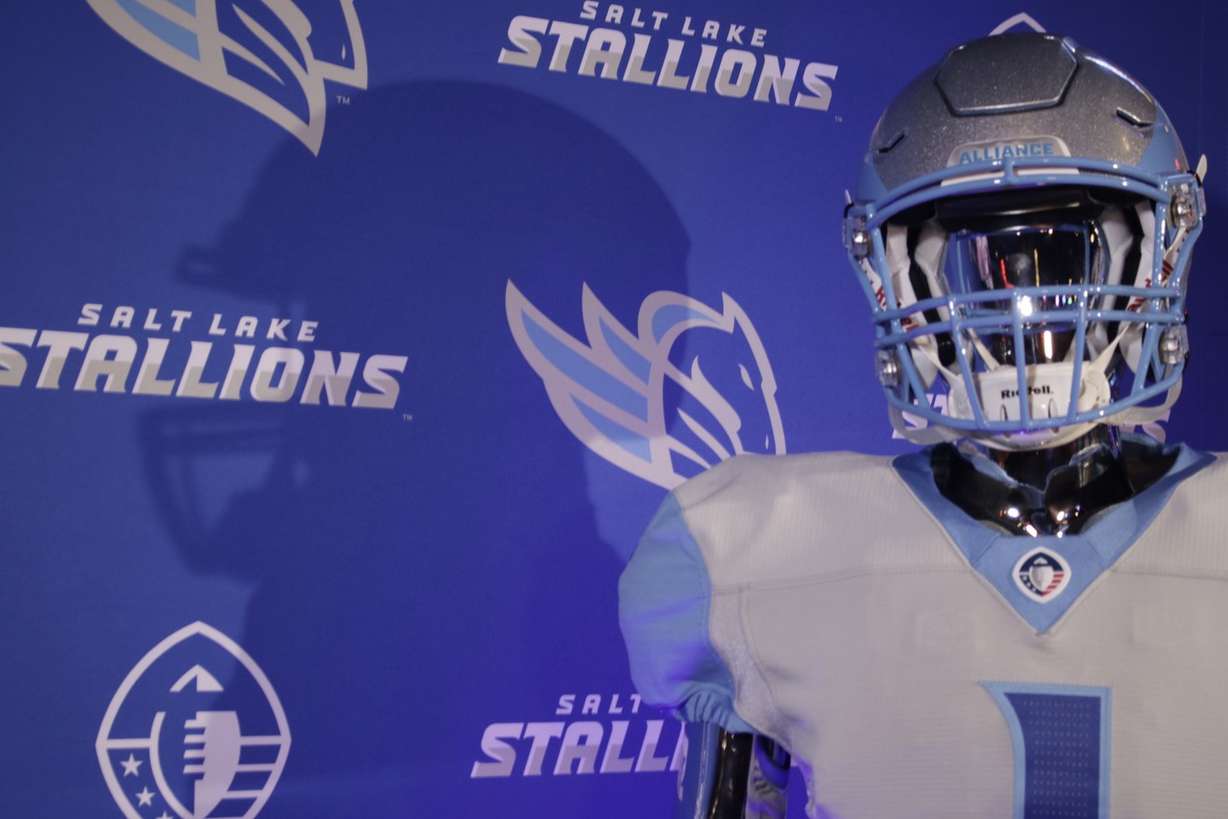 "I wanted to play football again, and I didn't know where to play," said Poutasi, who will play for former Utah offensive coordinator Dennis Erickson, now the head coach of the Stallions. "This is better than waiting around for another call from the NFL.
"The told me Salt Lake City had a team, and it's one of the best cities I've ever played in. That was a no-brainer."
Bringing in local products is a smart move for a league that doesn't compete see itself as competition with the NFL — the AAF's February-April spring schedule means fans won't have to choose between the NFL and the new league, while players all have release clauses in their lucrative contracts that will allow them to sign with an NFL team or practice squad at any point during the season.
The Alliance of American Football can be a developmental league, or just an outside league for football fans to pass the often interminable offseason between February and August.
More than anything, it's a chance to play, coach and work in football for a lot of people.
"We're not going to try to be 'the big dogs,'" Howell admitted of the single-entity Alliance, which is founded by former NBC executive Charlie Ebersol and former NFL general manager Bill Polian. "The NFL is great; they have a great product, and what they do is great. We just want to continue to complement that."
The Stallions' team logo and uniforms are shrouded in silver and blue, a nod to the edge of the Wasatch Mountains hovering above the Great Salt Lake.
The silver jersey is complemented with sky blue trim, matching the blue pants, while the Stallions' logo adorns the helmet.
Yeah, it's still a little weird to wear all that blue, the former Ute Poutasi admits.
"I thought about that, wearing blue and being all red," he said. "But then again, it's all about the game. This team represents Salt Lake City as one. I'm excited to put on this uniform — and it's a good-looking uniform, too."
Salt Lake's franchise will include a bevy of former local college football standouts Utah running back Matt Asiata and linebacker Trevor Reilly; BYU defensive tackle Handsome Tanielu, tight end Tanner Balderree, and offensive guard Tuni Kanuch; and Utah State defensive back Will Davis, among others.
It's not all former Utes or Cougars, though. The Stallions also had QB rights to Nebraska's Tommy Armstrong and Colorado State's Garrett Grayson, for example, prior to Tuesday night's draft.
So whether it's a homecoming, or a "Welcome to Utah" moment, the Stallions are excited to kick off on the "frozen tundra" of Rice-Eccles Stadium for Salt Lake's first home game, Feb. 23 against the Arizona Hotshots.
"It's like a welcoming home," Poutasi said. "Playing at Rice-Eccles, there's no other place that you would rather play at. Hopefully we can sell it out just like Utah does."
Salt Lake will host five games during the first year of the eight-team league, including March 2 against Orlando, March 16 against Memphis, March 30 against San Diego, and April 12 against San Antonio.
The league's championship game is scheduled for the weekend of April 26-28 at Sam Boyd Stadium in Las Vegas. All games will be streamed live on the AAF's app, and the title game will be broadcast on CBS.
×
Photos
Related stories
Most recent Sports stories