Estimated read time: 4-5 minutes
This archived news story is available only for your personal, non-commercial use. Information in the story may be outdated or superseded by additional information. Reading or replaying the story in its archived form does not constitute a republication of the story.
HERRIMAN — The second season of Major League Rugby, the professional rugby organization in the United States, kicked off this weekend.
But if you didn't notice it in Salt Lake City, where the league headquarters reside, you weren't alone.
That's because the Utah Warriors sat idle during the historic opening weekend, watching as teams like Rugby United New York, the San Diego Legion, Glendale Raptors and Seattle Seawolves opened the season Sunday.
The Warriors will open their season Friday, Feb. 1, at Austin Elite with 21 returning players from last year's playoff team. Utah will open its home schedule Feb. 23 against the Glendale Raptors. Similar to last year, all home games will be played at Zions Bank Stadium in Herriman.
But the excitement for a second season — the first in U.S. professional rugby — has been building among the club's current roster for a long time.
The roster won't include former BYU fullback Paul Lasike, who has moved on to a pro career with England's Harlequins, or leading scorer Kurt Morath, Tonga's all-time scoring leader who now plays in Scotland.
But the roster will include Tonata Lauti, the Lehi resident who led Major League Rugby in tries scored last year, as well as all-MLR selections Alex Tucci and Matt Jensen, plus former BYU standouts, twins Josh and Jared Whippy — both now healed from oddly remarkable leg injuries suffered during the 2018 preseason.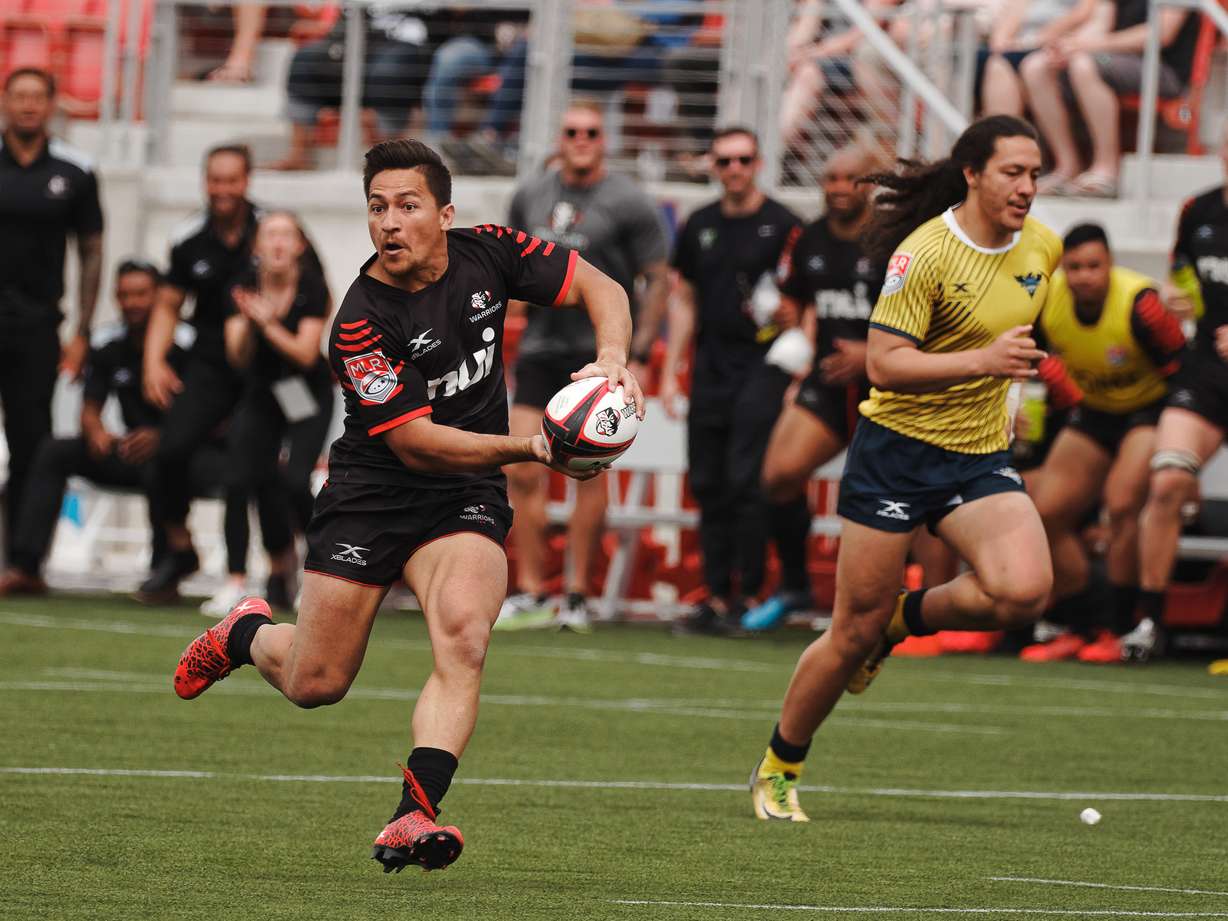 The Warriors squeezed into the playoffs, but they know they can improve even beyond that this season.
Even without officially saying so, the league hopes the Warriors can become one of the banner clubs as well. Major League Rugby has teams in markets like New York, Seattle, San Diego, and (soon-to-be) Atlanta and Washington, D.C. But the organization has its headquarters in Salt Lake City — the only professional league to claim the distinction.
Utah is close to making another jump, too.
"Most of the games last year, we lost by a few points," said Lauti, a native of Vava'u, Tonga, who played six sports at Highland High School in Salt Lake City. "I think that came down to fitness. So this year, we will be a lot more fit. That will be a big difference."
Led by Lauti's league-best nine tries, the Warriors were the highest-scoring team in the league in 2018, averaging 32.22 points in the expansion season of the seven-team league. That's two points better than second-place Glendale (30.20) and nearly three points ahead of eventual league champion Seattle (29.30).
But defense left a lot to be desired — and it was one of the first things head coach Alf Daniels took a long look at when he reflected on his team's inaugural season.
---
You always want to be cautious. But I really believe that we have a team that has the potential to win a championship, given everything we've put in place.
–Utah Warriors coach Alf Daniels
---
With defense in mind, he went out and hired a full-time strength and conditioning coach, Matt Byrd, who played with the USA Eagles national team.
"We're not where we want to be yet," Daniels said. "But conditioning is a big part of being defensively strong. Raising our conditioning is a key part. We're doing a lot of work on one-to-one tackling and getting a structure and working within that structure. It's coming."
He also brought in Stevie Scott, a Scottish international who coaches forwards and has specialized in creating a system that will allow the Warriors' forwards to hold a tight defensive line while not impeding the club's high-powered wings.
Related
"I think it's going to work really well for the group of guys that we have," said Lauti, who called the defensive scheme "more simple." "So far, we've done a lot of defensive work. We know that offense is there, that we can score tries. But defensively we've improved a lot."
The club also added assistant coach James Semple, who will coach the backs.
Utah averaged 4.77 tries per game, but also committed the most errors (26.77 per game) and was the third worst in lineouts (10.55 per game).
In other words, it wasn't a banner year for Utah's defense. An offense that included the leading try scorer in the league propelled the Warriors to the playoffs via the No. 4 seed, but couldn't do anything more in a semifinal loss to the Raptors.
Daniels hopes that a lot of the growing pains from the club's first year are behind him. If they are, the Warriors could have a special season.
"I expect us to be able to take it to the next level," Daniels said. "We've made changes, brought in a full and experienced coaching staff and more managers and trainers and strength and conditioning coaches to lift us up.
"You always want to be cautious. But I really believe that we have a team that has the potential to win a championship, given everything we've put in place."
Utah Warriors 2019 schedule
| Date | Opponent | Location |
| --- | --- | --- |
| Feb. 1 | Austin Elite | Austin, Texas |
| Feb. 17 | San Diego Legion | San Diego, Calif. |
| Feb. 23 | Glendale Raptors | Herriman, Utah |
| Mar. 2 | NOLA Gold | Herriman, Utah |
| Mar. 8 | Rugby United New York | Herriman, Utah |
| Mar. 23 | Houston Sabercats | Houston, Texas |
| Mar. 30 | Toronto Arrows | Herriman, Utah |
| April 5 | Seattle Seawolves | Herriman, Utah |
| April 13 | NOLA Gold | New Orleans, La. |
| April 21 | Rugby United New York | New York City |
| April 27 | Austin Elite | Herriman, Utah |
| May 4 | Glendale Raptors | Glendale, Colo. |
| May 12 | Toronto Arrows | Toronto, Ontario |
| May 18 | San Diego Legion | Herriman, Utah |
| May 26 | Seattle Seawolves | Seattle Wash. |
| June 1 | Houston Sabercats | Herriman, Utah |
×
Related stories
Most recent Sports stories