SALT LAKE CITY — As the partial government shutdown continues to impact thousands of individuals and families in Utah and across the country, Salt Lake City's top elected official offered a small gesture of appreciation to the men and women forced to work for no pay while maintaining safety at the state's largest airport.
Mayor Jackie Biskupski Monday personally thanked the federal Transportation Security Administration personnel who have been working without pay since last month due to the shutdown. The city provided pizza for federal workers from Customs and Border Protection, the Federal Aviation Administration and the TSA as a way to express gratitude for their dedication and professionalism in this time of political strife and personal upheaval.
"Shutting down the federal government and holding hostage the dedicated civil servants who help keep our country safe is not how we should be debating immigration policy or any policy in America," Biskupski said. "I am incredibly proud of the TSA, CBP and FAA employees at the Salt Lake City International Airport for staying at their critical posts during this difficult time, and it's time for federal leaders to follow this lead by getting to work to end this shutdown. Our civil servants need paychecks and we all need peace of mind."
She said Salt Lake City is a community where people reach out to help each other in times of trouble, and right now federal workers and their families need the support of those around them. Besides the meal provided, food donations are also being collected and distributed to individuals and families in need, she added.
Later this week, food donation bins will be set up in areas prior to entering TSA security checkpoints, as well as at the Touch N' Go Convenience Store for members of the public interested in donating food and toiletries. She added that the public can donate directly to the Utah Food Bank, which also provided items to workers impacted by the shutdown.
Special delivery...we hope this will raise spirits a bit at @slcairport, but we know what our federal workers need more than pizza is paychecks! #EndTheShutdown#utpolpic.twitter.com/jtqdSKZQV2

— Mayor J. Biskupski (@slcmayor) January 22, 2019
Biskupski said the city is working to develop a loan program that federal workers can apply to in order to obtain funding to pay bills while they wait to receive paychecks when the shutdown is eventually resolved.
People have gone without two paychecks now, that's hard for most people," she said. "I used to be a single mom and I get it. At the end of the day, we want to make sure as a community we're looking out for one another."
The city is also working on getting gas cards for workers to purchase fuel for their vehicles and possibly gift cards to meet expenses that might not otherwise be covered, she said.
The efforts to support impacted workers has helped boost morale significantly, said Mark Lewis, federal security director at Salt Lake City International Airport.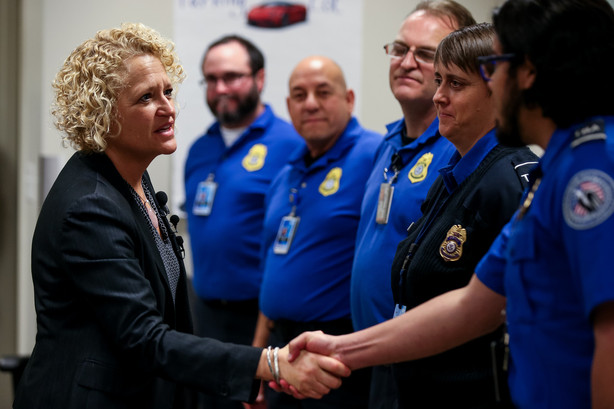 "The employees and I certainly appreciate the support we've gotten from the city, the airport, stakeholders and community members," he said. "It's been widespread and overwhelming and we certainly appreciate it. It means a lot to the (TSA) officers."
He said the workers are doing the best they can under the circumstances.
"I hope it ends sooner than later," he said. "It's a difficult time."
Officials at the city and the airport also announced that beginning this week, travelers at Salt Lake City International Airport will hear a new welcome greeting by Mayor Biskupski asking those passing through to show additional kindness to the civil servants who are working to keep the traveling public safe.
"This is part of our community. Every one of us is in this together," Biskupski said. "We need to act like that and we need to support one another through this very difficult time."
×
Photos
Related Stories