This archived news story is available only for your personal, non-commercial use. Information in the story may be outdated or superseded by additional information. Reading or replaying the story in its archived form does not constitute a republication of the story.
SUNSET — It's 3:30 a.m. in Beijing where "Jenny," a tutor with Qiao Qiao Chinese, is at her computer enthusiastically leading a fifth-grade class at Fremont Elementary School in an online lesson in Mandarin during its Monday afternoon class.
If she's sleep deprived, you'd never know it. Students in the Davis School District school were fully engaged as they participated in this week's lessons on how to give compliments. It was almost as if "Jenny" was in the classroom, encouraging students with a warm smile, thumbs up and even the occasional reminders to stay on task.
"Eyes on me. Eyes on me," she urged.
From more than 6,000 miles away, "Jenny" notices there are several visitors in the back of fifth-grade teacher Rachel Norris' classroom.
At her urging, the students turn to greet the educators, administrators and a former state senator in Mandarin.
"Ni hao," they say in unison, which roughly translates to "hello."
"Ni hao," the visitors say in response.
Once a week, students receive live online training from tutors from Qiao Qiao Chinese, a company based in Pleasanton, California. Many of the tutors are in China, although one of Fremont Elementary's regular tutors works from Poland. The tutors' efforts are enhanced by a Qiao Qiao intern, Jiewen "Duke" Wu, who lives in the area with a host family.
"We've got learning going on on three continents at one time," said principal Don Beatty. "Wow."
The goal of the instruction is not immersion or mastery of Mandarin, Beatty said.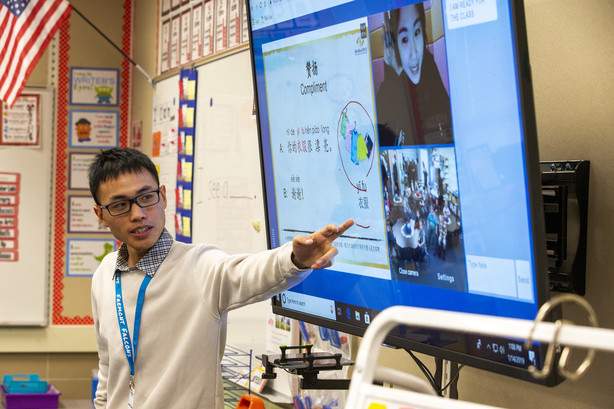 Rather, educators are creating opportunities for students at Fremont, a Title I school, to connect globally and to hone their digital citizenship skills, which enables them to participate safely, productively and responsibly in the digital world.
Ask Fremont students how many have been to the airport and likely 75 percent have not, Beatty said.
"Their world is their four-block radius. Their world at school is the walls of their school. They don't have the opportunity that kids in other (areas) have to get out and see the world," he said.
Norris said the online tutoring "helps them realize the world's connected and it's a bigger place than just down the street. It exposes them to language and culture. I don't know if they would get it in a different way."
But once a week at least, entire classrooms at Fremont connect with tutors on other continents, even kindergartners.
Many students also participate in more personalized Mandarin tutoring, also provided by Qiao Qiao Chinese tutors, who offer the instruction during Fremont's after-school program.
The enrichment program started in November and the school has spent around $5,000 for the tutoring, which has been largely covered through fundraisers and fees charged for its after-school program. Beatty said he plans to propose to the school's community council that the school use its trust lands funds for Mandarin tutoring next academic year.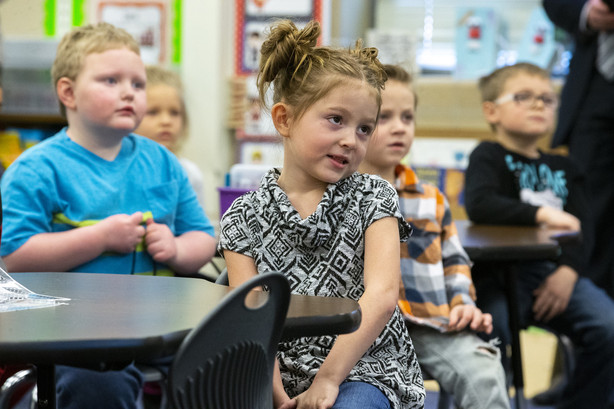 Among the school's visitors Monday was former Sen. Howard Stephenson, R-Draper, who has long championed language immersion programs and educational opportunities for students to connect with their peers worldwide.
"This is good global exposure for these kids, in these title schools especially. We need to provide an equal opportunity for students who may not have the kind of global perspective that an upper-middle school and neighborhood would just by nature of their family experiences. So this provides them that participation in a global world by literally speaking and learning language from somebody in Beijing, China," Stephenson said.
As the year progresses, students will learn about Chinese New Year, food, customs and culture, which Stephenson said is a valuable opportunity.
"They will become more globally competent, aware and confident as they progress through their school experience," he said.
×
Photos