This archived news story is available only for your personal, non-commercial use. Information in the story may be outdated or superseded by additional information. Reading or replaying the story in its archived form does not constitute a republication of the story.
PROVO — BYU basketball's poor efforts took another hit this week.
Mired in the wake of four losses in the past five games, the Cougars have lost point guard Jahshire Hardnett for the remainder of the season, according to multiple reports.
Hardnett is still listed on the BYU basketball roster, including on the most recent game notes ahead of the Cougars' Thursday night tipoff against Portland at 7 p.m. MT (BYUtv, KSL Newsradio).
BYU coach Dave Rose said Hardnett, who has not been with the team in practice this week, is still in "the process" of making a longer-standing decision about his basketball future.
"Right now Jahshire is going through a tough stretch," Rose said during his weekly coach's show on KSL Newsradio. "When you make decisions that affect a long period of your life, you can do it in a time that is not so emotional. Right now is an emotional time.
"When you talk about the academic stress that they feel, and the grind of the season, how you feel as a player, all athletes want to get themselves in a position where they can be a college athlete. But when you get in that grind sometimes, it is really overwhelming. Hopefully Jahshire can work through these things, and we'll see where we end up."
Hardnett came to BYU as a junior college transfer from Florida's Chipola College. Not a member of the school's sponsoring religious organization, the 6-foot, 185-pound point guard was recruited by former coach Heath Schroyer and stuck with BYU even after the latter took a job as head coach at McNeese State in Louisiana.
He's spoken openly about significant adjustments and adaptations he's had to make to fit in at BYU — cultural norms to learn, honor code regulations to follow, and snow, for example — but Hardnett has never publicly mentioned anything but a desire to play for BYU and factor into the team's success.
Now with the Cougars at 9-8 overall and 1-1 in West Coast Conference play, Hardnett reportedly has had enough, one source close to the BYU basketball team confirmed to KSL.com.
Hardnett averaged 10.9 points, 2.1 rebounds and 1.7 assists per game as a junior for the Cougars when he started 15-of-17 games and averaged 25.4 minutes per night.
He poured in a career-high 24 points on 11 field goals Dec. 1 in a 113-103 loss at Weber State, the first such defeat in Rose's head coaching tenure.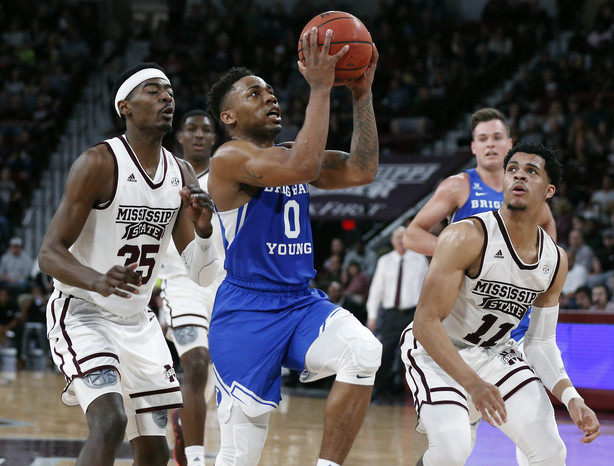 Indeed, after averaging just 6.0 points in 27.0 minutes as a sophomore in 2017-18, Hardnett was a fixture in the rotation — even when not a starter. His minutes dipped after back-to-back 30-minute outings during the Cougars' first three-game losing streak at Illinois State and Weber State — a span that coincided with Nick Emery's return from an NCAA-mandated nine-game suspension to start the year — but Hardnett still played more than 20 minutes every night (and the full 40 on Dec. 15 at UNLV) the rest of the season.
Hardnett was benched before the Cougars' 90-87 win at Pacific, with Rose opting for a lineup of TJ Haws, McKay Cannon, Connor Harding, Yoeli Childs and Luke Worthington instead of usual starters Hardnett and Zac Seljaas.
Hardnett told reporters after the Cougars' 90-87 win at Pacific that he "did something" during a 103-81 loss at Mississippi State that caused him to miss his first start in 15 games.
The junior from Gulfport, Mississippi, responded with 17 points, including a career-best 8-of-9 free throws, in 21 minutes off the bench against the Tigers.
But he scarcely played five minutes with virtually no impact in the Cougars' 88-66 loss at Saint Mary's two nights later, looking visibly frustrated at times on the BYU bench.
What does @jaromjordan think about reports that Jahshire Hardnett will depart from BYU Basketball? #BYUSNpic.twitter.com/E9HDSrHWHe

— BYU Sports Nation (@BYUSportsNation) January 8, 2019
Of course, a lot of players and coaches have been frustrated. The Cougars have lost four of their past five games, including a second three-game losing streak that ended the 2018-19 nonconference slate with the worst record since joining the West Coast Conference in 2011.
Even Rose has expressed disappointment with the run of events, lamenting the Cougars' road-heavy stretch — 29 days without a home game — that included opening with back-to-back conference road games after being one of the only teams in the league that challenged itself with three-straight road affairs to end the month of December.
A one-time Fordham commit and junior college transfer from Florida, Hardnett made the move to Provo as a sophomore prior to the 2017-18 season.
Update: This story has been updated to include comments from Rose made during his weekly coaches' show Tuesday evening on KSL Newsradio and BYUtv.
×
Related Stories