This archived news story is available only for your personal, non-commercial use. Information in the story may be outdated or superseded by additional information. Reading or replaying the story in its archived form does not constitute a republication of the story.
PROVO — Stand down, BYU fans; Jahshire Hardnett practiced with the BYU basketball team Wednesday afternoon before the Cougars' conference home opener, despite a few reports to the contrary.
Hardnett, the embattled Cougar point guard who lost a starting role last week and appeared visibly frustrated during BYU's 88-66 loss at Saint Mary's over the weekend, returned to practice Wednesday in preparation for the Cougars' Thursday night tipoff against Portland (7 p.m. MST, BYUtv/KSL Newsradio).
"Jahshire's practicing, and he's excited," Rose told a group of assembled media after practice. "'Shire and I talk every week in long conversations. We've got a really good relationship, as far as understanding each other, and I know exactly what he wants. He knows exactly what I want, and we are both committed to the same thing.
"I'm looking forward to moving on."
Hardnett averages 10.9 points and 2.1 rebounds per game for the Cougars (9-8, 1-1 West Coast Conference). But after three-straight losses to UNLV, San Diego State and Mississippi State — all on the road — Rose elected for a starting lineup that included Luke Worthington and McKay Cannon in lieu of Hardnett and Zac Seljaas before last week's WCC opener at Pacific.
The move paid off, when BYU won their first true road game of the season, 90-87 against the Tigers. And it paid off for Hardnett, who played a critical role off the bench with 17 points and 8-of-9 free-throw shooting to help the Cougars hold off a spirited Tiger rally.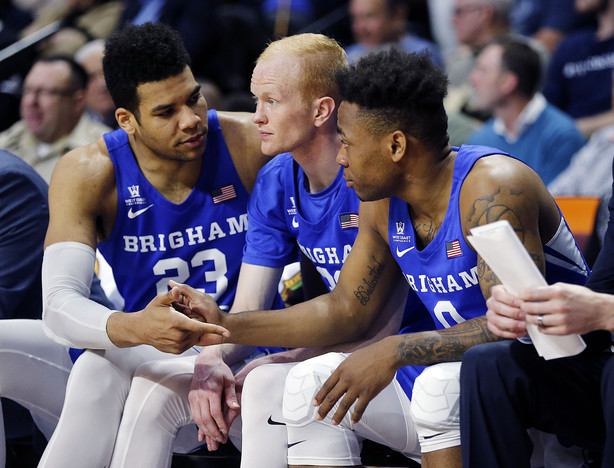 But during BYU's loss at Saint Mary's, there was visible tension. Whether due to the eventual 22-point loss to the Gaels, a span of four losses in five games, or Hardnett losing his starting job, Rose and his point guard could be seen yelling at each other during one point of the second half.
That led to a report from SB Nation blog Vanquish the Foe that Hardnett was dissatisfied with his role on the team, had left school before BYU's first day of classes Monday, and would transfer to another destination to end his college career.
As most things do on the internet, the report took on a life of its over the next 24 hours, when even Rose admitted that Hardnett was "going through a tough stretch" at the start of a new academic semester.
Of course, choices have consequences. Hardnett, a junior who previously used a redshirt season during his freshman year at Fordham before transferring to Chipola College in Florida, would be unable to finish enough classes to earn a degree if he transferred mid-season.
The Report
So instead, Rose confirmed via his coach's show Tuesday night on BYUtv and KSL Newsradio that Hardnett had not practiced with the team — but was still "in progress" about his future with the university.
That led to Wednesday, when Hardnett returned to practice, and Rose said he will be available to play Thursday night against the Pilots.
"I don't think he'll start," Rose said, before adding, "He didn't start the other night, but that still hasn't been determined. We'll put our final game plan together (later)."
Chemistry test
Through the losing spin and a record the likes of which BYU basketball has not seen since it joined the West Coast Conference in 2011, the Cougars remain united, according to team captain Luke Worthington.
"I think we've had our fair share of challenges at different points," Worthington said after Wednesday's practice. "We've had guys who have had things they had to work through, for all sorts of reasons, across the board. Fortunately, we know how to handle them; the only way to handle them is to take one practice at a time, one day at a time, and get better. I think we had really great energy today, and the last few days of practice have been good."
Home sweet home
It's been 29 days since the Cougars' last home game, an 85-66 win over Big Sky foe Portland State on Dec. 12, and the road has been long for BYU basketball.
A cross country exodus with stops in Las Vegas, San Diego, Starkville and the Bay Area returns to Provo (finally) for a home game in front of the Cougars' home crowd and student section.
"I think it's been a good experience for us, to play on the road and in tough environments. But I'm really excited to be home, and to play in front of our fans," said TJ Haws, a 48 percent shooter who is averaging 17.8 points and 4.8 assists per game. "It's going to feel really good. We've been looking forward to it all week, for sure."
×
Related Stories