This archived news story is available only for your personal, non-commercial use. Information in the story may be outdated or superseded by additional information. Reading or replaying the story in its archived form does not constitute a republication of the story.
PROVO — BYU football was already searching for a way to replace two of its top running backs from the 2018 season.
Add a third to the list.
Junior running back Riley Burt announced late Tuesday night that he will graduate and transfer away from BYU following the upcoming semester, according to a post on his Twitter account.
"After much consideration, I have decided to grad transfer and play my last season elsewhere," Burt wrote. "I have enjoyed my time at BYU and have made friendships that will last a lifetime. I'm grateful for the opportunity I was given to play for and get a degree from Brigham Young University."
The message ends with a statement of support for the Cougars and cites that Burt is currently listed on the NCAA's transfer portal. Prior to signing with BYU, the former three-star recruit who prepped at Box Elder was recruited by Utah State, Utah, UNLV, Boise State and San Diego State.
The Cougars did not add a running back during the NCAA's early signing period in December. The Cougars have until Jan. 15 to add a midyear junior college transfer, while the next signing period for high school players begins Feb. 6.
Burt played in 10 games with no starts during the 2018 season, rushing for 323 yards and two touchdowns while averaging 5.5 yards per carry.
He didn't start a game, but he played a key role toward the end of the season just a year after moving back to offense from cornerback, as injuries began to mount quickly for the Cougars to seniors Squally Canada and Matt Hadley.
Burt's most impressive outing will be his last at BYU, when he ran for a career-high 110 yards and a touchdown in the Cougars' 49-18 win over Western Michigan in the Famous Idaho Potato Bowl. He was also the senior statesman in the team's run game, which featured senior fullback Brayden El-Bakri and true freshman Tyler Allgeier as his backups.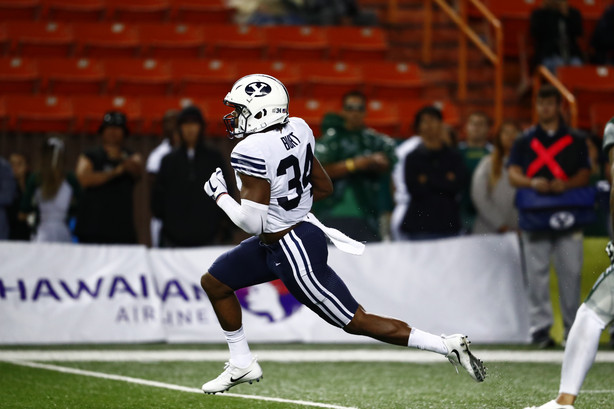 Canada, who ran for 432 yards and five touchdowns, and Hadley, who ran for 394 yards and six scores in a season when he was supposed to be a starter in the defensive backfield, have exhausted their eligibility and are on track to graduate from BYU.
So, too, will Burt after Tuesday's announcement, leaving sophomore-to-be Lopini Katoa as the only running back returning among the Cougars' most effective rushers in 2018. The American Fork product ran for a team-best 423 yards and eight touchdowns as a redshirt freshman; the second-best returning rusher on the team is freshman quarterback Zach Wilson, who rushed for 379 yards and two touchdowns in nine games.
Behind the signal caller is a gang of wide receivers used in the run game, such as Aleva Hifo, Dylan Collie (another senior) and Dax Milne.
×
Photos