This archived news story is available only for your personal, non-commercial use. Information in the story may be outdated or superseded by additional information. Reading or replaying the story in its archived form does not constitute a republication of the story.
FARMINGTON — Patrick Springer offered to match any college scholarship money his children receive as an incentive to do well in school.
But he can't keep that pledge to his oldest daughter at the University of Utah because the Springers lost their life savings in what he and others allege was a bogus "silver pool" investment program.
"It's devastated us," the Highland resident said, adding the family lost hundreds of thousands of dollars. "For us, it's had a major impact."
Springer is among 20 people involved in a federal class-action lawsuit filed against Zions Bank on Tuesday, claiming the bank "aided and abetted" and "perpetuated" an alleged Ponzi scheme involving Rust Rare Coin and its owner Gaylen Rust.
The Securities and Exchange Commission, Commodity Futures Trading Commission and Utah Division of Securities filed a civil complaint against Rust Rare Coin, Gaylen Rust, his wife Denise Gunderson Rust, and his son Joshua Daniel Rust late last year.
The government agencies claim the company defrauded more than 430 investors nationwide of at least $200 million since 2008. Rust is accused of tricking people into believing they were pooling their money to buy and sell silver, but the funds were allegedly used to pay other investors, according to the SEC complaint.
U.S. District Judge Tena Campbell issued a restraining order in November freezing the assets of Rust Rare Coin.
Gaylen Rust has not been charged criminally, but FBI agents have interviewed investors, according to court documents.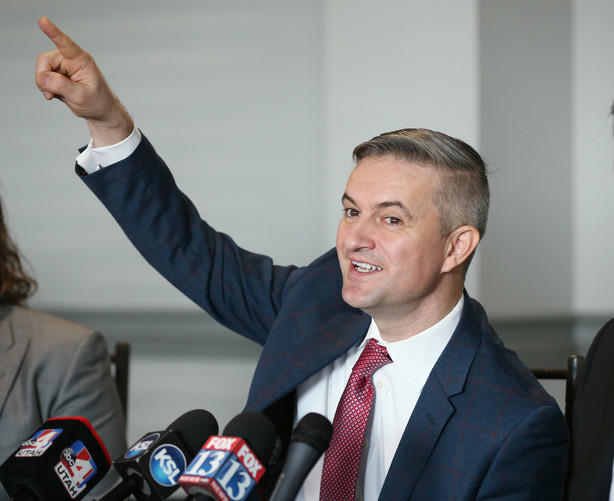 #attorney_photo
Zions Bank knew that investors' money being deposited in and withdrawn from Rust's account were not being used for silver trading but did nothing about it, according to the lawsuit.
"It's a pattern that really shows a Ponzi scheme, no underlying business. Investor money in, investor money out," Alan Rosca, a Cleveland, Ohio-based attorney representing investors in the lawsuit, said at a news conference Tuesday. "There was no silver exchange. There was no real business."
Zions Bank "aided and abetted" the scheme and "breached" its duty to take action once it became aware Rust diverted the funds to himself, family members and "flailing" companies, the lawsuit says.
"Rust could not have perpetrated the silver pool scam on his own. Instead, he crucially depended on the knowing participation of his bank, Zions Bank, through which Rust committed his fraud," according to the lawsuit.
Rosca said the bank might have let the activity continue because there's a lot of money to be made from a customer with an account the size of Rust's.
"That's a customer that the bank would want to keep happy," he said.
Rosca said the investors sued the bank because they have no reason to believe Rust Rare Coin has any assets and a court order in the civil case bars litigation against the company while it is in receivership.
Related:
Zions Bank Executive Vice President Rob Brough said the company doesn't generally comment on pending litigation.
"We became aware of this complaint earlier today and are in the process of reviewing the charges filed. After completing our review, we may have further comment, although our comments may be limited due to the ongoing nature of the litigation," he said in a statement.
"Subsequent to litigation filed against Mr. Rust and Rust Rare Coin in November, we have been actively reviewing all our interactions with Rust Rare Coin and have been cooperating with the receiver and authorities."
In addition to running Rust Rare Coin, Gaylen Rust founded the Legacy Music Alliance, through which he made generous donations to school music programs. Some of the alleged fraud victims — inside and outside Utah — came to invest in his silver pool through their shared membership in The Church of Jesus Christ Latter-day Saints, said Bart Goplerud, a Des Moines, Iowa, attorney who also represented investors in the lawsuit.
According to the lawsuit, Rust "lured" investors with the promise of 20 percent to 25 percent returns and claimed he had large amounts of silver stored in warehouses owned and operated by Brink's Incorporated.
"In reality, however, plaintiffs' investment in the silver pool was a sham," the lawsuit says. "Rust was not buying or selling silver, nor did he have physical silver stored in a Brink's warehouse."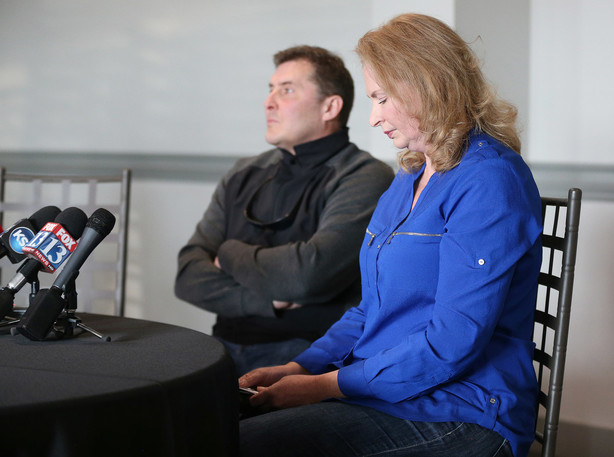 #gregory_photo
Investors included newlyweds, retirees, young families, wealthy people and people with disabilities who invested anywhere from a few thousand to tens of millions of dollars, Rosca said.
Goplerud said there are some "truly harrowing" stories of people losing everything.
Travis and Nicole Gregory, of Taylorsville, initially put in $4,000. When the returns were good, they borrowed to invest more and eventually "went all in," said Nicole Gregory.
The Gregorys say they trusted Rust. Travis Gregory said he gave them a silver "round" he had minted as a token of the investment, which Gregory now says was "just a tease."
"I feel cheated," he said. "I don't know how a guy could be like that."
Gregory and his wife followed what they believed was silver trading on a cellphone app.
"It was so real," Nicole Gregory said.
Travis Gregory said Rust had answers for everything. When Nicole Gregory wanted to see the vault where Rust stored the silver, she said he told her it would be too difficult to get in because of the security.
"I believed that," she said.
The Gregorys and Springer say looking back, what they thought were small red flags are now big ones. They say that if an investment looks to good to be true, it is.
"You have a lot of self-loathing when this happens," Nicole Gregory said.
Although the investors want Rust to face criminal charges, they say Zions Bank should also be held accountable.
"We're just little Davids and they're the big Goliath," Springer said. "We feel like if they had just done what they were supposed to do, then we wouldn't have been in the situation we are."
Rick Van Wagoner, a Salt Lake attorney listed as representing Gaylen Rust in the SEC case, said he has not be formally retained but is fielding inquiries about the case. He said he has not reviewed the lawsuit and had no comment.
×
Photos
Related Stories