This archived news story is available only for your personal, non-commercial use. Information in the story may be outdated or superseded by additional information. Reading or replaying the story in its archived form does not constitute a republication of the story.
PROVO — Nick Emery's return to college basketball couldn't have started much better.
Just 10 seconds into his first game since 2017, Emery checked into the Cougars' contest against in-state rival Utah State and had an open look from beyond the arc.
If there were a voice in his head saying, "Shoot it," Emery quickly obliged — and swished it.
That was what the Cougars needed.
TJ Haws, his teammate since high school who poured in 20 points and seven assists for the Cougars, wasn't surprised at all.
"Nick is a gamer, and he stepped in and knocked down big shots for us tonight," Haws said. "He guarded the ball really well tonight. I knew he was going to come ready to go."
It wasn't just 3-point shooting that Emery brought to spark the Cougars, either. One play after his opening three, the former Lone Peak standout grabbed a steal and recorded an assist, and in his first game since an NCAA investigation in improper benefits, Emery was having fun again.
Emery wasn't concerned about threes or defending or "energy" when asked what he hoped to bring to the Cougars if — or when, more likely — his number was called.
"I just hope we play well," Emery told reporters Tuesday after practice. "We've been in a three-game slump right now and hopefully I can bring an extra spark.
He did just that.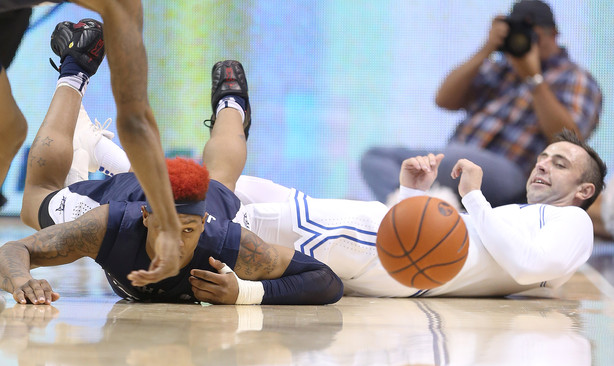 Emery finished with 11 points, including 3-of-4 shooting from 3-point range, as well as two assists and two steals in 17 minutes off the bench to help BYU snap a three-game losing skid with a 95-80 win over Utah State.
And just like that, the embattled BYU guard was back.
"I thought Nick was probably way better than I thought he would be," BYU coach Dave Rose said after the game. "I know everything from day one to now of what he's been through, and how emotional this was for him.
"Now that that's over, we'll just move forward. I know the guys were happy to have him."
It was Emery's first game since a 105-89 loss to UT Arlington at the end of his sophomore season in 2017.
Emery's shortcomings have been well-documented. He was the subject of a major investigation by the NCAA into improper benefits, an investigation that could cost Rose as many as 47 wins from his overall record.
The former Lone Peak star spent all of last season away from the program, citing personal reasons that included a divorce from his ex-wife Sarah and a number of other details like depression and anxiety that he chronicled on his blog, EmeryOutlive.com.
All of this was after a much-publicized fight that broke out between him and former Utah guard Brandon Taylor the last time that the Cougars played at the Huntsman Center — a fight that caused Utah coach Larry Krystkowiak to put the rivalry series on a one-year hiatus because of "safety concerns."
---
I thought Nick was probably way better than I thought he would be. I know everything from day one to now of what he's been through, and how emotional this was for him.
–BYU basketball coach Dave Rose
---
"It's been a long ride for him," Haws said. "I'm extremely proud of him. For everything he's gone through, to be able to bounce back and come out tonight and do what he did, I think it was a very special thing for him. He's really going to help us."
When it came to basketball, Emery was back to his old self Wednesday night.
A hot-headed sharpshooter with a penchant for shooting — and sometimes over-shooting — since his high school days, Emery's biggest change on the court Wednesday night may have been what he didn't do.
He took just six shots, including four from 3-point range, and showed constraint and efficiency in his time off the bench.
But with Emery on the court, the Cougars finished 11-of-24 from 3-point range.
"We have to open up the floor for Yoeli (Childs) and TJ," said freshman Connor Harding, who had 14 points off the bench. "They make a lot of plays, and a lot of people focus on them. If we can do our part and hit a couple of shots, then our team is really good."
×
Related Stories