This archived news story is available only for your personal, non-commercial use. Information in the story may be outdated or superseded by additional information. Reading or replaying the story in its archived form does not constitute a republication of the story.
PROVO — Jahshire Hardnett arrived at BYU a year ago fresh out of junior college and ready to play to his strengths in the Cougars' traditional, run-and-gone, up-tempo offenses.
And he didn't play badly in year one, playing 35 games with 32 starts and averaging 6.0 points on 45 percent shooting.
But Hardnett knows he can do better. There's no time like the present.
"Last year, I didn't shoot the ball very good," said Hardnett, who will open BYU's exhibition slate Wednesday night at 7 p.m. MT against Division II Saint Martin's (BYUtv, KSL Newsradio). "The team needs me now to get more shots up, so that's something I worked on this summer."
That may seem like an odd thing to say, with hordes of shooters lining BYU's roster, including TJ Haws, Zac Seljaas, Mckay Cannon — and even Nick Emery, after he serves an NCAA-mandated nine-game suspension.
But Hardnett added that the Cougars will be playing a faster, up-tempo style to better accommodate the flux of offensive talent — including Hardnett.
"It fits a lot more guys. A lot of these guys played fast in high school, and they are dangerous there," Hardnett said. "The slow pace calmed us down, made us run offense and sets, but now the fast pace and going after it is doing it for us."
Hardnett himself feels more comfortable in BYU's system as a second-year guard than a first-year player who signed with the Cougars late in the JUCO recruiting cycle.
Even his head coach agrees.
"Any player's first year, they are trying to find how they fit," BYU coach Dave Rose said. "In the second year, they understand a lot more and prepare for it (differently).
"With Jahshire, he's a guy that continues to increase his confidence on both ends of the floor. I think you'll see a real improvement with how he affects the game on the offensive end."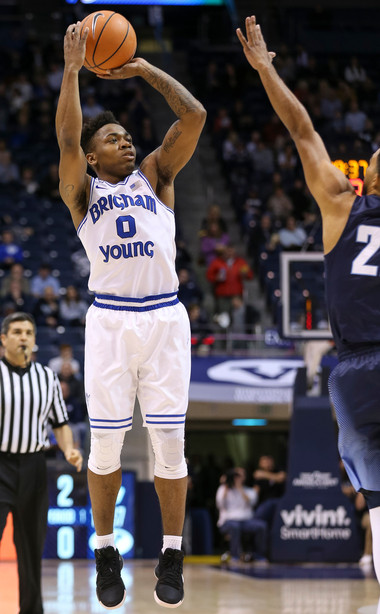 Captain Luke
BYU center Luke Worthington and shooting guard TJ Haws have been named team captains for the Cougars' 2018-19 season, the school announced Tuesday following practice.
One of two seniors on the team, Worthington was a team captain on last year's squad that won 24 games en route to the Cougars' third-straight NIT bid. He started 29 games, averaged 4.3 points and 2.8 rebounds, and academic honors from the West Coast Conference and the National Association of Basketball Coaches.
Haws, a junior, started every game of his sophomore season, averaging 11.7 points and a team-high 4.2 assists while playing mostly shooting guard. An All-WCC honorable mention, Haws is one of eight juniors on the team — the Cougars' largest class — alongside former Lone Peak teammate Nick Emery, former Bingham standout Yoeli Childs, and Orem's Dalton Nixon, among others.
Dastrup sidelined
Former BYU post Payton Dastrup, who transferred to Oregon State in the offseason, was denied a waiver to player immediately by the NCAA on Tuesday afternoon.
Dastrup, a former four-star recruit and Ohio State commit whose career at BYU ended unceremoniously, initially sought a waiver for immediate eligibility with the Beavers, but was denied by the NCAA two weeks ago.
Upon appeal, a separate committee also denied Dastrup's request for immediate eligibility, a decision which came down Tuesday.
"We were very disappointed as we thought Payton and his family, along with our compliance office, put together a very solid case," Oregon State coach Wayne Tinkle told the Oregonian in Portland.
The junior has a redshirt season available after playing two years at BYU following a church mission to Panama.
×
Related Stories