This archived news story is available only for your personal, non-commercial use. Information in the story may be outdated or superseded by additional information. Reading or replaying the story in its archived form does not constitute a republication of the story.
STARKVILLE, Miss. — Hardly a bang or a round of Auld Lang Syne, the BYU men's basketball team ended 2018 with a whimper.
Aric Holman poured in 28 points and eight rebounds, and Quinndary Weatherspoon added 27 points, five rebounds and three assists as No. 19 Mississippi State ran away from BYU, 103-81 Saturday in a nonconference finale for both teams at Humphrey Coliseum in Starkville, Mississippi.
Tyson Carter added 16 points and five rebounds for the Bulldogs (12-1), which scored 100 points in a game for the first time since 2011.
Yoeli Childs finished with 25 points to lead BYU. But the standout post player only had two rebounds while shooting 11-of-18 from the field for the Cougars (8-7).
TJ Haws added 14 points for BYU, but the junior who prepped at Lone Peak was saddled for most of the first half with foul trouble and shot just 4-of-15, including 1-of-5 from 3-point range.
"We are starting to rely on Yoeli and TJ as our scorers," BYU coach Dave Rose told KSL Newsradio. "But we really need a third guy or a fourth and fifth guy to respond. That's what Mississippi State had tonight: depth all across their roster."
Luke Worthington chipped in eight points and six rebounds before fouling out, and Zac Seljaas supplied 14 points and five rebounds.
The Bulldogs won their ninth-straight contest, while BYU came out with its second three-game losing streak of the season — matching the previous low point that ended with a 113-103 loss at Weber State.
Childs scored seven points early as BYU went inside and tied the game at 19-19 on a Mississippi native Jahshire Hardnett's layup with 12:33 left in the half.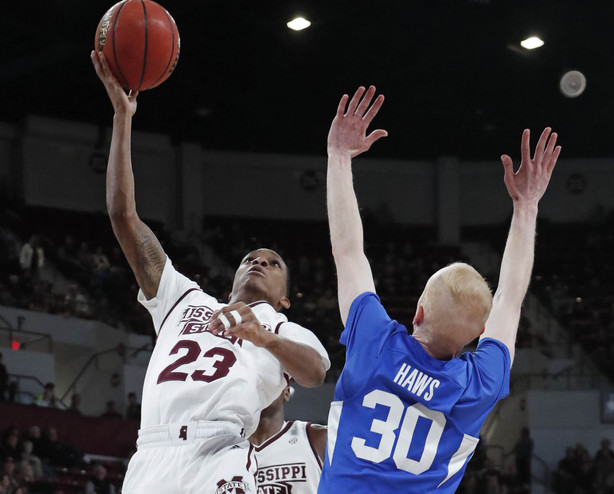 The Cougars scored eight of their first 19 points in the paint, matched the Bulldogs with nine rebounds in the first eight minutes, and were selective from the 3-point line by going 2-of-6 from downtown early.
It was about as good of a start as the Cougars could hope in the opening six minutes — and the best they played the rest of the way.
"That was good. When we got into our sets and half-court execution, I thought we were really good," Rose said. "Where we had problems was when we tried to attack the basket with big, strong, physical guys. The lanes closed down, the guys tried to create something, and that turned into turnovers.
"That's what happened at San Diego State (in a loss), and it happened today."
But the Bulldogs went to Weatherspoon inside on back-to-back plays, starting a 13-0 run that gave Mississippi State a 36-23 lead while holding Childs scoreless for nearly 10 minutes until the former Bingham star hit a jumper before finishing the half up 48-38.
BYU opened the second half with momentum, but couldn't sustain as shooting strokes went cold. Weatherspoon's three-point play capped a 13-2 that gave the Bulldogs a 79-55 lead with 8:34 left. Haws hit just 4-of-15 from the field, and until the final six minutes, every other BYU player not named Yoeli Childs or TJ Haws hit just 7-of-21 shooting combined.
It's not just that BYU lost; losing to a top-20 opponent in a true road game isn't a bad loss.
But the Cougars weren't competitive in that loss. The Bulldogs out-rebounded BYU 40-31, held a 10-point advantage in the paint, and didn't allow a 3-pointer in the second half until Rylan Bergersen hit with 3:06 left in the game.
A team that beat Saint Mary's by four, Dayton by seven, Wright State by four and Wofford by nine thoroughly out-classed the visiting Cougars.
"I felt there were times where we really competed well, and executed our stuff, and even took advantage of some things that they do," Rose said. "But there were a lot of times when I felt like we got discouraged, and we didn't compete at the level or urgency and intensity that we need to — especially if we are going to pull off a win in this kind of environment.
"Hopefully our guys can learn from that. We can't determine the energy and effort we give based on things going well. It has to be there all the time, and that's something we can learn from this. Hopefully."
Related Story
With the loss, BYU wraps up nonconference play with an 8-7 record, its worst finish since joining the West Coast Conference in 2011. And while the Cougars have played a tough schedule with games against top-flight mid-majors like No. 6 Nevada and No. 22 Houston, WCC play will be as difficult as BYU has ever faced in its eight seasons in the league.
"They are right up there with Nevada. We played well with Nevada, but I think Mississippi State might have been a tougher matchup," said Rylan Bergersen, who had four points against the Bulldogs. "Houston is really good, too.
"It's been a tough schedule, and we knew it was going to be a tough schedule. A lot of road games. We're just trying to get better, and I think it will make us better for WCC play. It has prepared us a lot."
Led by No. 7 Gonzaga, that has yet to play a game with two of their best players in Geno Crandall and Killion Tillie, the Bulldogs are heavily favored to win the West Coast Conference again. But right behind the Zags isn't the usual cadre of Saint Mary's and BYU; it's San Francisco (12-1), which is off to its best start since 2000 with wins over Bay Area rivals Cal and Stanford.
Right behind them is Loyola Marymount, which boasts a 12-2 record, wins over UNLV, Georgetown and Boise State, and a player of the year candidate in James Bateman (19.2 ppg).
Even San Diego is 10-4 with wins over Colorado and San Diego State to go along with narrow losses to Ole Miss and Washington.
"Obviously, there have been some big wins over Power-5 teams," Rose said earlier this week. "From San Diego, from LMU, from San Francisco — and Pacific is off to a pretty good start, too.
"This is probably as balanced as the league has ever been."
BYU opens WCC play Thursday at Pacific. Tipoff is scheduled for 9 p.m. MT on ESPNU and KSL Newsradio.
"We've always felt like if we can have a really successful league season then we can maybe get an invitation to the NCAA Tournament," Rose said. "That's probably not the issue here, at 8-7. But the challenge that every team has, you've got to respond to it.
"Hopefully we can go on the road Thursday and get off to a good start in league at a really tough Pacific team that has been a really hard place for us to play the last couple of years."
×
Related Stories