This archived news story is available only for your personal, non-commercial use. Information in the story may be outdated or superseded by additional information. Reading or replaying the story in its archived form does not constitute a republication of the story.
PROVO — As the clock counted down to zero on 2018, the BYU men's basketball team had one thought on New Year's Eve: we have practice tomorrow.
Yes, it's been a long December for the Cougars, who opened the month with a 113-103 loss at Weber State and closed it with a 103-81 loss at Mississippi State. In between, there were wins over Utah State, Utah and Portland State, sure.
But the majority of BYU's record through the holidays was a net loss: just three wins with four losses, leading to an 8-7 overall mark and a demonstrable failure of an 0-5 record in true road games (the Cougars are 1-1 in neutral-site games, with the victory coming in a 74-59 win over Utah at Vivint Smart Home Arena in Salt Lake City).
And the road won't get easier as BYU opens West Coast Conference play at 9 p.m. MT Thursday at Pacific before Saturday's late-night tip at Saint Mary's. By the time the Cougars' plane returns to Provo from Moraga, California, that will be a five-game road trip during the holiday season.
"If the league could've done us a favor and given us at least one home game this week, that would've helped us out," BYU coach Dave Rose quipped. "We submit to them our preseason schedule, and then they give us the league schedule. But no such luck, so we're at five in a row."
The common denominator, as it often is, lies in BYU's defense: the Cougars averaged 93.1 points allowed in each of their losses, while holding teams to 66.25 points per game in each of their eight wins.
BYU's best defensive team doesn't appear to be its best offensive team, Rose said.
But the Cougars' potential to play both sides of the ball was evident in wins over Utah State (95-80) and the Utes.
Finding that same team is the trick, star forward Yoeli Childs said.
"One of the biggest takeaways is the fact that we can play defense, that we can be a really good defensive team," said Childs, who leads the team with 22.3 points and 10.1 rebounds per game. "When we have that slump, we came in and played so hard against Utah State at home; our mentality was a defense-first mentality. It's something I know our team can do; I can be way better, and every guy on our team knows they can be better."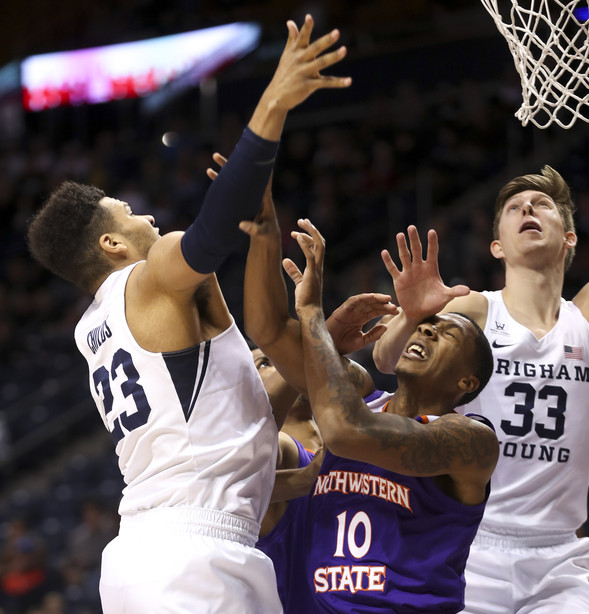 Lee healthy, Nixon questionable
Kolby Lee and Dalton Nixon were both noticeable absences from the Cougars' loss in Starkville last Saturday.
Lee, who was battling the flu, sat out for health reasons but is close to returning, while Nixon continues to work through "personal issues" with the BYU athletic department and university officials, Rose said.
Nixon started eight of 14 games for the Cougars before registering a did not play against the Bulldogs. The former Orem High standout has averaged 5.2 points and 3.7 rebounds per game for the Cougars.
"He'll travel with us, but if he actually plays, that's to be determined," Rose said of Nixon. "But he has practiced with us the past two days."
Tough league
The Cougars will have their hands full with Pacific. The Tigers finished non-conference play at 10-5, capped by an 84-75 overtime victory over UC Irvine (11-4) that landed freshman guard Ajare Sanni player of the week honors from the West Coast Conference.
The Tigers are one of five teams with double-digit win totals through non-conference play in the WCC — a list that does not include regular "big three" contenders BYU or Saint Mary's (9-6). For comparison's sake, the Pac 12 has no 10-win teams and just four nine-win teams, and the Mountain West has two teams with double-digit win totals — No. 6 Nevada (13-0) and Utah State (10-3).
Instead, it's No. 7 Gonzaga (13-2), Loyola Marymount (12-2), San Francisco (12-2) and San Diego (11-4) leading the way.
"It might be the best top-to-bottom conference that it's been since BYU entered it," Childs said. "We're super excited that everyone is coming in at 0-0. We're excited to come in and make a statement … we want to come in and win a conference championship. That's the goal."
×
Related Stories