This archived news story is available only for your personal, non-commercial use. Information in the story may be outdated or superseded by additional information. Reading or replaying the story in its archived form does not constitute a republication of the story.
AROUND THE SHIELD — Only 12 teams remain with a chance at a Super Bowl title in February.
Eleven of them have former college or high school players from Utah on their active rosters.
But one former standout earned a big payday just by helping his team get into the postseason.
Eric Weddle earned an extra $1 million Sunday when the Baltimore Ravens clinched a playoff berth with a 26-24 win over the Cleveland Browns. The former Utah star reached his sixth Pro Bowl earlier this month, but the current Baltimore safety earned the payday after the Ravens won to trigger the two-part, seven-figure clause in his contract.
"I would trade one million bucks for a chance at the playoffs, any second," he told ESPN.com before the game. "That's just where I'm at. It's not that I don't appreciate money or how much money it is, but that's not my incentive to try to go to win."
He added after the game that he plans to use "a part" of the bonus to get something for his Baltimore coaches and teammates.
The AFC West champion Kansas City Chiefs will get a first-round bye, and they'll also carry former Layton High star Marcus Kemp into the playoffs. Kemp, who played collegiately at Hawaii, played in two games at wide receiver for the Chiefs, making one catch for 7 yards in Week 3 against the 49ers.
Led by former BYU offensive lineman Andy Reid, Kansas City also counts Cougar alums Daniel Sorensen, who had a 54-yard pick-six Sunday against the Raiders, and Tejan Koroma, a rookie offensive lineman on injured reserve.
The New England Patriots made the Super Bowl last year with former BYU linebacker Kyle Van Noy and Utah cornerback Eric Rowe among the defensive standouts; and while Rowe was placed on injured reserve midway through the season, the local duo is still part of Tom Brady's team.
Van Noy even scored a touchdown in Sunday's 38-3 win over the New York Jets in the regular-season finale, recovering a fumble and rumbling 46 yards into the end zone.
Michael Davis will head into the postseason with the Los Angeles Chargers in his second season with the AFC Wild Card squad. An undrafted cornerback from BYU in 2017, Davis forced his way into the starting lineup in Los Angeles in November, and registered 34 tackles, two forced fumbles and six passes defended in his second season in the league.
Davis will be joined by Chargers teammate Sam Tevi, an offensive lineman from Utah, in the postseason, while Weber State linebacker Tre'von Johnson is with L.A.'s practice squad.
A former Utah State wide receiver, JoJo Natson, has been the primary punt returner for the Los Angeles Rams. The 5-foot-7 wideout who finished his career at Akron has averaged 10.7 yards per return, with a long of 60 yards in his first season in L.A.
Taysom Hill has been a revelation for the New Orleans Saints, who won the NFC South with a 13-3 record. The former BYU quarterback has lined up at quarterback, wide receiver, tight end, fullback, kick returner and punt blocker in his second season in the league.
Hill, who grew up in Pocatello, Idaho, scored on a 9-yard touchdown run Sunday in the Saints' 33-14 loss to the Carolina Panthers. He's joined on the Saints' roster by former Utah safety Marcus Williams, who started all 16 games in New Orleans and registered 49 tackles, three pass breakups, two interceptions and a sack.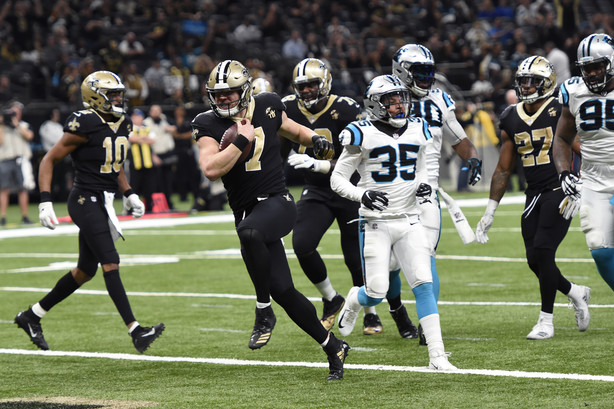 Dalton Schultz's rookie season with the Dallas Cowboys has led to an NFC East title and a spot in the playoffs. The former Bingham standout who played at Stanford caught passes in seven games this year, averaging 9.67 yards per catch for 116 yards at tight end. He's one of two local Cowboys in the playoffs, alongside former Timpview star Xavier Su'a-Filo, a fifth-year offensive guard who played at UCLA and started eight games in Dallas.
Former Utah State and Weber High long snapper Patrick Scales played in all 16 games for the Chicago Bears, who won the NFC North with a 12-4 record. He's joined by linebacker Kylie Fitts, a rookie from Utah who played in five games for the Bears in 2018.
Former Utah State linebacker Bobby Wagner was selected to his fifth Pro Bowl in seven seasons, and his Seattle Seahawks earned a Wild Card berth in the playoffs, to boot.
The seventh-year NFL veteran finished in the top 10 in the NFL with 126 tackles, to go along with a sack, an interception and two forced fumbles.
Former Aggie teammate Maurice Alexander didn't make the Pro Bowl with Seattle, but he did play in eight games for the Seahawks, registering eight tackles in his fourth season in the league.
A native of Salt Lake City who prepped at Highland before signing with Oregon, Haloti Ngata helped the NFC Wild Card Philadelphia Eagles with 17 tackles, a sack and a forced fumble in 13 games. The 34-year-old veteran of three teams had his best game in Week 4, when Ngata recorded four tackles and a sack in a 26-23 loss to the Titans.
ACTIVE ROSTER
| Name | Pos | NFL team | Local team |
| --- | --- | --- | --- |
| Eric Weddle | S | Baltimore Ravens | Utah |
| Marcus Kemp | WR | Kansas City Chiefs | Layton HS |
| Daniel Sorensen | S | Kansas City Chiefs | BYU |
| Kyle Van Noy | LB | New England Patriots | BYU |
| Michael Davis | CB | Los Angeles Chargers | BYU |
| Sam Tevi | OL | Los Angeles Chargers | Utah |
| Taysom Hill | QB | New Orleans Saints | BYU |
| Marcus Williams | S | New Orleans Saints | Utah |
| Dalton Schultz | TE | Dallas Cowboys | Bingham HS |
| Xavier Su'a-Filo | OL | Dallas Cowboys | Timpview HS |
| Patrick Scales | LS | Chicago Bears | Utah State |
| Kylie Fitts | LB | Chicago Bears | Utah |
| Bobby Wagner | LB | Seattle Seahawks | Utah State |
| Maurice Alexander | S | Seattle Seahawks | Utah State |
| JoJo Natson | PR | Los Angeles Rams | Utah State |
| Haloti Ngata | DT | Philadelphia Eagles | Highland HS |
PRACTICE SQUAD PLAYERS
| Name | Pos | NFL team | Local team |
| --- | --- | --- | --- |
| Robertson Daniel | CB | Baltimore Ravens | BYU |
| Tomasi Laulile | DE | New Orleans Saints | BYU |
| Tre'von Johnson | LB | Los Angeles Chargers | Weber State |
| J.J. Dielman | OL | Los Angeles Rams | Utah |
| De'Ondre Wesley | OL | Indianapolis Colts | BYU |
INJURED RESERVE
| Name | Pos | NFL team | Local team |
| --- | --- | --- | --- |
| Tejan Koroma | C | Kansas City Chiefs | BYU |
| Jordan Devey | OL | Kansas City Chiefs | American Fork HS |
| Eric Rowe | CB | New England Patriots | Utah |
| Dominique Hatfield | CB | Los Angeles Rams | Utah |
| Ricky Ali'ifua | DE | Seattle Seahawks | Utah State |
×