Estimated read time: 3-4 minutes
This archived news story is available only for your personal, non-commercial use. Information in the story may be outdated or superseded by additional information. Reading or replaying the story in its archived form does not constitute a republication of the story.
SALT LAKE CITY — After more than a century as the leading cause of death in the United States, heart disease is being surpassed by cancer in many states, according to a recent study out of Brigham Young University.
Heart disease replaced acute diseases as the leading cause of death in the early 1900s as part of an epidemiological transition, which marks a change in what kinds of diseases are most deadly based on societal changes.
The new study was authored by a BYU undergraduate public health major, Michael Harding, and professor Evan Thacker, who sought to break down state-specific mortality patterns around the country. Controlling for age (more young people live in Utah and more old people in Arizona and Florida, for example), the data revealed that over the course of the past two decades heart disease has fallen below cancer as the leading cause of death at some point in 31 states.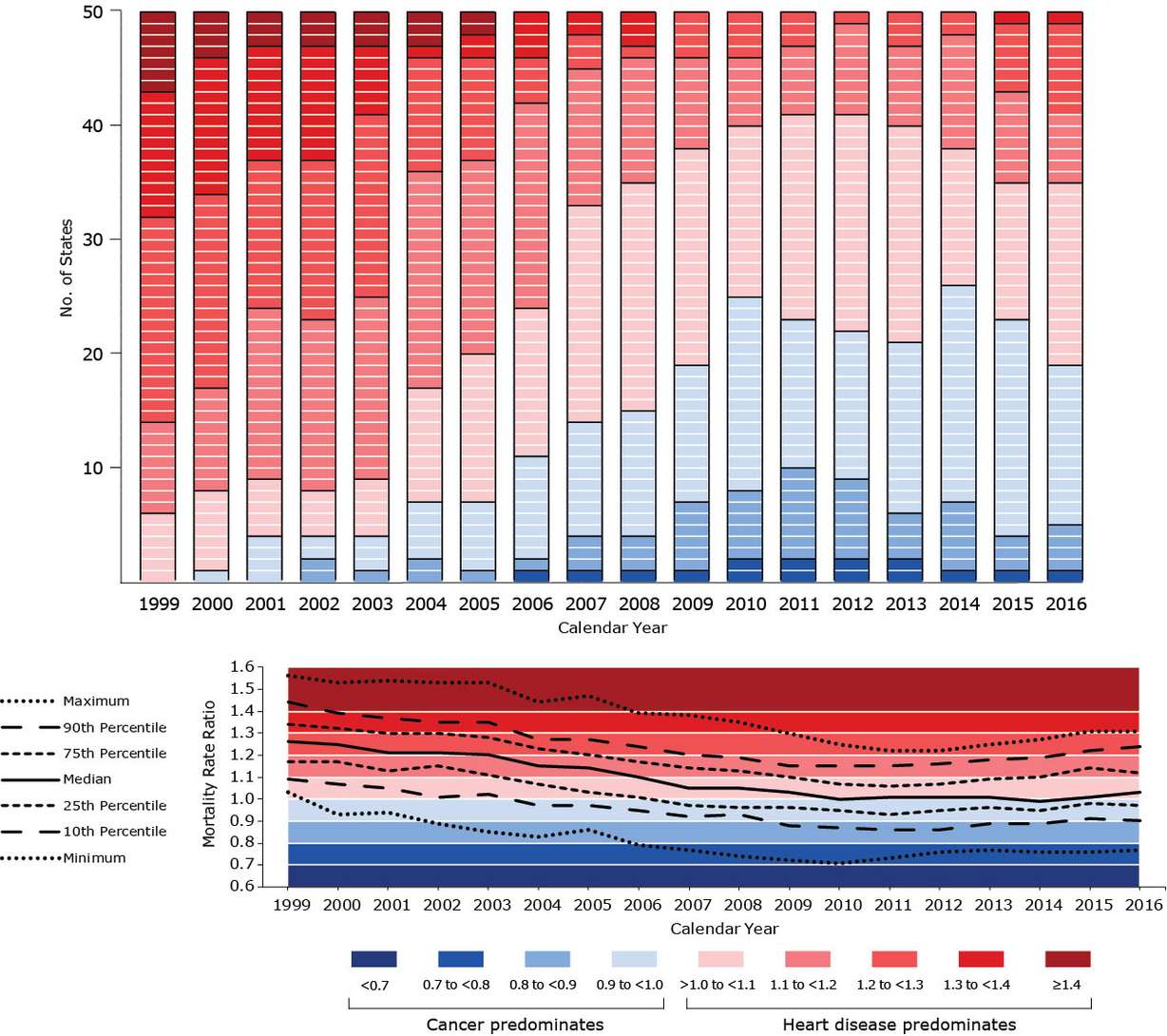 "The U.S. is experiencing an important epidemiologic transition," Thacker said in a recent BYU press release. "Heart disease remains the leading cause of death in the U.S. as a whole, but when we look at individual states, we see that so many have transitioned to cancer."
Minnesota became the first state to have cancer surpass heart disease in 2000, followed by Montana, Alaska and Oregon in 2001. In 2014 the majority of states had cancer lead to more deaths than heart disease for the first time, with a total of 26 states experiencing the transition.
Heart disease mortality only increased a bit again in 2016, but Thacker believes ultimately cancer will become the leading cause of death nationwide. From their analysis it was revealed that between 1999 and 2016:
Cancer deaths were higher than heart disease in 11 states for at least 10 years.
Cancer deaths were higher in 13 states for 5-9 years.
Three states had higher cancer deaths for 2-4 years.
Four states had higher cancer deaths for one year.
Lastly, only 19 states had higher heart disease deaths every year.
Overall, there were lower numbers of heart disease deaths, with consistency across all ethnicities, according to Thacker. That said, more research is needed before any certainty can be given as to the cause of these changes.
The research team believes the decline of tobacco smoking may be a factor in lowering rates of heart disease. Smoking is a known cause of the chronic disease, and rates of tobacco use have been declining since they peaked in 1964. According to USA Today, in 2017 about 14% of U.S. adults were smokers, hitting a new all-time low.
The group found that the positive health impacts from quitting smoking are seen more immediately with heart disease mortality rates than with cancer. For this reason, researchers think that state-by-state differences in tobacco smoking may account for the difference between states with heart disease and cancer mortality.
However, tobacco smoking is also correlated with lung cancer, which only saw a 31 percent decrease in mortality rate between 1999 and 2016, versus the 28 percent decrease for heart disease mortality rate was at 38 percent.
"This suggests that other risk factors for heart disease were declining during the same time," Harding said in the press release.
The U.S. Centers for Disease Control and Prevention has predicted that cancer will overtake heart disease as the leading cause of death in the United States within two years.
The study appeared in Preventing Chronic Disease, a journal analyzing diseases published by the Center for Disease Control.
×