SALT LAKE CITY — Traveling can be fulfilling, relaxing and exciting all at once; but there are ways to optimize your trip to make it as perfect for you as possible. The following are some tips for planning your own, personalized vacation.
Rent a car and leave the tourist hot spots behind
It's easy to go on vacation and keep to bus routes and walkable areas, but sometimes that lands visitors only in the tourist destinations and without the opportunity to explore cultural hotspots and less-traveled places. Oftentimes, the best places to visit are those that might require a little extra work to get to.
Traditional rental car agencies are great, but a cheaper and somewhat easier option is Turo. This peer-to-peer car-sharing service allows travelers to book a wide variety of cars from hosts around the world. The host meets you with their vehicle at the airport and all financial exchanges are done through the app or website.
Turo provides insurance and seeks to make the rental process painless, helping travelers to save money and rent cars with greater convenience.
Each country you visit will have its own set of higher- and lower-quality rental car companies, as well. If on a budget, there's usually at least one or two cheap rental services. There are also pricier ones if higher quality vehicles are desired.
Wherever you decide to travel, take the time to explore the rental car options before making a choice.
Pick a theme to guide your trip
It's impossible to experience everything a place has to offer. Narrowing down what kind of trip you want to have will help a lot with personalizing your vacation and maximizing the experience. Some "themes" that trips can be planned around include:
Culinary Travel
The way to a person's heart is through their stomach. If the goal is to learn about a place and experience their lifestyle, a culinary-focused trip will be very enriching. Allocate funds to visit nice restaurants with a lot of local flavor, and try to avoid chains and multinational companies.
Explore cooking classes and learn how to make local dishes. This is a great way to meet and learn from a local, have fun and eat great food. Airbnb Experiences offers good, cost-effective options for cooking classes.
Health and Wellness
For many, a vacation is a means of escaping the stresses of day-to-day life or to work on dealing with personal struggles. When planning your trip, book your stay somewhere relaxing and comfortable (probably not a hostel). Consider identifying places to do yoga nearby, as well as spas, hot springs and meditation classes. Book your wellness retreats in advance to minimize as much stress as possible during your travels.
Wherever you go, try and plan out wellness stops so that they capture the culture and lifestyle of the place visited. In Thailand, consider exploring the Buddhist culture of the country and explore wellness through meditation. If the destination is Hawaii, try kayaking on calm water, visiting spas and lounging at the beach.
Adrenaline and adventure
Is the ideal vacation a trip packed with heart-pumping, eye-widening, exciting adventures? Are cultural experiences not a huge priority? Then plan ahead for some sports and guided trips to safely get your heart racing. Skydiving, kayaking, surfing and rock climbing are excellent ways to get to know locals and see the natural terrain of your chosen destination. These trips are hard to plan last minute, so book your experiences in advance and get the most out of your limited time traveling.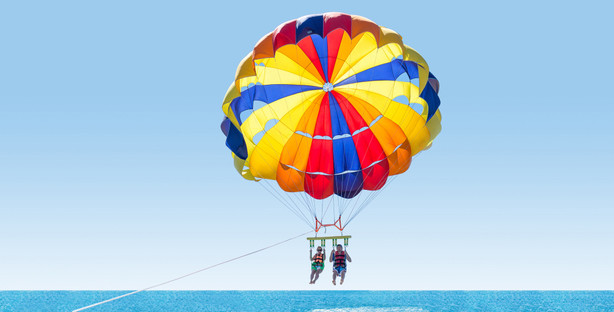 Going off the grid
Sometimes it's nice to just get away from everything — technology and other people included. When planning a vacation, decide in advance that you want to go off the grid and prepare appropriately with needed gear, maps and GPS systems to stay safe.
Most guidebooks will address places to camp, backpack, raft, etc … Doing proper research beforehand should lead to the best choice in destination for your needs. Websites like AllTrails, Mountain Project, and Whitewater Guidebook are all useful resources for planning adventures.
Rent a home rather than staying in a hotel
Websites and apps like Airbnb, HomeAway and VRBO allow you to rent a home from a local. It's quick and easy, and sets up a connection with a local. Hosts are often happy to provide you with unique advice for your trip, and they'll help you navigate from the airport to your destination.
Staying in a unique and interesting home in a neighborhood rather than a main tourist area is a great way to personalize your vacation.
Slow down by taking trains rather than planes
Many countries around the world are intricately connected by trains, and in some places, it may be the more convenient way to travel. Trains help slow you down, provide time to enjoy the countryside and make it easier to hit more cities in one country.
In Europe, it's the ideal way to visit a lot of unique places in a short period of time and can function as a place to sleep for a night if travel time is a bit longer between destinations.
Invest an entire trip into one city or place
It's easy to get bogged down jumping from place to place. When visiting a new country, it may seem like the logical answer to try and see as much as you possibly can. In reality, trying to fully invest in one place may yield far more relaxing and satisfying results.
By doing this, it's easier to meet new people and make friends, provides time to see all that a city has to offer (not just the tourist spots), and gives you a home base.
At the end of the day, personalizing your vacation is all in the planning. Pick what style of trip you want to have, narrow down the types of goals you want to accomplish, and start booking.
×