OREM — When most children are growing up, they dream of playing with dad, going into the backyard and tossing a pigskin with pops or playing one-on-one basketball in the driveway.
Puka Nacua didn't always have that. His father Lionel tragically passed away when Puka was just 12 years old.
But Nacua, who helped lead Orem High to back-to-back 4A state titles for the first time in program history this fall, always felt him close.
"In all my other years, I know he was vital helping me and my brothers stay in football," said Nacua, who was named KSL Game Night Live player of the year after a record-breaking season with the Tigers. "He instilled a passion and a love of football that will stay with me until the last game I get to play.
"He's pushing for us, and my mother is one of the best. I know my father is definitely a part of us."
The younger brother of former BYU safety Kai Nacua and Utah wide receiver Samson Nacua, Puka was always a football fan — even when he was a small child, playing with his father.
In fact, it was Lionel Nacua who first told his wife Penina that their youngest son would be the best athlete of any of their boys.
And Penina Nacua made sure her son knew it — pushing him every day to be his best, ending with a senior season when he caught 103 passes for 2,336 yards and 26 touchdowns and finished No. 1 nationally with 166.9 yards per game, according to MaxPreps.
Nacua set Utah High School Activities Association records for touchdown catches, receiving yards and receptions. He earned U.S. Army All-American honors, Gatorade Utah player of the year, and Mr. Football from the Deseret News.
And he did it all for his mom.
"I wouldn't be in this moment without her," Nacua said. "She's been my backbone, and the backbone of our family."
The next step is the hardest — but it's also already made (maybe). The 6-foot-2, 190-pound four-star recruit held offers from all the local teams, including BYU and Utah, as well as Arizona and Cal, among others.
But Nacua, who plans to sign Feb. 10 on National Signing Day, found a home at USC. The No. 2-rated recruit in Utah, Nacua committed to head coach Clay Helton and the Trojans back in June.
His brother Samson is trying to make a last-minute effort to get him to join the family in Crimson, but Nacua says he is fully committed to the Trojans — right now.
"Signing in February is something me and my mom discussed. I'm not enrolling early in the school year, so I decided there is no reason to rush," Nacua said. "This is a major decision in my life, and it will impact a couple of years.
"I am committed to USC, but we'll see in February."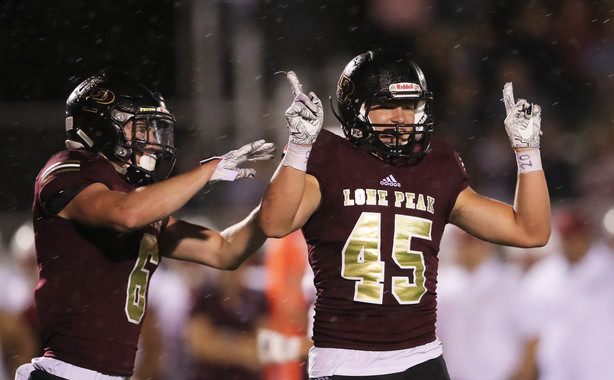 6A MVP
DE/OLB Michael Daley, Lone Peak
Daley had 69 tackles and a state-high 24.5 sacks as a senior to lead Lone Peak to the Class 6A state title with a win over rival American Fork.
He'll follow in the footsteps of his father, Neal, and uncle, David Nixon, and play linebacker at BYU.
5A MVP
RB/LB Caden Johnson, Corner Canyon
A two-way standout, Johnson ran for 672 yards and 11 touchdowns at running back and added 80 tackles, four tackles for loss and 2.5 sacks at linebacker to lead the Chargers to their first state title in the school's short history.
It's rare enough to win a state title in high school. It's even rarer to do so when starring for your team on nearly every snap of the game.
"I took a lot of pride in it," Johnson said. "I pride myself in doing whatever is necessary to help a team win games; some games, it's defense. Some games, it's offense.
"I like doing what I need to do."
4A MVP
QB Cooper Legas, Orem
Legas threw for 4,338 yards and 46 touchdowns and ran for 1,077 and 15 more scores in helping the Tigers accomplish their goal of winning back-to-back state titles.
With all the accolades, that last part is the most important for Legas, who was named MVP of the Blue-Grey All American Bowl last week and has offers from Army, Air Force, BYU, Idaho and Utah State.
"I've always just worked hard," said Legas, who plans to sign in February. "But my biggest advantage is my mental toughness.
"Every day at practice, I work as hard as I can, and so by game time, I just go out and perform."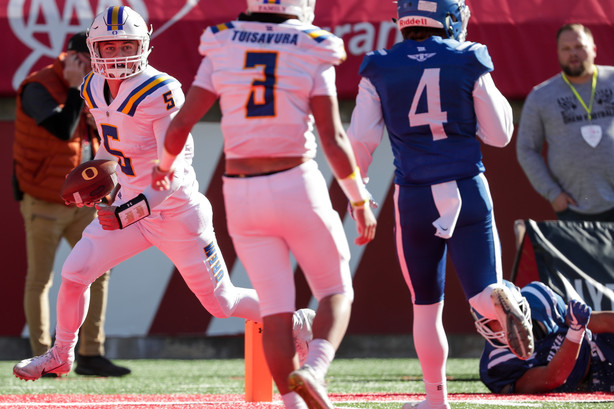 3A MVP
QB Kasey Briggs, Summit Academy
Briggs threw for 2,782 yards and 29 touchdowns and ran for 280 yards and three more scores in helping the Bears to a 10-2 record and the schools' first 3A football title.
2A MVP
QB Kael Atkinson, South Summit
A two-time Class 2A MVP, Atkinson completed 62 percent of his passes for 3,519 yards and 39 touchdowns, with another 632 yards and 12 touchdowns on the ground to lift the Wildcats to an 11-1 record and their second-straight state title.
1A MVP
QB Bryson Barnes, Milford
A year after accounting for 45 total touchdowns and leading the Tigers to the 1A state title, Barnes topped his own achievements in winning a second-straight championship.
Barnes threw for 3,073 yards and 48 touchdowns, and ran for 752 yards and 12 more scores. But there's more — his 60 total touchdowns rank sixth-most in UHSAA history in a single season, and he did it all while throwing just five interceptions.
Contributing: Jeremiah Jensen, Rod Zundel
×
Photos