SALT LAKE CITY — Noah Kjar, the son of high school football coach Eric Kjar, remembers growing up on the sideline every Friday night.
From a young age, when his dad was the head coach at Jordan, Kjar would volunteer to be the Beetdiggers' ballboy. He saw his dad go into a room at 1 a.m. and grind away on film, both game prep and game review.
He saw the sacrifices coaches make for their players.
He also saw Jordan greats of years past — Austin Kafentzis, Spencer Curtis, and Drew Lisk, to name a few — as they progressed through high school and put their stamp on the biggest stage.
Friday night was his turn to be one of those greats.
Kjar had three catches for 73 yards and two touchdowns, and Corner Canyon held off a spirited Skyridge rally twice to pull away for the first state football title in the six-year history of the school, 31-14 in the Class 5A championship at Rice-Eccles Stadium.
"To finally bring one home for him is the whole world for me," Noah Kjar said. "It means everything.
"I've been around it for so long that this finally means something — that we can do it."
Mostly, though, it meant a lot of Corner Canyon's seniors — eliminating the foul taste of last year's semifinal loss to the Falcons, who played in their second 5A championship game in the school's three-year history.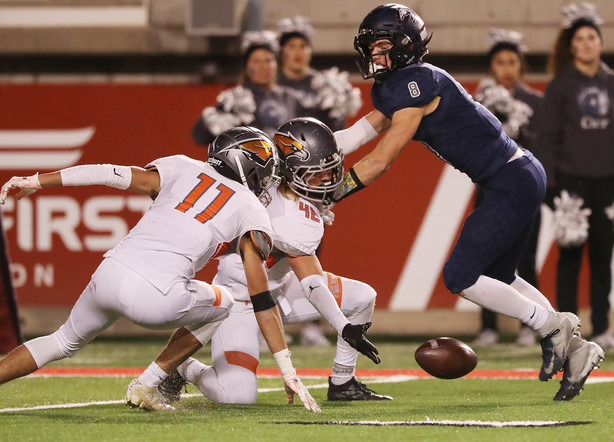 "We were playing for them, for the seniors last year, and for the school," Kjar said. "We wanted to bring that first state title to this school — and that's what we did."
Austin Bell ran for a team-high 62 yards for the Chargers, and Caden Johnson added 55 yards on the ground for a team that rushed 37 times.
No play was bigger than Kjar's 18-yard scoring strike in the final quarter from Cole Hagen, the junior signal caller who completed 13-of-24 passes for 240 yards and four touchdowns with one interception to cap a thrilling first season as a starter.
After watching from the sidelines as his father trained star after star at two separate schools, Kjar was ready for his moment.
"I couldn't be more proud of him," an emotional coach Kjar said after the game. "He works his butt off, so it's good to see him have some success with this team and with these guys."
Hagen hit Bell with an 11-yard touchdown midway through the third quarter to roll to a 24-7 advantage out of halftime. But Jayden Clemons and the Falcons (11-2) rallied.
The senior quarterback hurled an off-balance bomb to Dylan Samuels for a 40-yard gain, and Ma'a Notoa plunged in for a 2-yard score that cut the Falcons' deficit to 10, 24-14 with 1:58 left in the quarter.
But that was the last time Skyridge found the end zone — and Kjar's second touchdown iced the game for the first title in Corner Canyon football history.
"It's good to be the first one at Corner Canyon," Hagen said. "We've put in a lot of hard work, coaches coached us up really well, and it feels good to finally get there."
John Mitchell caught five passes for 98 yards to lead Corner Canyon, including a 25-yard TD grab on the second drive of the third quarter that gave all the momentum to the Chargers after truding into a 10-7 halftime edge.
"We have a ton of great receivers," Hagen said. "They go make a lot of plays. It's nice throwing to them."
Twice the Falcons responded, trying to make a game of their second-straight title game appearance. Clemons, who accounted for 230 of the Falcons' 300 yards of offense, scored on a 1-yard TD dive to pull Skyridge within three at the half.
But the Falcons' next drive was halted by defensive back Andrew MacDonald's interception.
Trailing 24-7, Clemons again rallied the troops. He led a seven-play, 64-yard drive that finished with Notoa's 2-yard plunge to pull the Falcons within 10.
But on the next drive, Skyridge elected to go for it on fourth-and-goal from the two — and MacDonald was there again, breaking up a fade pass in the corner of the end zone to keep Skyridge out of the end zone.
"They were the gamechangers, making every single play they could," Noah Kjar said of the DBs like MacDonald, who finished with five tackles, two pass breakups and an interception. "When our backs are against the wall, we depend on them and they came through. They made the plays that we wanted them to make."
×
Related Stories