MINNEAPOLIS — One match after leaving Provo for the final time, the No. 4 BYU women's volleyball team run in the NCAA Tournament ran out of gas.
National player of the year candidate Kathryn Plummer had 12 kills, and Audriana Fitzmorris added 11 kills and nine blocks to lead top-ranked Stanford to a 25-15, 25-15, 25-18 win over No. 4 BYU in the NCAA national semifinals Thursday night at the Target Center in Minneapolis.
The Cardinal (33-1) out-blocked the Cougars 17-4, and libero Morgan Hentz had 20 digs for Stanford.
Roni Jones-Perry led BYU with eight kills, and Kennedy Eschenberg added five kills and three blocks for the Cougars (31-2).
Heather Gneiting supplied six kills and two blocks for BYU, and Madi Robinson had five kills with four errors — one of just three Cougars with a positive hitting percentage. Lyndie Haddock-Eppich dished out 23 assists with 10 digs for BYU.
"There were no surprises tonight. Stanford is a great team," said BYU coach Heather Olmstead, who was named national coach of the year Thursday. "They serve tough. They have a big block. We weren't serving tough enough for us to get any touches, get some blocks.
"We tried our best, but they just took us out of our game."
In similar fashion to what they've done to opponents all season, the Cougars couldn't find any rhythm on offense.
BYU hit just .188 in the opening set, which set a tone to finish with a negative hitting percentage of 29 kills with 32 errors.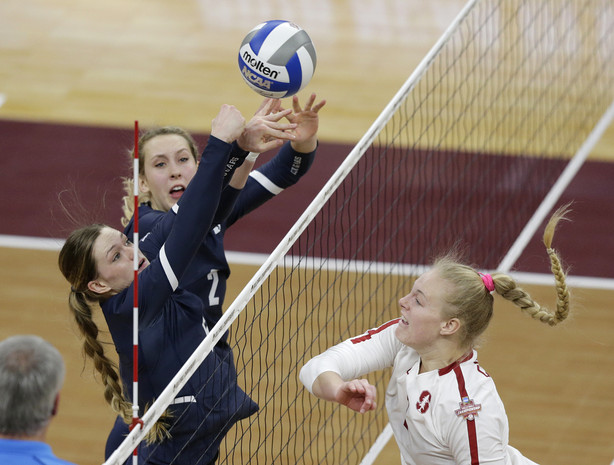 "I think we all know that wasn't the team that we saw throughout the year," said Stanford coach Kevin Hambly, who played volleyball at BYU. "I think we had a huge advantage being here the last couple of years, and that played into it. We have a lot of respect for that team.
"We thought we could play some defense, but we didn't expect to hold them negative."
Jones-Perry took 35 swings to register her team-high eight kills, but was blocked or erred an uncharacteristic 12 more attempts. The senior first-team All-American was held to a negative hitting percentage by a Stanford side that dominated the net and dug up 43 balls to go along with a 90.3 percent serve-receive rating.
"They were a really good block," said Jones-Perry, the former Copper Hills standout whose final match in a BYU uniform will likely be among the more forgettable. "They were a really good block, so it was tough. They did a really nice job."
After shaking off a 7-4 deficit in the first set, Stanford looked like a team that was appearing in its third-straight NCAA tournament semifinal and 22nd all-time, including a national championship in 2016.
BYU, meanwhile, looked like a team that was making its third all-time semifinal appearance, and first since the Cougars became the first unseeded team to make the tournament title match in 2014.
The Cardinal avenged a five-set loss to BYU in Provo in the fifth match of the season — the only loss of the year by the Pac-12 champions and one that gave the Cougars the No. 1 national ranking since September.
NCAA volleyball notes
"I think for a lot of these players, it was nice to get back on the horse, if you will, in the semifinal and to come out and compete and be the aggressor," said Hambly, whose team is one of just two teams to appear in every NCAA Tournament since the inaugural event in 1981. "We weren't the aggressor last time."
Danelle Stetler served a pair of aces during a 4-0 run that evened the match briefly at 9-9. But the Cougars' poor hitting continued — nine kills with 12 errors — as Stanford finished the set on a 16-6 run.
Even when BYU found its best rally in the third set, the Cardinal's block was too much to overcome.
Eschenberg's kill opened up a 3-0 run that gave BYU a brief 12-9 lead. But Stanford responded in a big way, taking a long rally with Tami Alade's stuff to go ahead 14-13 and suck the momentum away en route to the 25-18 win and the sweep.
"We didn't pass well in that match," Hambly said. "I think mostly, it was a good defensive effort. We took things away from them.
"Losing (McKenna Miller) for them makes them very different. They have to rely on Jones-Perry a lot. It makes it a little bit easier to key on them, especially if they're off the net. I thought it was a good defensive effort."
×
Photos
Related Stories